July 9, 2012
Today, WellPoint (WLP) announced a $4.46 billion buyout offer for Amerigroup (AGP), causing shares to soar by 38%.
Since being added to our recommended list just over two years ago, shares of AGP have soared by 330%.
AGP was added to the Intelligent Investor Recommended List in the January 2010 edition of the Intelligent Investor (published on January 3, 2010) at a price of $27 (the chart lists $28 which is wrong) and remained as one of our strongest buy recommendations through most of the time it was on our recommended list.

In less than three year-period in which we have published a recommended securities list, this is the fourth security that has been bought out.

Each buyout has yielded an average of approximately 40% on the day of the announcement alone.

Keep in mind that our recommended list is quite small, with just over a dozen securities on average since the list was released.

In fact, another security which was planned to be added last month was pulled because it was bought out just days before we planned to add it!
This serves as a reminder that patience is a virtue, but insider insight is priceless, or at least in this case worth 38% in one day or 330% in just over 2 years.
This begs the question...what is it that we know about valuation and risk that most others don't?

Why are so many of our recommended securities being bought out?

It doesn't matter if we have evidence in support of our claim that our Chief Investment Strategist, Mike Stathis is CLEARLY one of the top investment minds in the world.

All you care about are results, right?
Well, we would like to congratulate all subscribers who profited from AGP. We expect many more like this one in the future.


Keep in mind that the Recommended Securities List published in each monthly issue of the Intelligent Investor is only one of many valuable resources that are absolutely essential for investors to navigate the most difficult economic and stock market period since the Great Depression.

Our U.S. and Global Economic Analysis sections (which are often more than 70 pages alone) have become legendary. In fact, our most recent Global Economic Analysis was nearly 300 pages.
In addition to the Recommended Securities List, the Intelligent Investor also contains:
- US stock market analysis and forecasts (DJIA and Nasdaq)
- Emerging market analysis and forecasts (China, India and Brazil)
- US Economic Analysis
- Global Economic Analysis
- Commodities analysis and trading guidance (8 commodities), PLUS…
- Oil analysis and trading guidance
- Natural gas analysis and trading guidance
- Gold analysis and trading guidance
- Silver analysis and trading guidance
- Foreign currency analysis and trading guidance (USD vs. euro, yen, franc and real)
- Investment Strategy section
- Periodic write-ups on market valuation and other valuable insights
Try getting all of this for the very low subscription price we offer. You will pay at least $10,000 annually, GUARANTEED.
And the results and insights will never come remotely close to those contained in the Intelligent Investor.
In fact, most other publications are complete trash written by professional copywriters and marketers who have NO PROFESSIONAL Wall Street experience. That's a fact.

Remember who holds the world's leading track record on the economic collapse…we do. See here.
And we are the only firm in the world who has backed this claim with a $100,000 challenge. See here.

Currently, we are offering an annual subscription to the Intelligent Investor at a $300 discount.*
This discount won't last. In fact, even the regular rate is headed way up to better reflect the value of our world-leading research.
In addition, if you subscribe now, we will give you our June 2012 Mid-Year Global Economic Analysis report, which sells for $399.*
To subscribe, simply click on the top banner located on the upper right of the site as shown in the picture below.

*This special offer could expire WITHOUT prior notice.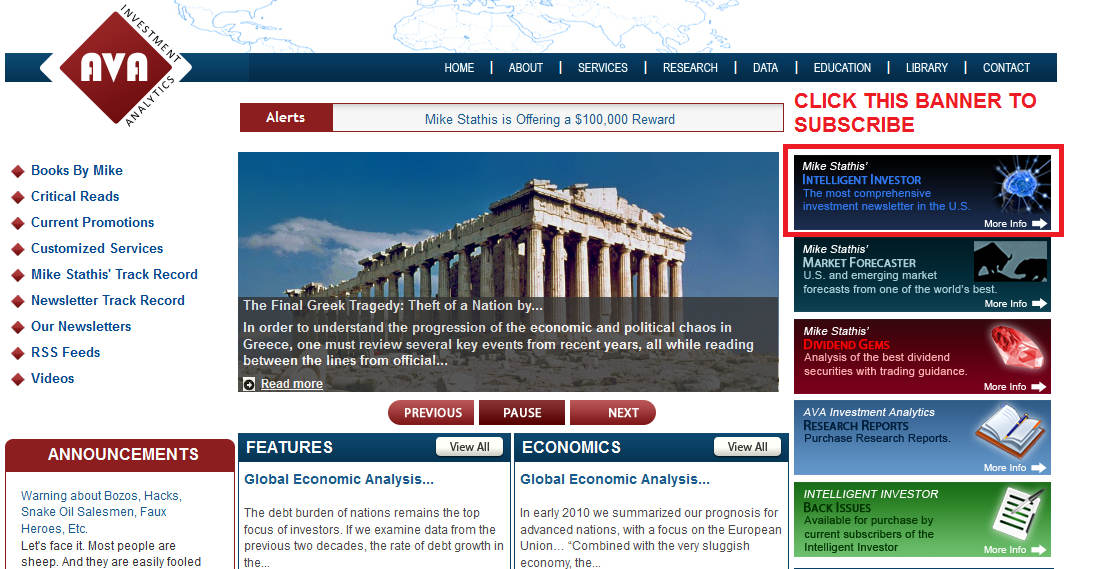 See the links below for more about the performance of the Intelligent Investor.
Mike Stathis' Near-Perfect Market Forecasting Record
4-Day Gains of 30% for 2011 and 2010 Performance
Another Huge Winner in a Few Weeks
Newsletter Stock Recommendation Soars More Than 25% in Just 3 Days
Mike's Top 3 Stocks for Long-term Growth
Does AVA Investment Analytics Have Insider Information?
We Pin-Pointed the Past Two Market Tops And Bottoms
Where Is The Stock Market Headed?
Can a Book Serve as a Crystal Ball?

See Our Copyright Policy
Copyright © 2008-2015. AVA Investment Analytics, LLC. All Rights Reserved.

Restrictions Against Reproduction: No part of this publication may be reproduced, stored in a retrieval system, or transmitted in any form or by any means, electronic, mechanical, photocopying, recording, scanning, or otherwise, except as permitted under Section 107 or 108 of the 1976 United States Copyright Act, without the prior written permission of the copyright owner and the Publisher.

These articles and commentaries cannot be reposted or used in any publications for which there is any revenue generated directly or indirectly. These articles cannot be used to enhance the viewer appeal of any website, including any ad revenue on the website, other than those sites for which specific written permission has been granted. Any such violations are unlawful and violators will be prosecuted in accordance with these laws.

Article 19 of the United Nations' Universal Declaration of Human Rights: Everyone has the right to freedom of opinion and expression; this right includes freedom to hold opinions without interference and to seek, receive and impart information and ideas through any media and regardless of frontiers.