Those who have been following me for a while are likely to agree that I have established a track record as an analyst and investment strategist that is second to none, spanning market forecasting, securities analysis and trading, to commodities, foreign currency and precious metals forecasting.
Those who know me realize that I in addition to exceling as an analyst and investment strategist, I am also dedicated to exposing fraud and showing Main Street the many ways that the financial media has been designed to deceive them.
In accordance with these objectives, I have also managed to establish a very reliable track record of detecting various forms of fraud, scams, pump-and-dump schemes, and insider trading. In short, for whatever reason, I have been able to see things others cannot see.
Let's look at a few examples. When the tea party was launched I knew almost immediately it was a scam. I later wrote a series of articles discussing this. Of course, most people thought I was wrong, but it was I who had the last laugh.
I also exposed Ron Paul, Alex Jones, Texe Mars and several other so-called "patriots" and "truthers." I also exposed Wikileaks and several other faux heroes and sources of disinformation.
And of course, I exposed the insider trading and heist of Washington Mutual.
Finally, I exposed the reality behind Facebook and warned readers that it was not only a pump-and-dump scheme, but it represented a portion of the social media pump-and-dump. Again, I was proven correct.
For more than three years I have been writing about how gold and silver dealers have manipulated people to get them to buy these metals. It has been a collosal propaganda campaign.
Two years ago, Max Keiser created a "Destroy JP Morgan, Buy Silver" scam in which he conned his low-IQ audience into believing that could implode JP Morgan if they bought physical silver, since, according to Keiser, JP Morgan held a huge short position in silver.
Well, once I heard about this, I wrote an article warning people that Keiser was creating a complete scam to get suckers to buy silver and jack up the price so that certain individuals could sell (I won't name these individuals right now because I am currently in the process of gathering evidence to present to the SEC).
And we all know how things turned out. Millions of suckers bought silver at $35, at $40, at $45 and even some over $50.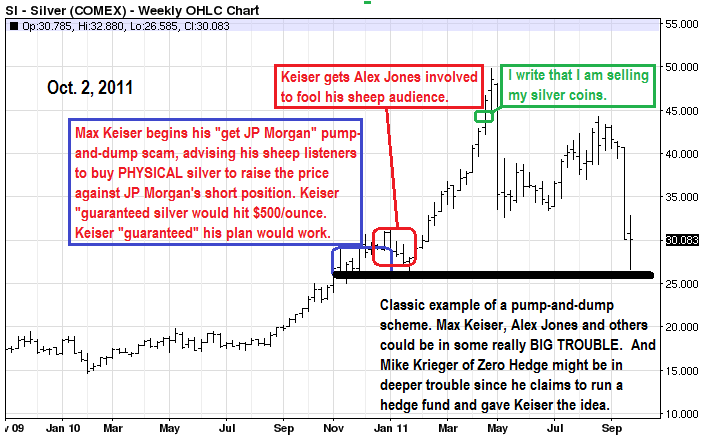 Two years later and silver is just over $27.
What's worse, the price momentum is becoming even more bearish.
Well, Keiser is at it again. This time he is scamming his suckers with Bitcoin.
I have been meaning to expose this scam a while back but I haven't had the time. I debated even giving this presentation now because I just do not have the time to devote to it that I would like. But I felt it was critical to get something out to warn people. Let's take a brief look at this scam I call shitcoin.
Max Keiser needs to be sent to prison for manipulating silver and now shitcoin. Only you can make it happen. He is a complete scumbag, liar and fraud.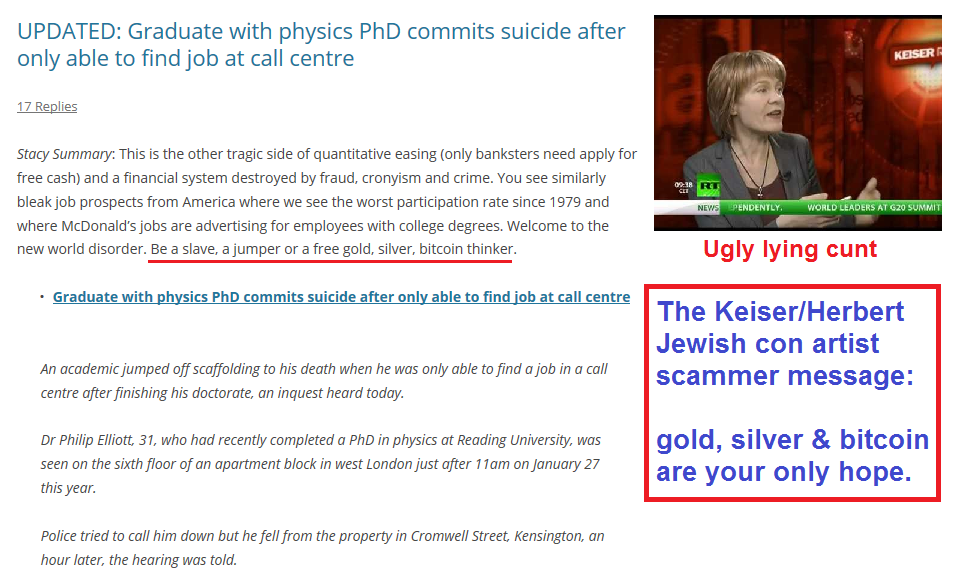 UPDATE: April 9, 2013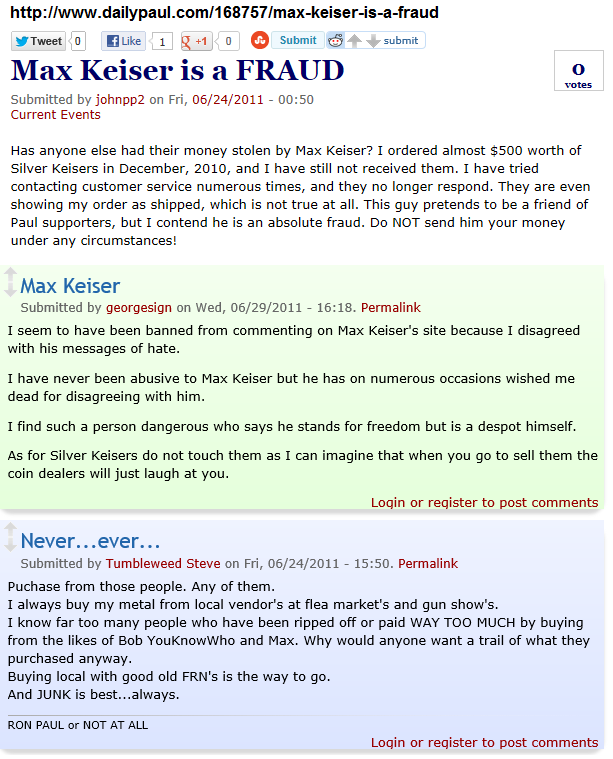 Notice Matt Taibbi, another fraud who plays hero to the people. He is a complete con artist and has 0 credibility. He has been exposed in our massive Encyclopedia of Bozos, Hacks, Snake Oil Salesmen and Faux Heroes.
It gets sickening see so many people fooled by obvious con men like Taibbi, Ron Paul, Alex Jones, etc.
For those of you who have been fooled by Taibbi, the CIA asset, why don't you ask him why he has no interest in discussing the Washington Mutual illegal heist by JP Morgan that I uncovered or why he would rather make up complete lies about naked short selling rather than to run his delusional ideals past an expert like me.
Numerous people contacted this pinhead a few years ago and informed him about me, my Washington Mutual SEC complaint and my track record, and I was informed that he gave no response.
Hmmmm. And you people think this fuckhead is on your side? lol.
You probably also think Ron Paul is on your side too.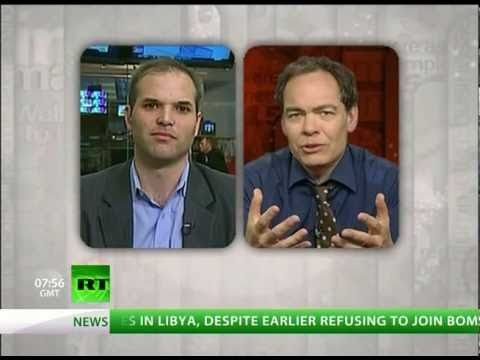 Research these bastards extensively until you see the light instead of sending my staff emails crying that you doubt what I say, because you're only showing them what a fool you are.
Anyone who doubts me or anything I have to say is either a damn fool, or else is unfamiliar with my track record. And if you're not familiar with my track record, you are in no position to make any assessments now are you?
And before you start crying like sissy, let me remind you that I'm not here spending all of my time trying to win a popularity contest. I'm here to wake up the sheep. Most people won't make it through the journey. That's the way the numbers fall. But for those who do, I'll guarantee you they will thank me for the rest of their lives.
Video
See Our Copyright Policy
Copyright © 2008-2015. AVA Investment Analytics, LLC. All Rights Reserved.

Restrictions Against Reproduction: No part of this publication may be reproduced, stored in a retrieval system, or transmitted in any form or by any means, electronic, mechanical, photocopying, recording, scanning, or otherwise, except as permitted under Section 107 or 108 of the 1976 United States Copyright Act, without the prior written permission of the copyright owner and the Publisher.

These articles and commentaries cannot be reposted or used in any publications for which there is any revenue generated directly or indirectly. These articles cannot be used to enhance the viewer appeal of any website, including any ad revenue on the website, other than those sites for which specific written permission has been granted. Any such violations are unlawful and violators will be prosecuted in accordance with these laws.

Article 19 of the United Nations' Universal Declaration of Human Rights: Everyone has the right to freedom of opinion and expression; this right includes freedom to hold opinions without interference and to seek, receive and impart information and ideas through any media and regardless of frontiers.
Printing Version More On Liars & Idiots
Related Articles