Would you like a FREE copy of The Wall Street Investment Bible?
Well here's your chance to get this very valuable book.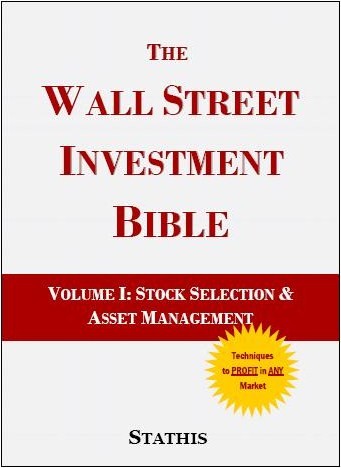 Mr. Stathis is offering a free copy of his new book, The Wall Street Investment Bible to the person who submits to him the best and most comprehensive summary of predictions contained in America's Financial Apocalypse (2006 version only).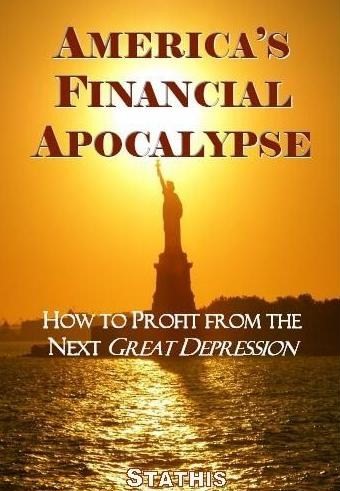 In order to submit a qualifying submission, you will need to really go through the book in detail because he estimates there are 100s of predictions made that have materialized.
If you already have The Wall Street Investment Bible, you can opt for his upcoming book on healthcare.
In addition, at the winner's request, he will sign the book of your choice.
This contest is open to anyone.
The only thing you need is a copy of America's Financial Apocalypse, the original extended 2006 version which I'm sure many of you who visit this site regularly already have.
As a tie-breaker, he will accept documentation of forecasts made since he began posting articles online in May 2008. You would be wise to review these articles as well since there are numerous predictions that have come true.
If there are two submissions that are of similar quality, he will award a book to each entry.
This offer ends on October 1, 2008. All submissions must be emailed to us by then.
Please have a look at some of the more prominent forecasts and insights. Note that some of these are warnings more than forecasts but they have proved to be very instrumental in predicting what has happened such as his detailed presentation explaining how Washington manipulates economic data.
Predicted a correction of the commodities bubble sometime after the Beijing Olympics. He also mentioned this would be the time to buy into China and commodities.
He advised readers, whether they were conservative, moderate, or aggressive to keep cash in addition to investments he recommended because he was expecting a series of market crashes.
Predicted Fannie and Freddie would collapse and would have to be bailed out
Predicted real estate prices would drop on average by 30-35%, with drops of 50-60% in parts of California, Florida, Las Vegas,
He warned of the possibility of Dow 5500-6000.
Warned of the link between a drop in real estate prices and a 2x drop in the stock market. Median real estate prices have dropped by ~33% from peak prices. The stock market dropped by nearly 60% from its peak.
He warned of massive inflation (but not hyperinflation)
He warned investors to trade gold's volatility to reduce risk and lower cost basis
Predictions on gold and silver prices.
Predictions on oil prices.
Predicted and proved irrefutable evidence there would be a depression
He predicted there would be a New Deal
He warned of a depressionary inflation with the possibility of a deflationary period.
He detailed how the government manipulates economic data
He identified free trade as America's biggest problem and wrote extensively about it
He addressed healthcare as the second biggest long-term problem faced by America and wrote extensively about it