As I was enjoying some college hoops today, I noticed how CBS seized the opportunity to give President Obama some air time after spotting him at the Duke/Georgetown game.
Perhaps you too saw the game.
Of course, it wasn't exactly a chance spotting.
CBS knew well he would be there and Obama knew in advance he would share the broadcasting booth with Clark Kellogg and Vern Lundquist.
This was apparent to me, especially after the broadcasters tossed Obama a few questions with which he could show his "comedian side." The entire event was staged. This was obvious.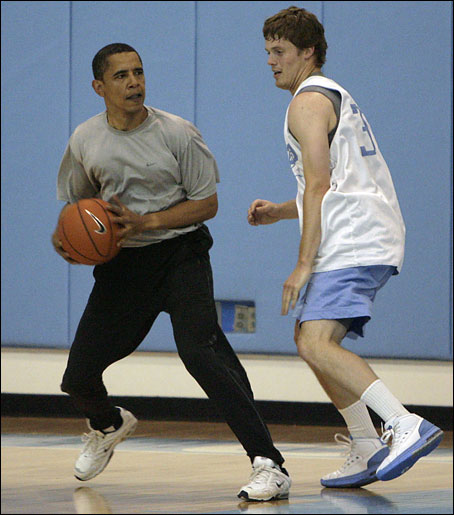 As Obama sat down and spent a few minutes on air giving his (useless) commentary about the game, what struck me was when he referred to Clark Kellogg as the "best black man in college basketball."
Of course, Obama meant to say the "best black broadcaster in college basketball," but still I was struck that he would refer categorize Kellogg as being black.
Ask yourself what people would be saying if President Bush or any other white politician had said that.
Why would Obama distinguish Kellogg's race when it's clear to everyone who was watching that Kellogg is black?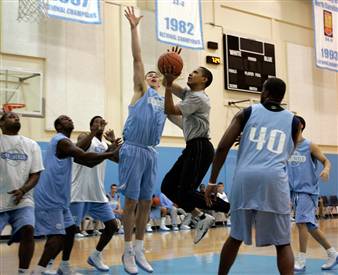 Perhaps Obama wanted to kiss some "black ass," as a way to soath the pain being felt by African Americans faced with an unemployment rate of 35%, but didn't want to look like a complete fool by stating the Kellogg was the best broadcaster in college basketball.
I don't know where Kellogg stands when ranked among black broadcasters since I don't really think about whether a broadcaster is black or white, or how good he is among his race.
But I do know one thing.
Kellogg is the absolute worst sports broadcaster working for a major televised network.
My distaste for Kellogg goes way back nearly 20 years ago, when Kellogg began his broadcasting career after an unmemorable and somewhat short NBA career (in fact, Kellogg himself and those who share the booth with him only refer to his days at Ohio State rather than in the NBA).
After having to endure his useless commentaries game after game (which often sounded like he was in a drunken stupor), I remember being highly annoyed and puzzled how this man could be a broadcaster.
He was the most inarticulate person on TV, and he seemed to have the IQ of a donkey.
I had to endure hearing this idiot for years, and eventually my frustration built up.
I became so annoyed by how this man butchered games with his senseless blabbering that I actually wrote a letter to the network that employed him about fifteen years ago (I cannot recall which it was at the time) discussing how useless he was, and demanding they end his contract.
Of course, they didn't. Remember, the media doesn't need to have valuable news, insight or even talented broadcasters. If they buy the broadcasting rights to games, they can let Sarah Palin do the broadcasting and people will have no choice but to watch if they want to see that game. This my friends is just one example of how the media works as a monopoly.
Writing to TV networks was not something I made a habit of. It was the first time I had ever done such a thing.
And I have never had a reason to write in again, except other than to ask how, after 20 years, Clark Kellogg still remains a broadcaster despite the fact that even after years of training and experience, he still sucks.
Perhaps Obama shares my views on Kellogg and distinguished him as the "best black" college basketball broadcaster as a way to connect with a demoralized African America audience. Restricting his accolades to the "best black man" would keep Obama "safe" from criticism since I cannot think of many black broadcasters who cover college basketball.
Kellogg certainly has to have the longest tenure as a black college basketball broadcaster. But even after two decades of experience and training (and I can guarantee you CBS makes him get some kind of coaching in the off-seson) he still sucks.
On the other hand, perhaps Obama's designation of Kellogg's race tells much more about Obama.
Maybe he was setting Kellogg up for a date.
However, based upon what I have seen from his past, Obama likes white men.
As a side, I found it hilarious how Obama was lost without his teleprompter. As he tried to offer his analysis, he certainly wasn't too articulate. In fact, he made Kellogg sound quite good.
Folks, Obama's appearence at this college game is was the latest attempt to connect with the people, making you think he's a "normal" guy. This is a strategy advisers use to enhance his public appeal.
It was that approach that was largely responsible for landing Bush the presidency.
The fact is that no president of the United States should EVER been seen at a sporting event, ESPECIALLY during the current economic crisis...
...assuming the president actually makes decisions for himself.
Based on Obama's performance (or that of his puppet masters), I'd say he is going to need to make appearences at many more games and talk shows in order to boost his lousy but well-deserved ratings.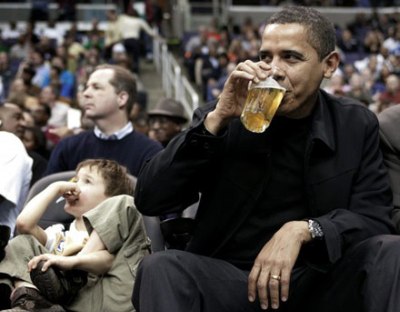 As I have stated many times, it is clear to me that Obama is a puppet. His only role is as the "face guy," the figurehead for the leadership of America. It's all a Hollywood production similar to one of Spielberg's films or an eipsode of American Idol.
Meanwhile, the real dictators of America continue to pull his strings, as they have for presidents in the past and as they will for those in the future.
Now, I would like to show you a video that is encouraging. A young black man who realizes that Obama is a fraud. While some of his rhetoric is misinformation, he is able to see through the Obama scam that has fooled so many blacks (as well as whites).
Warning: this video has quite a bit of foul language.
Now if this man understands that America's presidents are puppets, why can't you?
*For anyone who happened to catch the game, please let me know if CBS played the clip with Obama playing with UNC because I was distracted from the TV for a few seconds and only heard Lundquist discuss this. After thinking about whether I actually saw the clip, I cannot confirm that in fact I did.
See Our Copyright Policy
Copyright © 2008-2015. AVA Investment Analytics, LLC. All Rights Reserved.

Restrictions Against Reproduction: No part of this publication may be reproduced, stored in a retrieval system, or transmitted in any form or by any means, electronic, mechanical, photocopying, recording, scanning, or otherwise, except as permitted under Section 107 or 108 of the 1976 United States Copyright Act, without the prior written permission of the copyright owner and the Publisher.

These articles and commentaries cannot be reposted or used in any publications for which there is any revenue generated directly or indirectly. These articles cannot be used to enhance the viewer appeal of any website, including any ad revenue on the website, other than those sites for which specific written permission has been granted. Any such violations are unlawful and violators will be prosecuted in accordance with these laws.

Article 19 of the United Nations' Universal Declaration of Human Rights: Everyone has the right to freedom of opinion and expression; this right includes freedom to hold opinions without interference and to seek, receive and impart information and ideas through any media and regardless of frontiers.