I have previous written a few posts about the so-called Tea Party Movement, discussing how many Americans have been fooled by this front for the Republican Party.
Sure, of all of the Tea Parties across the nation, there were some that did not embrace the right-wing agendas - at least in the beginning.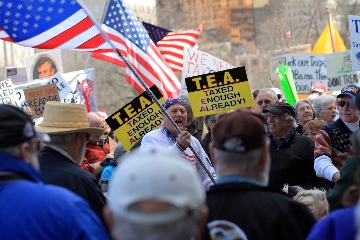 So what went wrong? The leaders of the Tea Party Movements across the country were uninformed, brainwashed by neo-con propaganda and simply too ignorant to know what is going on.
And now, to christen the official designation of the Tea Party Movement as a COMPLETE SCAM, Sarah Palin will be speaking at the Tea Part National Convention in Nashville.
To attend you must fork out $550.
Anyone who can afford to blow $550 on such a USELESS event doesn't sound to me like they want any real change. Those likely to be in attendance are the same criminals who stand to benefit from a continuation of the same Democrat-Republican-blessed extortion and fraud by Wall Street and America's broken free market system.
Of course, there will be people who can't really afford to attend, but they will empty their piggy banks (or most likely "charge it" in the spirit of the "American Way") feeling it is worth the cause.
And Palin of course, being the blood-sucking brainless idiot that she is, stands to earn $100,000 for speaking at this disgraceful display of stupidity and brainwashing at its best.
That is the ONLY reason why she is speaking at this brainwashing/controlled opposition gathering.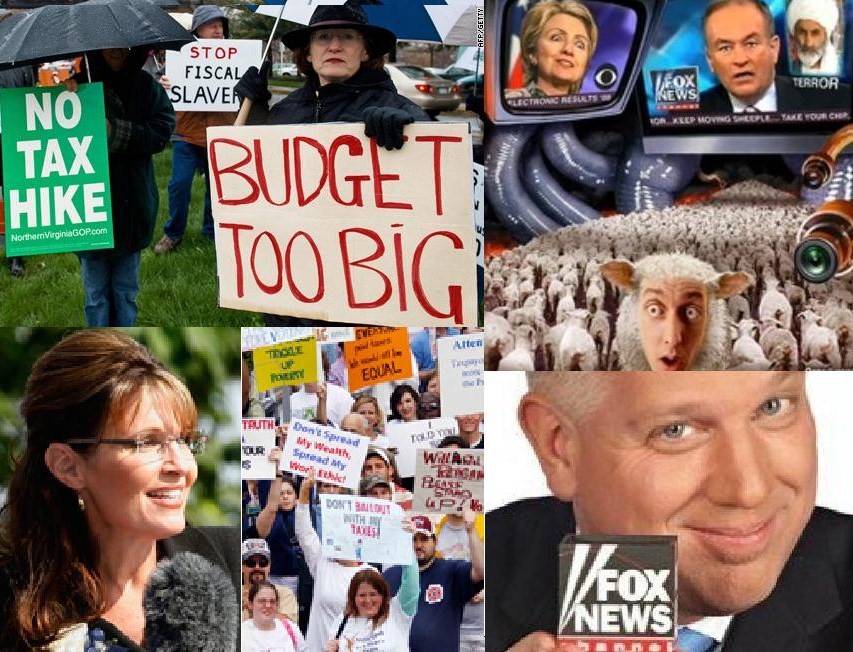 Make no mistake. There are several losers who stand to clean up off of this ridiculous event.
I am beyond disgusted seeing thousands of vultures using this historic collapse as a means by which to exploit the misery of people as a way to cash in, from the useless journalists, none of which who contributed any value prior to or during the collapse but who now have written books to dramatize the charade - to the others who are playing superman - the talk show hosts, neo-con radio hosts, etc.
What's more disgusting is how they have fooled the people.
How can people be so naive???
I'm beginning to feel like I am in another world, looking into this one, armed with special powers enabling me to see everything with stunning clarity.
The only problem is that I have no special powers and I face the same fate as everyone else.
I suppose this is how one might feel once the masses have been transformed into sheep.
It looks at if what was once envisioned as a movement to combat the Washington 2-party mafia will turn out to represent a backdoor entry for Palin (the brainless idiot) as a portal by which to gain momentum for 2012 as a republican presidential candidate.
On the other hand, what did you expect from a movement initiated by some hack on CNBC?
I would to announce that I am completely disgusted by the American people more so than the criminals in Washington, Wall Street and elsewhere.
To all Americans who have been fooled over and over again to think that you have a democracy,
To all Americans who have been fooled to think that you have a true 2-party political system,
To all Americans who have been fooled to think that you have a true free market economy,
To all Americans who will continue to go back and forth, voting for one party and complaining when the opposing party wins, wondering why, regardless who wins...
...YOUR LIFE CONTINUES TO SUCK more and more each year,
To all Americans who have been fooled to think America's current problems are due to Obama rather that the long-lasting Washington crime syndicate,
To all Americans who continue to be fooled by the media, but keep reading and watching,
To all Americans who have been fooled by these idiotic Tea Parties,
I have this to say...
I am disgusted by your stunning level of stupidity.
You are the reason why the exploitation continues.
You permit it due to your stupidity.
And you deserve all of the misery that you shall receive.
Don't blame Washington.
Don't blame Wall Street.
Don't blame the media.
Don't ask for mercy or help from me because I look forward to see your demise.
You have earned it.
Without your stupidity, these criminals would not succeed.
Let me be clear to any Tea Party sheep.
Rather than embracing the same Washington mafia that has destroyed your nation for decades,
Rather than embracing brainwashing idiots in the media like Glenn Beck and the other neo-con idiots (all of which who are AFRAID to debate me on healthcare, the economy or anything else they lie about),
You should be looking for another Ross Perot. He is the man that America needs.
For those who do not fit into this crowd, I would like to encourage you to post this article link on all of the Tea Party websites, so as to give these sheep a chance to wake and realize how they have been fooled. Sure, I know it's unlikely these sheep will wake up, but at least you can rest easy knowing that you tried. That is all you can ask of yourself.
See Our Copyright Policy
Copyright © 2008-2015. AVA Investment Analytics, LLC. All Rights Reserved.

Restrictions Against Reproduction: No part of this publication may be reproduced, stored in a retrieval system, or transmitted in any form or by any means, electronic, mechanical, photocopying, recording, scanning, or otherwise, except as permitted under Section 107 or 108 of the 1976 United States Copyright Act, without the prior written permission of the copyright owner and the Publisher.

These articles and commentaries cannot be reposted or used in any publications for which there is any revenue generated directly or indirectly. These articles cannot be used to enhance the viewer appeal of any website, including any ad revenue on the website, other than those sites for which specific written permission has been granted. Any such violations are unlawful and violators will be prosecuted in accordance with these laws.

Article 19 of the United Nations' Universal Declaration of Human Rights: Everyone has the right to freedom of opinion and expression; this right includes freedom to hold opinions without interference and to seek, receive and impart information and ideas through any media and regardless of frontiers.