In the previous article I showed pictures of the real estate situation in Rotterdam, Netherlands submitted by a reader. As discussed in that piece, Forbes published an article about a month ago listing the Dallas/Fort Wort area as number 3 in terms of recovery progress.
I can tell you that the real estate market in Dallas is worse than a year ago, and keeps getting worse each month.
As I have discussed (here or elsewhere) it's not that Texas has been able to avoid the brunt of the economic collapse. It's just that the effects have been delayed in Texas relative to much of the nation. A good part of the reason for this was due to the previous record oil prices, which buoyed the Texas economy. In addition, a weak dollar helped Texas-Mexico trade.
As California led the collapse, Texas has lagged. While Texas did not benefit as much as many other states from the real estate bubble, it's not expected to get hit as bad. I made this prediction in 2006. However, it will suffer nonethless. And once California has emerged from this mess, Texas will be unable to mount much of a recovery due to the nature of the local economy. I expect Texas to remain in an economic mailase for many many years.
But according to Forbes, the DFW area is number three in terms of the progress it's making in the "recovery." So let's have a look at the Dallas real estate market.
Real estate in Dallas is thought by many to be very attractively priced when compared to comparable cities. The pricing is similar to Atlanta.
However, what most people fail to realize is that Texas overall has the highest property taxes in the nation. This is of course in contrast to nearby states like OK, LA, and MS which have among the lowest property taxes in the nation, and of course California, which also has very low property taxes. In addition, California assesses taxes based on the original purchase price of the property as opposed to the annual value assessed by the city. The assessed value is really a huge scam. I might discuss that in the future.
Still, you can get a lot of home for the money in Dallas, especially when compared to California, NYC, Boston, Seattle and other cities. For instance, I would say that a comparable home in Dallas would cost 4-6 times more in San Francisco, San Diego, NYC and Boston.
The pictures below were taken from the best general area in Dallas; the area with the highest wage earners, the highest real estate values, and the most desirable area to live.
This area is the Turtle Creek'Uptown/Highland Park region. It lies about a mile north of the downtown area. The area is loaded with numerous high-end restarants, two 5-star hotels, endless antique stores, art galleries and spas. It's also where the biggest financial institutions have their offices; loads of hedge funds, private equity groups and of course Goldman Sachs, Bear Stearns, Lehman Brothers and the retail guys like Merrill, Morgan Stanley, etc. While the retail banks have offices all over Dallas, their flagship office is in this area because it is cnsidered presitigous.
You will see many exotic sports cars driving through the area on a daily basis.
Highland park is one of the nation's wealthiest communities. I did not have time to go through much of Highland Park; maybe later.
You need to understand that this general region has accounted for a good deal of growth in Dallas for the past several years. The demand to live in the area is by far the highest in all of DFW. And of course, the space is limited. Unless you have a few million to drop on a home or don't mind living in a high crime area, your only options are an apartment, condo or town house. There are a good deal of town houses that sell for over $1 milllion. As well there are several high rise condos selling for a similiar price. I have seen some sell for over $10 million. Although this area is densely populated and the buildings are all nearby, Idid not have time to check these high rises.
These pictures were taken from about a 1 mile radius. But I did not cover even 1/20 of the area in this radius. And even in the small area I did cover, I did not take pictures of all for sale/rent properties. I only took pictures when there were several occupancies adjacent to each other, or in one case, when the building had many vacancies. The other corner (not shown) is an older apartment complex that has been advertising vacancies for well over a year.
The units in lower left picture were listed for $595 and up. They have been sitting there for about a year unsold. The price is now starting at $419.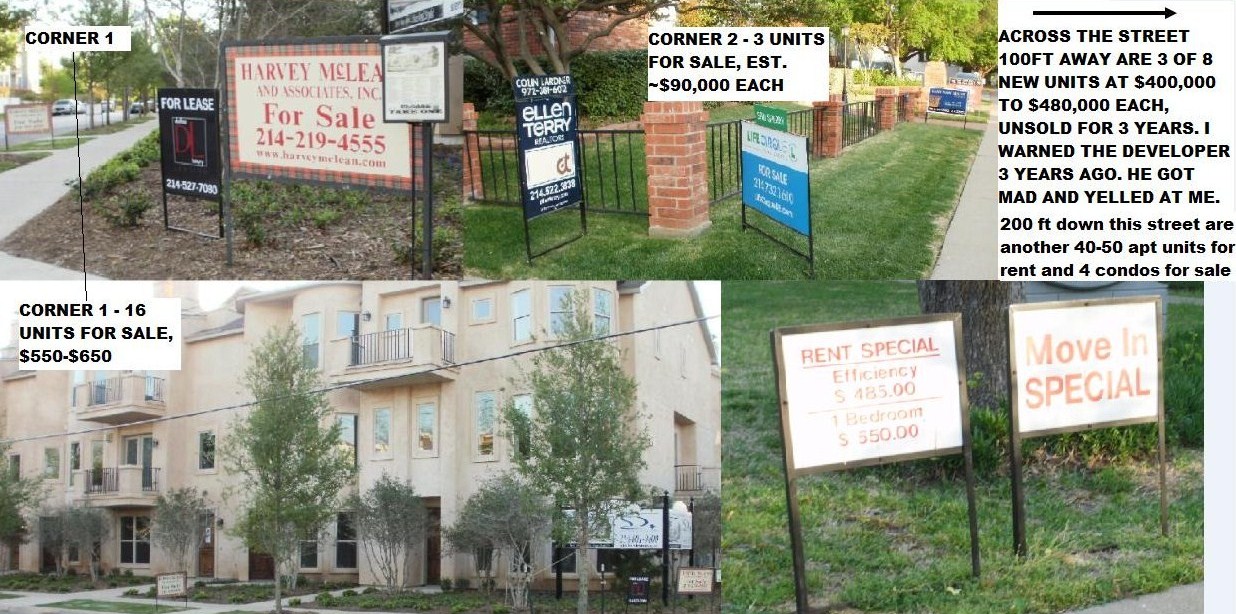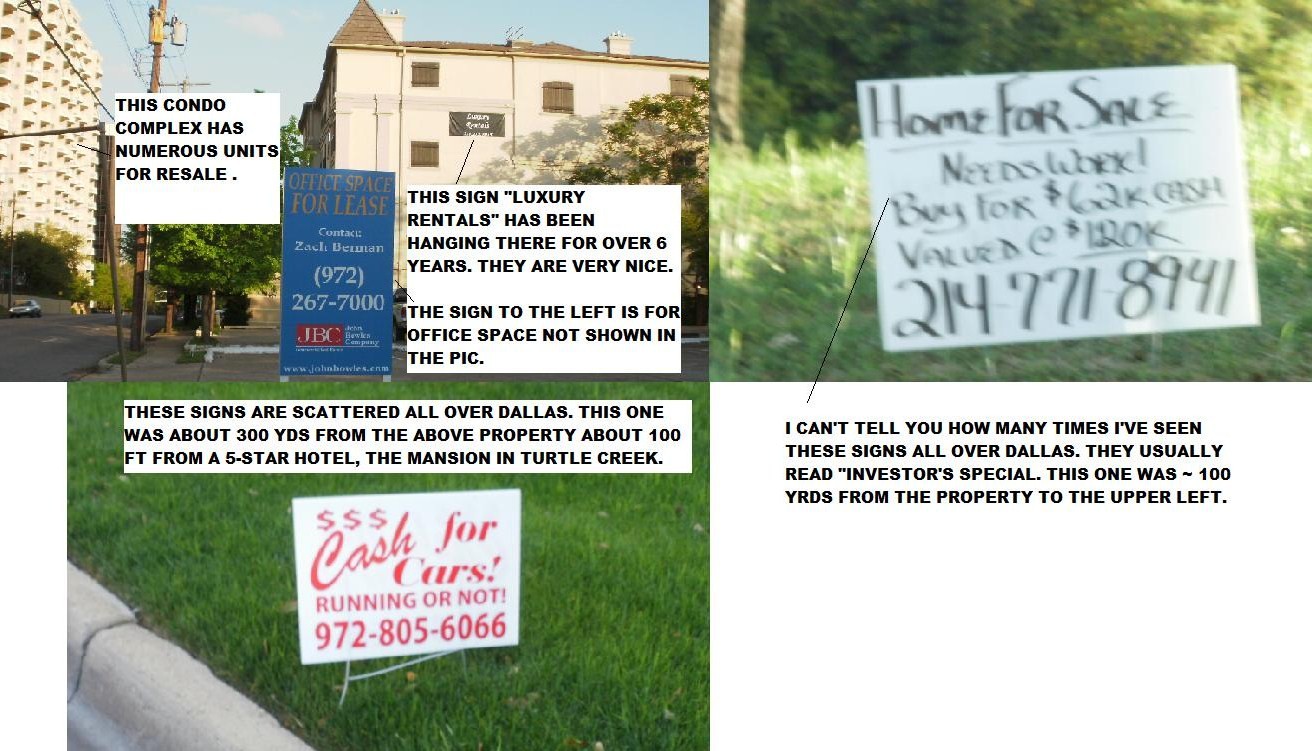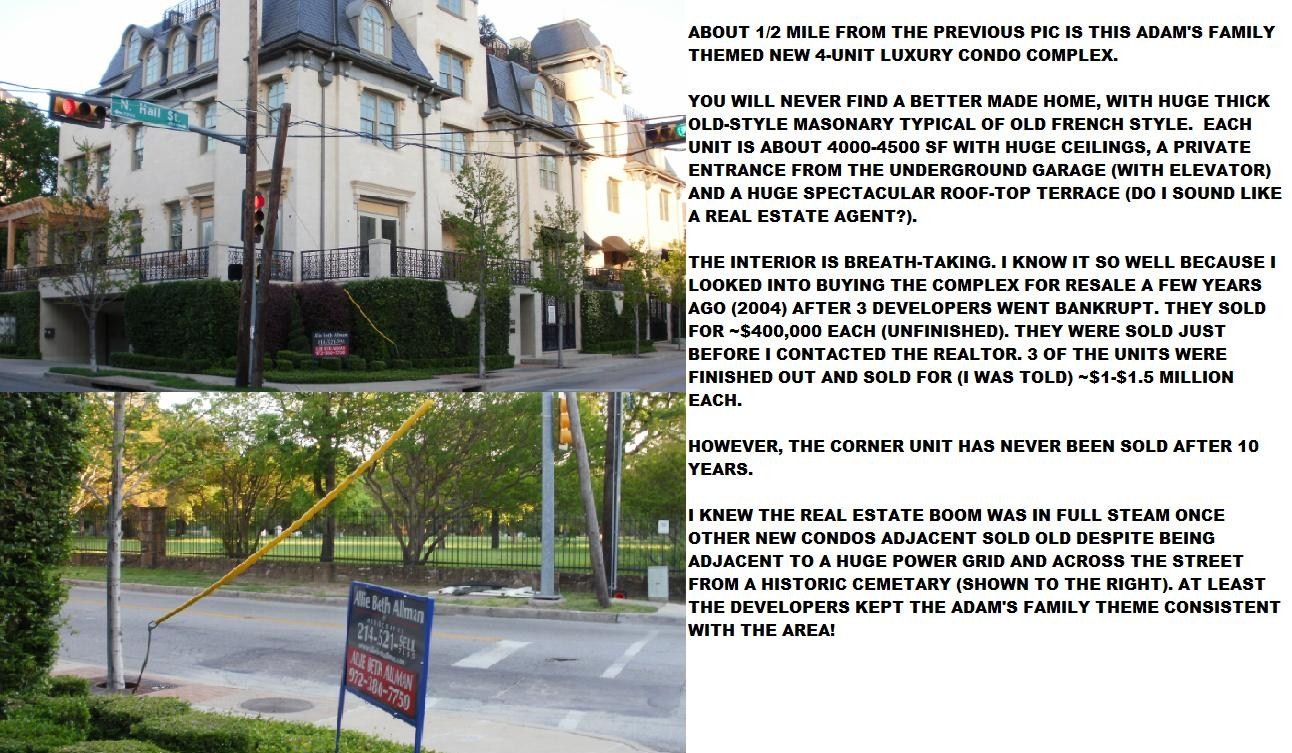 The next series of 3 picture compilations was taken from a very popular street in Uptown Dallas. It is where the main action is, at least for the youth seeking high-end entertainment. A few years ago, you could open any bar; the worst bar possible and still do well. Real estate here is prime. It's side-to-side bars, restaurants and so forth with a historic brick road and a cable car (which is free).
The key thing to keep in mind is that I never saw for rent signs in this area in many years because it was a gold mine to set up a busines in this area. I can't tell you how shocking it is to see so many vacancies in this area.
The apartment complex shown to the left is owned by Post Properties (PPS) based in Atlanta. It's become a landmark of Uptown despite the fact that it is one of the oldest apartment buildings in the area.
Post spent around $10 million to upgrade it a few years ago and has been struggling to fill capacity ever since due to the apartment, condo and town home boom that surfaced here shortly after the dotcom bust. While the two houses in the picture look like residential properties they aren't. They are zoned for commercial use. They are historic buildings. Much of the buildings in this area have been designated historic landmarks so they cannot be changed.
The white house is about ~2000SF (upper right) and was renting for about $8000 per month plus property taxes (~$8000/ year). And it was pretty rundown during the time it had tenants.
The other two properties in this picture are owned by the same man, who owns many of the properties on this street. I was told he was trying to negotiate terms with his lender because he faced a potential bankruptcy.
The lower left series of properties is in a small strip mall and has been vacant for about two years. The building to the lower left has been vacant for at least three years. It was formerly a spa. The same man who owns the two properties mentioned above owns these (as well as the property in-between).
Not shown are two more retail spaces for rent on either side of the bottom properties about 50 and 100 feet apart, also owned by the same man.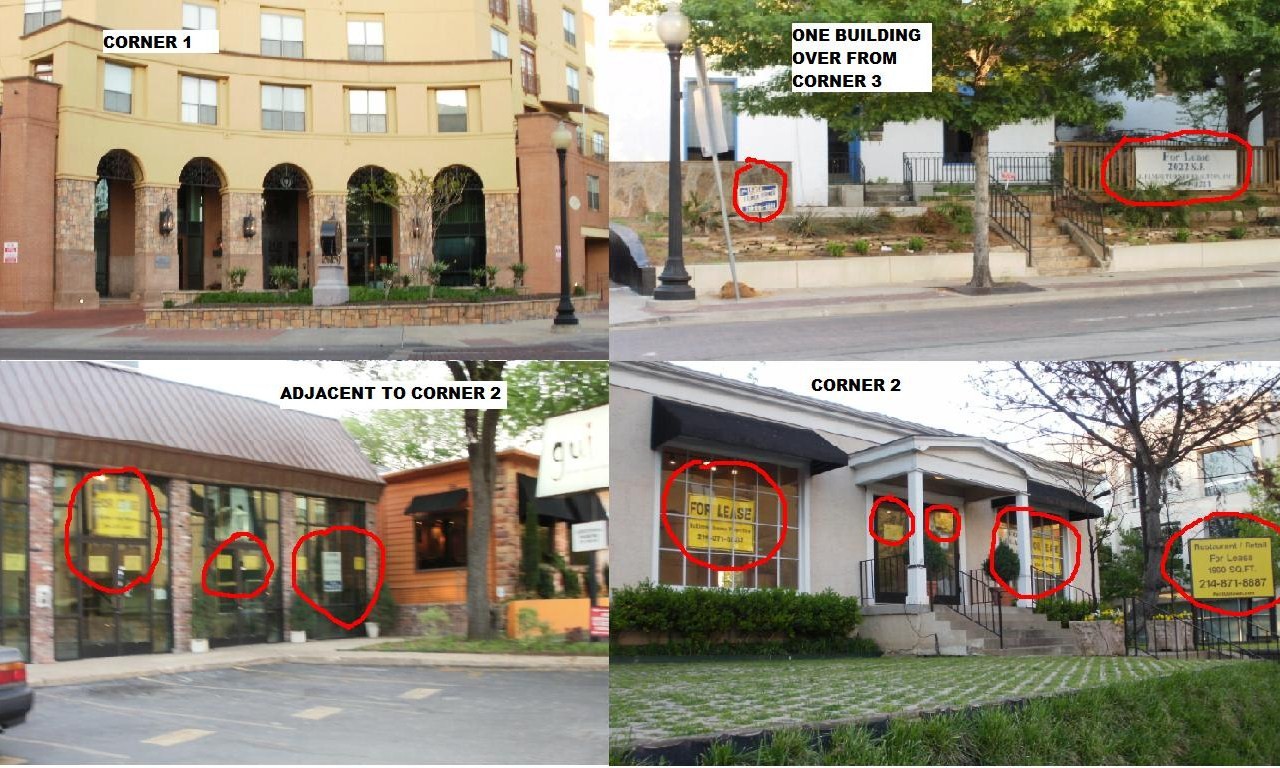 Just off of the main street is this now empty European style property that was formerly a very popular restaurant. It was actually somewhat of a landmark. It had been there for many many years.
Not far from it and on the main street is an empty lot. It was the site of Dallas' Hard Rock Cafe. It was an old nice church. About four years ago it was sold (due to what I would guess to be poor business based on what I saw) to a developer who demolished it and planned a luxury high rise. You can imagine how much the developer paid for the property; my guess is over $10 million. The church was large and the land is probably 2-3 acres. Development plans were halted in 2007 and it remains empty.
Across the corner was the site of a local bank. It has been gone for about four years.
Next to it is a large retail property that had been a restaurant and several art galleries. These two properties are on the main street and owned by the same man mentioned previously.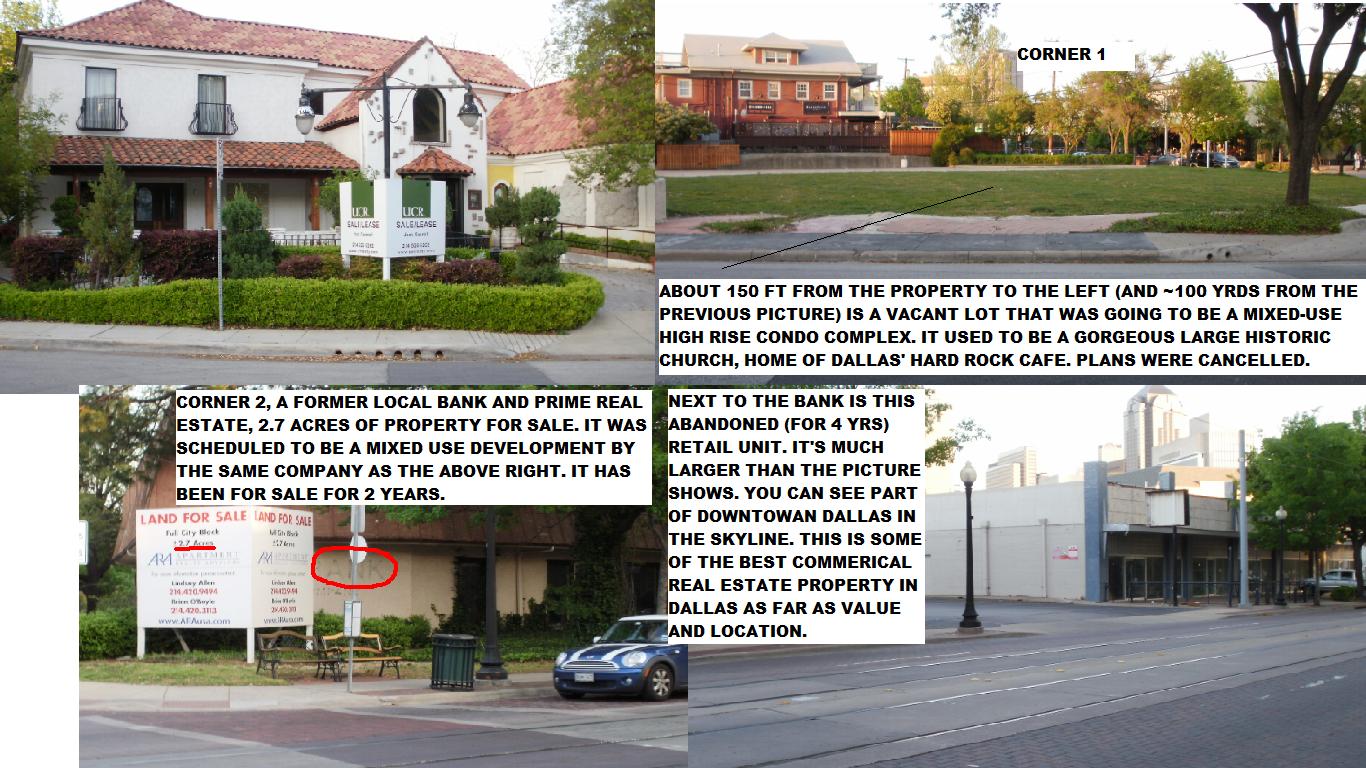 On the other corner across from the former Hard Rock Cafe site is another building that has recently become vacant. Years before it was the site of a French restauran. It had been a popular spot for many years up until the dotcom collapse. After that, it slowly died. It finally shut down and Mediterranean restaurant took its place in about 2004. It too struggled and finally left in 2008. In 2009, a new restaurant moved in but only lasted about five months. Once again, this area is amongst the most popular and highest traffic in Dallas. Vistors come in every weekend from Fort Worth and small towns in Texas located several hours away.
You can see pictures of the Hard Rock Cafe being demolished.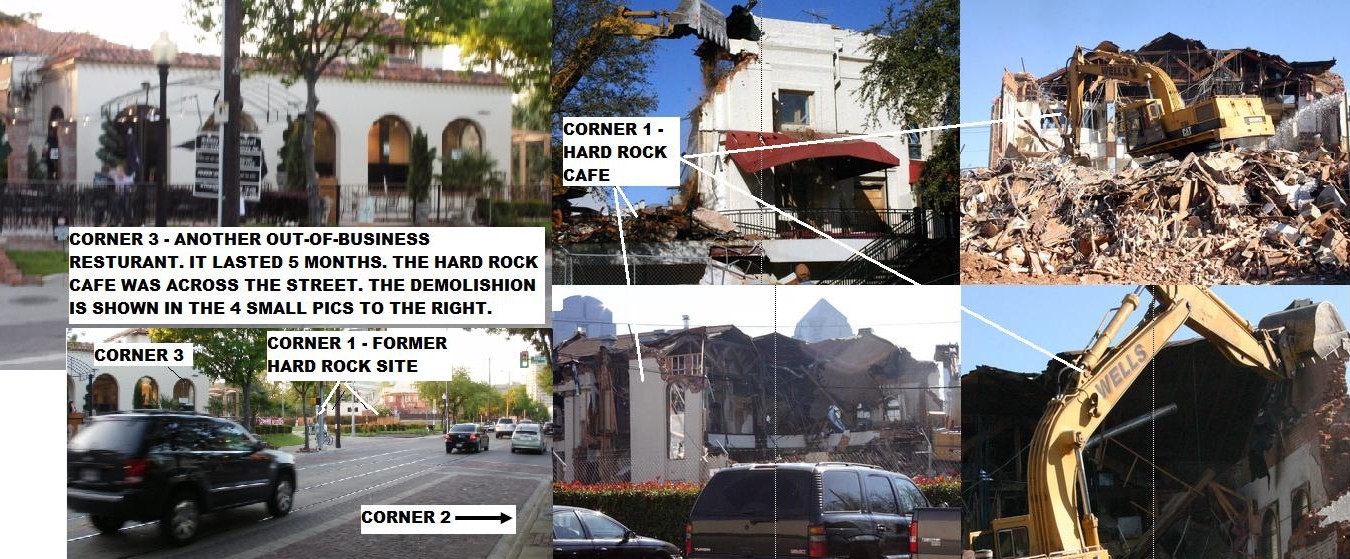 A few hundred years away from this main strip is a huge relatively new apartment complex formerly owned by the Gables. This complex (which you can't appreciate how enormous it is from the picture) opened around 2006/2007 but has struggled to reach a reasonable capacity ever since.
However, as you can see from the sign, it appears as if ING has taken over due to the inability to make sufficient payments on the loan. Developers built much too many high rise apartments in the area.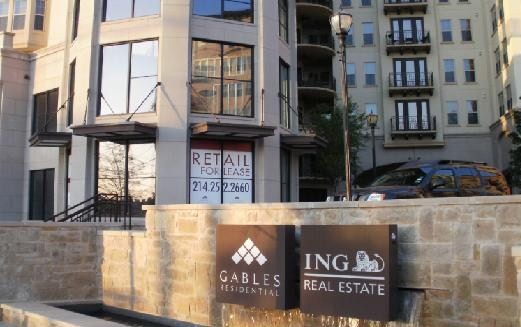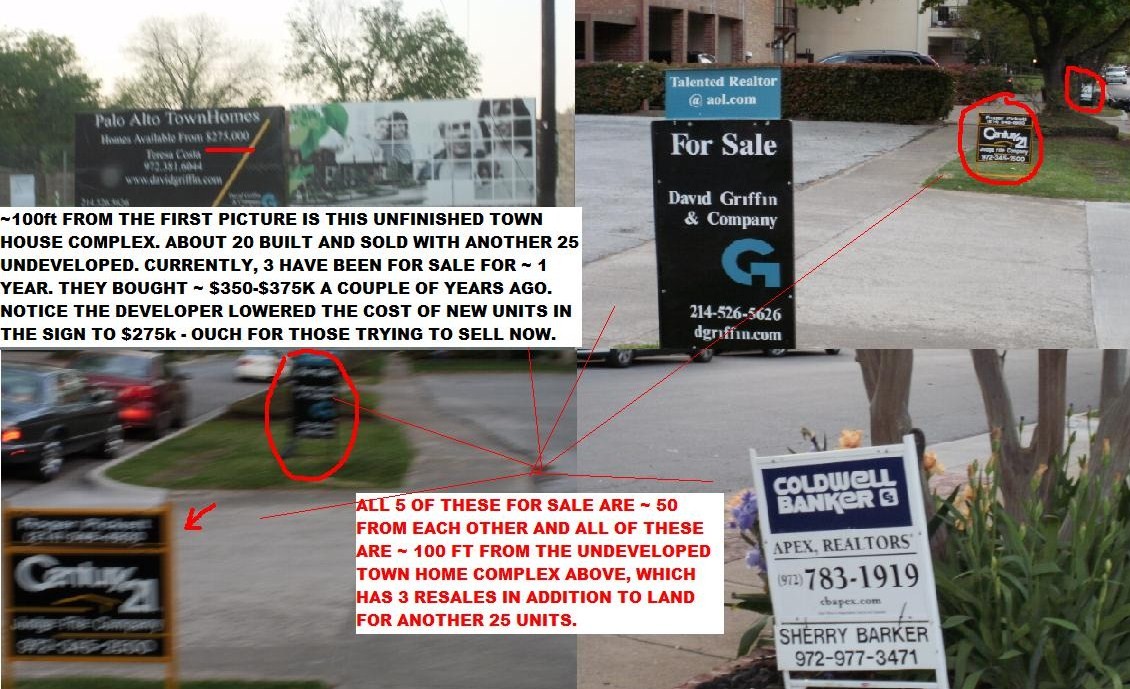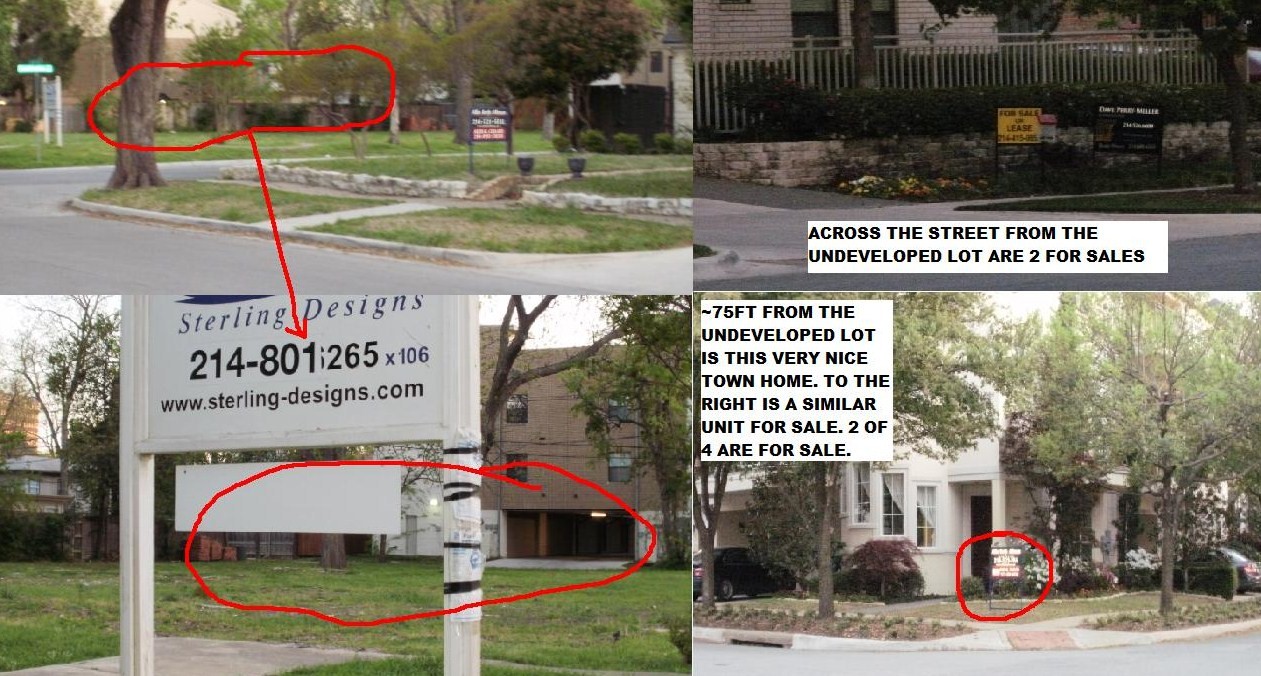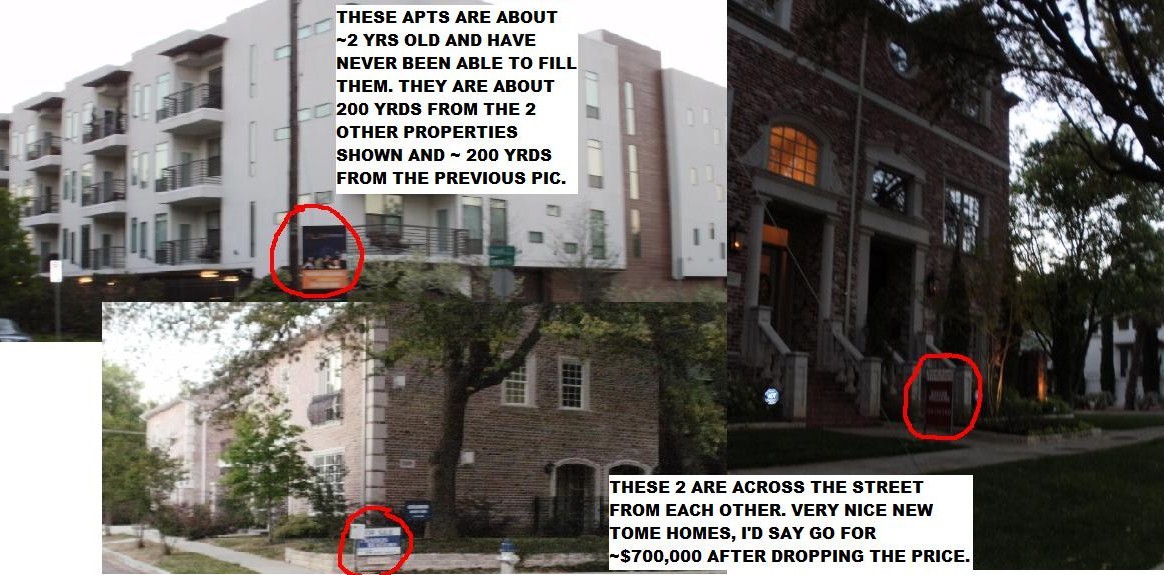 During the brief time I spent in Highland Park (two streets) I ran across quite a few properties for sale. To be honest, I did not expect to find any other than maybe 1 or 2. The average home there sells for a few million. And you rarely see for sale signs because once they are listed they are usually bought very fast. Obviously, things are not quite like before.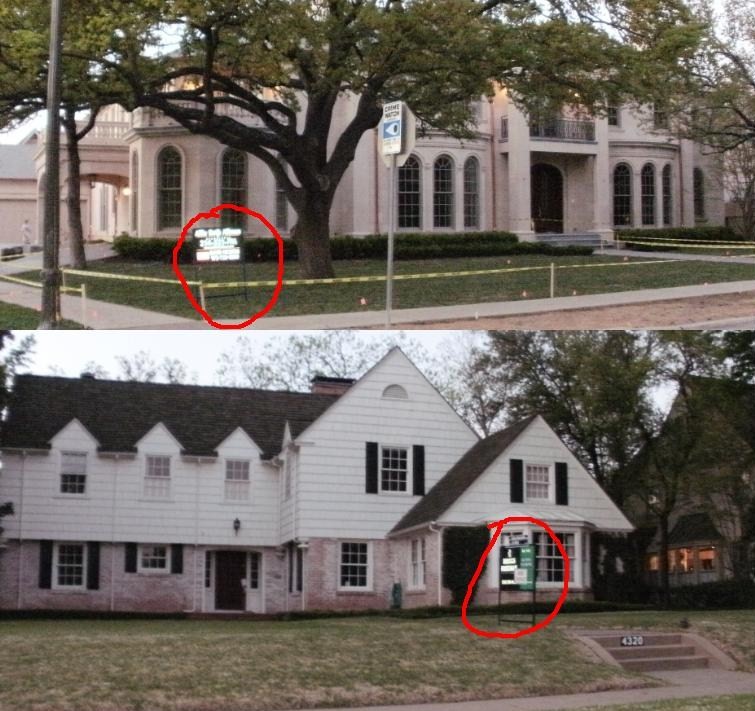 This last picture is of a luxury town home complex (four units). It was dark so I did not get a good picture. I might go back and get a better picture. The entire property was unsold for about four years. Finally the units were bought during the height of the real estate boom. Now at least one person is trying to sell their unit.
It is situated across the street from the Plaza, a high luzury high rise managed by the Four Seasons. Next to that is a world-famous 5-star hotel, the Mansion.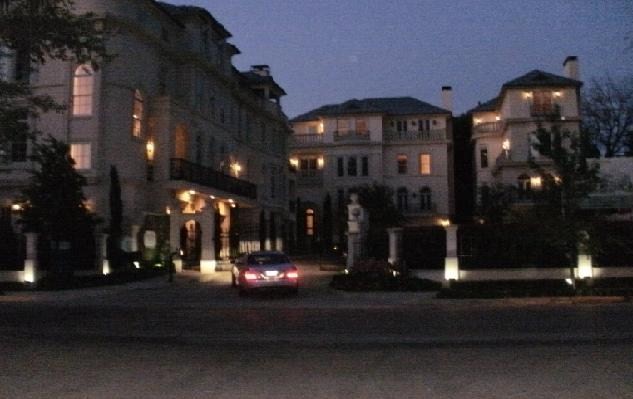 Once again, these pictures are only a small fraction of the properties for sale or rent within about a 1 mile radius.
As you can see, most of these properties are high end. The mid- and low-end real estate market is in much worse shape.
This general area has been responsible for carrying the Dallas real estate market for several years. But you can see how bad things are. Without factoring this area, the real estate stats for Dallas would be much much worse I can assure you.
See Our Copyright Policy
Copyright © 2008-2015. AVA Investment Analytics, LLC. All Rights Reserved.

Restrictions Against Reproduction: No part of this publication may be reproduced, stored in a retrieval system, or transmitted in any form or by any means, electronic, mechanical, photocopying, recording, scanning, or otherwise, except as permitted under Section 107 or 108 of the 1976 United States Copyright Act, without the prior written permission of the copyright owner and the Publisher.

These articles and commentaries cannot be reposted or used in any publications for which there is any revenue generated directly or indirectly. These articles cannot be used to enhance the viewer appeal of any website, including any ad revenue on the website, other than those sites for which specific written permission has been granted. Any such violations are unlawful and violators will be prosecuted in accordance with these laws.

Article 19 of the United Nations' Universal Declaration of Human Rights: Everyone has the right to freedom of opinion and expression; this right includes freedom to hold opinions without interference and to seek, receive and impart information and ideas through any media and regardless of frontiers.