Previously I have discussed how the Tea Party movement has been taken over by the republican party.
This and so many other activities have taken place because the vast majority of Americans are FOOLS.
Yesterday, the idiot and liar, Sean Hannity, first commissioned by the Bush administration to create propaganda for the war in Iraq, was scheduled to speak before a crowd of 13,000 tea party sheep at the University of Cinncinati.
Similar to all of these events, profiteering arrangements had been made in advance, with tea party organizers and Hannity looking to profit from sheeple who have no idea they are being had by the republican party.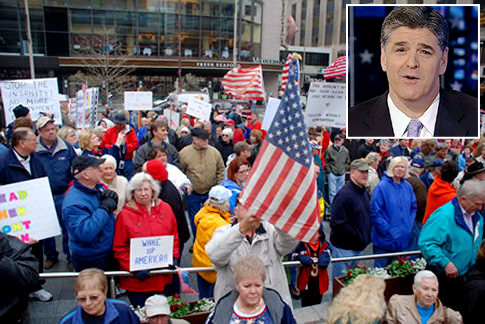 If you will recall, the Boston Tea Party (from which the modern-day movement derives its name) was a rebellion against the government of England. It was NOT a recruiting tool for one political party.
Yet, tea party followers have allowed themselves to be brainwashed into the movement. It should be clear by now that the tea party has been transformed from a rebellion against the Washington mafia, into a partisan movement to help gain momentum for the 2012 presidential elections.
It's an example of controlled opposition at its best. And most Americans are clueless as to what is going on. Yet, to me it's as clear as day.
These sheeple will believe anything they are told from liars and morons like Sean Hannity and others like him.
They forget that it was Bush who began the bailouts.
They forget that it was Bush who was largely responsible for America's Second Great Depression.
While Obama is only making things worse, the tea party sheeple have been galvinized by the masters of media deception to place full blame for America's demise on Obama and the democratic party, without realizing that both parties are the same.
The faces change, but the results remain the same, regardless which party is in office. This a fact that cannot be refuted by anyone who understands what has happened to America.
Tea Party events have been held all across America, with organziers cleaning up, charging space for vendors and sometimes admission. Hannity was no exception yesterday. Seats for the event varied from $5 to $20.
Hannity also planned to sign copies of his useless propaganda book (which I can guarantee you was not even written by him) as a way to promote sales.
Apparently, FOX management did not want the bad publicity of Hannity profiteering from this event so they ordered him to return to their studios to tape his (always) useless show filled with lies.
The Tea Party movement serves as a complete insult to the participants of the Boston Tea Party. It's fraud. It's manipulation. And this type of deceit continues because so many Americans have been transformed into brainless idiots by America's propaganda machine.
See Our Copyright Policy
Copyright © 2008-2015. AVA Investment Analytics, LLC. All Rights Reserved.

Restrictions Against Reproduction: No part of this publication may be reproduced, stored in a retrieval system, or transmitted in any form or by any means, electronic, mechanical, photocopying, recording, scanning, or otherwise, except as permitted under Section 107 or 108 of the 1976 United States Copyright Act, without the prior written permission of the copyright owner and the Publisher.

These articles and commentaries cannot be reposted or used in any publications for which there is any revenue generated directly or indirectly. These articles cannot be used to enhance the viewer appeal of any website, including any ad revenue on the website, other than those sites for which specific written permission has been granted. Any such violations are unlawful and violators will be prosecuted in accordance with these laws.

Article 19 of the United Nations' Universal Declaration of Human Rights: Everyone has the right to freedom of opinion and expression; this right includes freedom to hold opinions without interference and to seek, receive and impart information and ideas through any media and regardless of frontiers.