Just a quick note, as I head back to some late-night work. I ran across this news story just now discussing another "victory" by a tea party candidate and I wanted to show you how the Associated Press is trying to manipulate people into believing that these candidates are any different than the others. Let's have a look...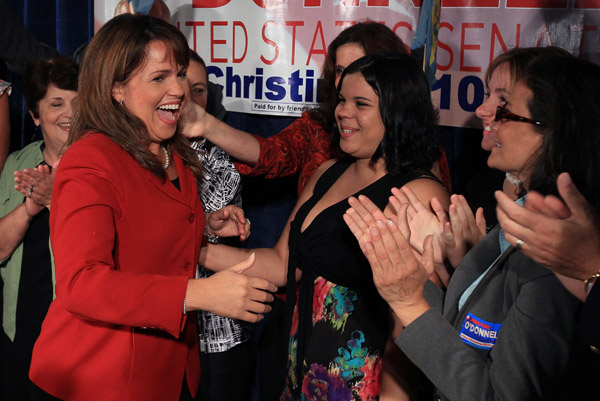 "Virtually unknown a month ago, Christine O'Donnell rode a surge of support from tea party activists to victory in Delaware's Republican Senate primary Tuesday night, dealing yet another setback to the GOP establishment in a campaign season full of them."
http://news.yahoo.com/s/ap/20100915/ap_on_el_ge/us_primary_rdp
Do you like how the reporter uses the phrase "dealing another setback to the GOP establishment"?
Now have a look at one of the media's puppet organizations, that holds itself out as some kind of "alternative news source." Read how they reported this "news." Do you see any diffference? Not at all.
http://news.yahoo.com/s/yblog_upshot/20100915/el_yblog_upshot/tea-party-victory-endangers-gops-goal-of-retaking-the-senate
They pull the same stunt trying to manipulate the people. However, these puppets most likely don't realize what they are doing. They aare merely following the lead from their media crime boss, the Associated Press, which continues to lose credibility by the day.
I'm getting more and more disgusted each day as I continue to see the same trash from the media, with no one to question the spin or motives. It's truly disgusting to see such brainless puppets and liars.
What America needs is to open up elections fairly to numerous additional parties so that voters can actually have a choice instead of voting for one of the two factions of the Washington mafia. But of course, that simply isn't going to happen because the tea party sheep have been fooled like monkeys.
You see, the trick is to make Americans think they are actually making progress towards something the current Puppet-in-Chief, Obama promised; CHANGE.
However, the fact is the tea party is a front; a gimmick, with the backing of corporate America. Thus, you know there will be no change. The tea party has no real leadership by design.
You see, by having no real leadership, you get a collection of angry Americans who want change, but don't know how to get it because they don't realize that Washington is a two-party mafia. So, any progress the party makes with its "candidates" only represents controlled opposition because it provides the illusion of progress so as to appease angry Americans.
And by the time most Americans realize that no change is coming, another 10 or 15 years will pass. It's truly a dog-and-pony show.
The media pulls the same subtle manipulative tactics when discussing the economy with statements such as "since the recession ended last year..." in order to make you think that the recession did end, when the fact is that the recession is alive and well.
I wanted to point this out hoping to help you become more critical when reading the news, because most of the time, the reporting is spun in order to meet agendas.
For those of you who want some additional insight into the controlled opposition movement that has been labeled the tea party, see here and here.