"The great majority of the Senate of the United States...somewhere around 80 percent...are completely in support of Israel, anything Israel wants. This has been demonstrated time and again, and this has made it difficult."

"The Israelis object to an imposed settlement I don't know what they mean by an imposed settlement. It's quite obvious, without the all out support by the United States in money and weapons and so on the Israelis couldn't do what they've been doing. So we bear a very great share of the responsibility for the continuation of this...of this state of warfare."

Senator William J. Fullbright

Fulbright made these statements during CBS's "Face the Nation" in 1973. Since that time, Israel's control over Washington has grown tremendously, like a malignant cancer.

Is this really true you ask?

I'll let you decide for yourself.

Let's begin with something more current.

After facing intense pressure to axe his entire economic team due to their strong ties with Wall Street and the Federal Reserve, Obama's advisers basically opened the door for Larry Summers' departure.

Obama has narrowed down his choices to replace Zionist Jew and Wall Street insider, Larry Summers as the next Director of the National Economic Council. Let's take a look at Obama's remaining candidates.

First, we have Zionist Jew Richard Levine, currently serving as Yale's president, a position he has held since 1993. Levine has spent most of his life in academics. As an academic economist, Levine brings no real business sense to the table.

Next, there's Zionist Jew Gene Sperling, a Washington insider. Sperling previously served as deputy director of the National Economic Council headed by Robert Rubin under Clinton's first term. In Clinton's second term Sperling served as Treasury Secretary and director of National Economic Council. Thus, Sperling has experience under the regime that removed the most critical portion of the Glass-Steagall Act, spearheaded by Robert Ruben, Larry Summers, Alan Greenspan and Phil Gramm.

In addition, as a member of the Council on Foreign Relations and current advisor to Secretary of Treasury Tim Geithner, Sperling brings the kind of leadership to ensure criminal activity by Wall Street, the Federal Reserve and the elite scum.

Obama's final candidate for NEC Director is Zionist Jew Roger Altman, founder and head of Evercore Partners. Most recently, Evercore advised General Motors in its bankruptcy reorganization plan, charging a total of nearly $70 million; funds that came from tax payers. Many experts have called these fees absurd. But what does it matter? It wasn't GM's money to hand out. It was yours.

Altman was previously the Assistant Secretary of the U.S. Treasury under President Carter, Deputy Secretary of the Treasury under President Clinton, an executive at Lehman Brothers, and Vice Chairman of the Blackstone Group, making him a career politician and indisputable Wall Street vulture.

Adding to his candidacy for a top position in America's fascist regime his Altman's membership in the Council on Foreign Relations and his attendance at the Bilderberg Group.
So there we have it. Regardless who is selected, it will be just another lose-lose situation for the American people. Perhaps if Obama opened his platform to non-Jewish candidates, he might be able to receive some guidance that actually benefits working-class Americans instead of corporate oligarchs and Wall Street scum.
But this is not possible due to the tremendous power held by AIPAC and some 300 Israeli lobbies, all of which have bought off Washington. For if Obama does not abide by AIPAC's demands, similar to all other politicians, he will face the wrath of this, the most powerful lobby in the U.S. This is a fate no politician would wish on his worst enemy.
Many Americans want to see U.S. Treasury Secretary Tim Geithner replaced as well due to his close ties to the Federal Reserve Bank. However, you can bet that if Geithner were to leave, another Jew (most likely Zionist) would be selected according to the demands of AIPAC.
A few months ago, Jewish economist Peter Orszag (I do not think he is a Zionist) abruptly resigned as Director of the Office of Management and Budget. Previously, Orszag served several economic positions under Clinton, then Director of the Congressional Budget Office. Immediately upon leaving the White House, Orszag joined the CFR as a distinguished visiting fellow.
Recently, he joined Citigroup's Senior Strategic Advisory Group, where his estimated compensation is expected to be around $3 million annually despite the fact that he has no real experience in this area. Orszag follows the long tradition of departing office via the revolving door between Washington and corporate America.
How can Americans ever expect to have any confidence in Washington when they are rewarded with fortunes by those they are supposed to police when they leave office? The examples of this activity are endless.

So who did Obama replace Orszag with? Take a guess.

Jacob Lew, a Zionist Jew. Lew previously served as Special Assistant to the President under Clinton, several positions in the OMB including Director under Clinton.

Prior to being selected as the new head of the OMB, Lew served as the Deputy Secretary of State and Management of Resources under Obama. Like so many of Obama's Jewish Cabinet, Lew is a Wall Street insider, having served as the COO of Citigroup's Alternative investments unit in 2006. Something smells fishy here.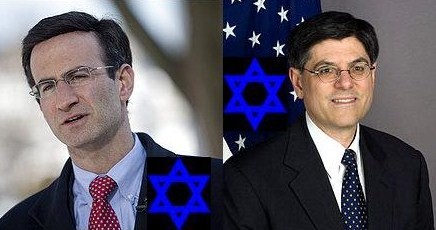 What that means is that Lew quite possibly (alternative investments may or may not include exotic derivatives such as those that helped implode Citigroup) had a role in the destruction of the bank, costing tax payers billions of dollars.
What about the Congressional Budget Office. Care to guess who heads this important economic position?
The Director of the CBO is Douglas W. Elmendorf, another Jew.
If it seems like virtually every top economic position in Washington is headed by a Jewish person that's because it is. With no more than 2% of the U.S. population, Jews are overrepresented by anywhere from 15 to up to 50 times in key industries and the federal government, Wall Street and the Federal Reserve Bank, to the media, Hollywood, corporate America and the legal system.
But that's certainly not all. We see similar levels of overrepresentation in some of America's top universities. That's what you call some major networking not even rivaled by the most corrupt dictatorships.
As you might imagine, with this level of control over the U.S., Israel receives more financial aid from America than the rest of the world combined. In essence, tax payers are funding the ethnic cleansing of Israel. Ironically, while millions of Americans have lost their homes due to the collapse caused by Wall Street and the Federal Reserve, Israeli homeownership is being subsidized in the West Bank with U.S. tax dollars.
But a good part of this U.S. aid to Israel is shuttled back to AIPAC, enabling it to purchase even the most reluctant politicians. Thus, your tax dollars are being spent buying off Washington in order to support Jewish appointments and to pass laws favorable to Israel.
And of course we cannot forget about Wall Street because this is the primary source that feeds the Zionist mafia. Wall Street is able to buy off Washington, ensuring that it is able to continue ripping off investors. And we all know who most of the big Wall Street players are.
Everywhere you turn in the U.S. you will see Jewish individuals (most of them Zionists) in top positions. This is by neither coincidence nor merit-based. It's due to the tight network of power and money utilized by the Zionist Jewish mafia.
And we cannot forget about the kosher tax on food items, which brings in an estimated $10 to $15 billion dollars worldwide each year to Jewish Rabbis. Amazingly, with more than 42 million Americans on food stamps, this unfair tax has never been questioned by anyone in Washington or the Zionist-controlled media.
In Part 2, I will present to you some other important positions held by Jews and appointed by Obama's Jewish handlers. Thereafter, you should have no doubt whatsoever who runs Washington.
Click here for Part 2.
Click here for Jewish control of the global banking system.
Click here to learn about the Jewish mafia.
See Our Copyright Policy
Copyright © 2008-2015. AVA Investment Analytics, LLC. All Rights Reserved.

Restrictions Against Reproduction: No part of this publication may be reproduced, stored in a retrieval system, or transmitted in any form or by any means, electronic, mechanical, photocopying, recording, scanning, or otherwise, except as permitted under Section 107 or 108 of the 1976 United States Copyright Act, without the prior written permission of the copyright owner and the Publisher.

These articles and commentaries cannot be reposted or used in any publications for which there is any revenue generated directly or indirectly. These articles cannot be used to enhance the viewer appeal of any website, including any ad revenue on the website, other than those sites for which specific written permission has been granted. Any such violations are unlawful and violators will be prosecuted in accordance with these laws.

Article 19 of the United Nations' Universal Declaration of Human Rights: Everyone has the right to freedom of opinion and expression; this right includes freedom to hold opinions without interference and to seek, receive and impart information and ideas through any media and regardless of frontiers.