Two years ago, the US Mint announced that it would discontinue production Gold Eagle coins. Perhaps this was due to waning demand, as gold was approaching $1000/ounce.
On the other hand, it's not as if enthusiasm for gold was in decline.
Finally, the Mint is able to adjust production relative to demand. Thus, we ask why was production of these coins halted?
If you ask gold bugs, they're sure to tell you that the Mint simply ran out of gold. In fact, the Mint even pointed to supply issues as the reason for halting production back in late 2008. Of course, this complete hogwash.
So then, why did the Mint stop producing Gold Eagle coins?
If we examine a chart of the iShares gold ETF, you can see that ever since the Mint stopped producing Gold Eagles, gold has nearly doubled in a span of right around two years.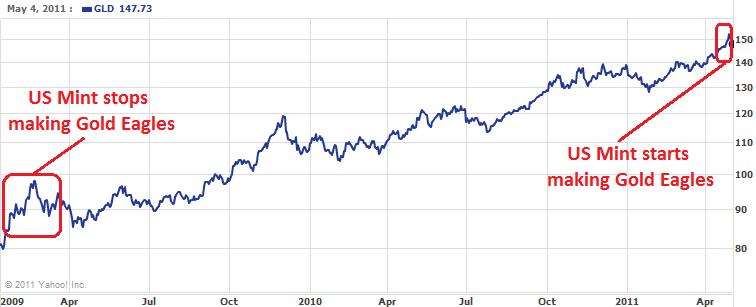 This raises the question...
Did the US Mint have good reason to believe the price of gold would trend upward for at least a year?
While some might feel that the Mint has no concern whether or not they expect gold to rise or fall when making decisions whether to make gold coins, the fact is that the Mint is run like a business, with certain sales and profit hurdles. If you don't believe that, just add yourself to their email notification list.
[Before you add your email to their list, I want to caution you that once you add your email to their list, you are not likely to be able to remove it later because apparently, their email system doesn't work so great.]
Perhaps the decision to cease production of Gold Eagles had nothing to do with expectations for gold prices. However, today the US Mint sent to email notifications that it was bringing back Gold Eagles. This raises the question...
Does the US Mint have some type of insider information (say from the Federal Reserve) that indicates gold is headed for a long downward trend?
Other than the top officials at the Mint and the Federal Reserve (as well as their close associates) no one is likely to know the answer to this question. However, it is certainly something to think about.
One thing is for certain. If in fact the Mint has some type of information pertaining to future gold price trends, you can bet it would factor in to the decision of whether to produce Gold Eagles, or halt production.

See Our Copyright Policy
Copyright © 2008-2015. AVA Investment Analytics, LLC. All Rights Reserved.

Restrictions Against Reproduction: No part of this publication may be reproduced, stored in a retrieval system, or transmitted in any form or by any means, electronic, mechanical, photocopying, recording, scanning, or otherwise, except as permitted under Section 107 or 108 of the 1976 United States Copyright Act, without the prior written permission of the copyright owner and the Publisher.

These articles and commentaries cannot be reposted or used in any publications for which there is any revenue generated directly or indirectly. These articles cannot be used to enhance the viewer appeal of any website, including any ad revenue on the website, other than those sites for which specific written permission has been granted. Any such violations are unlawful and violators will be prosecuted in accordance with these laws.

Article 19 of the United Nations' Universal Declaration of Human Rights: Everyone has the right to freedom of opinion and expression; this right includes freedom to hold opinions without interference and to seek, receive and impart information and ideas through any media and regardless of frontiers.