Since that period, Antioco has been replaced by a new CEO, but it may have been too late. Blockbuster is learning the hard way after suffering from a long period of terrible management and strategic confusion.
Antioco was more focused on increasing his compensation during a period of massive losses. In what could be their last stand, Blockbuster is now looking for a real business to merge with because they waited too long to respond to industry change.
It's easy to see Blockbuster's loss has been Netflix's gain. With much better management, Netflix has been able to steal away market share with no debt. And they've been ahead of the curve when it comes to what will be a transition to on-demand videos. This is a classic case of a long-short investment position.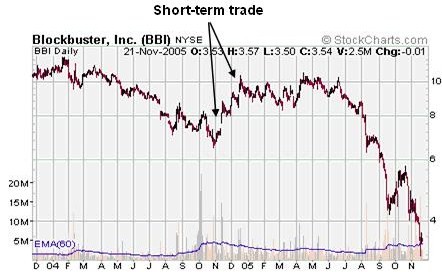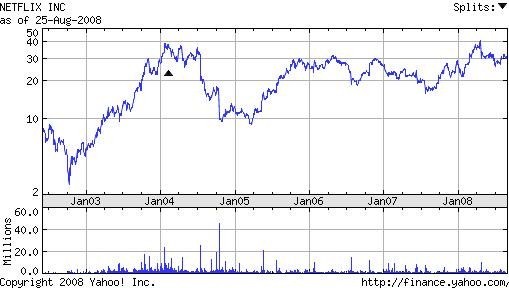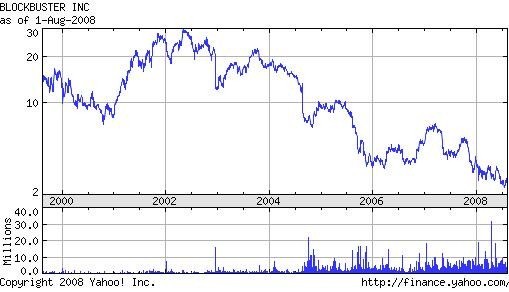 This analysis was written in August 2008. So now, let's have a look at what's happened since then.

As you can see from the chart above, the long-short strategy has paid off big, as my strategic analysis and managerial assessment for Blockbuster and Netflix have remained firmly in tact.
Yesterday, Blockbuster announced it will close nearly 1000 additional locations. The only thing that surprises me about this is WHY MANAGEMENT WAITED SO LONG.
Blockbuster had a chance to leverage its once strong brand name, but management remained in "strategic limbo" while clinging onto struggling stores. The time for a digital strategy has come and passed for Blockbuster.
As its last chance to stay afloat, management is trying to cut costs by closing stores. You can bet there will be more store closings before it's all over. Short of a miracle, Blockbuster is unlikely to recover, as the window of opportunity has passed. Much of the company's fate will depend upon management's ability to renegotiate debt covenants and secure favorable refinancing arrangements with creditors.
If a miracle isn't in the cards, Blockbuster might still be able to secure favorable terms with creditors. However, shareholders should not expect this to bode well for them, as the deal is likely to be shuttled to a private equity firm. If this happens, shareholders will be lucky to break even on the take out price. The buyer could even could cause substantial dilution by a variety of methods. Alternatively, common stock dilution could also occur through the issuance of warrants or convertible bonds as a condition of favorable financing terms.
There are many possible fates for Blockbuster, but I do not see positive outcomes for common stock shareholders. If in fact something does happen that sends the stock soaring, I would advise shareholders to use that as an opportunity to exit.
One of the learning points to take from this analysis is that investors need to understand everything that determines a company's market position, weighing it with competitors.
Another learning point is that you can profit from fundamentally unsound companies in the short-term, as long as you understand relative valuation, qualitative analysis and technical analysis, as every stock is a potential buy at the right price.
Most important, you need to know when to get in and when to get out. But if you are not able to reach a relatively high certainty for your entry and exit positions, your best move as a trader is to stay away from fundamentally unsound companies. At minimum, in order to have the slightest chance with this approach, you must follow the company very closely so you can gauge investor sentiment relative to material changes.
This is just one example of the investment insight and analysis contained in The Wall Street Investment Bible.
But understand this. It is a book meant only for the most serious of investors who wish to learn unique insights as they add to their investment management and stock selection methodology.
You can read the Introduction and view the expanded Table of Contents here.