Say Hello to the '70s
Those of you who are familiar with my previous publications know my real estate forecasts remain unchanged since first published in 2006. To reiterate, I'm expecting an average decline from peak prices of 30% (best case scenario) to 35% (worst case scenario), sending home values back to pre-1999 levels.
Within the next three years, mortgage rates should approach 8% and take off thereafter. Soon, we will see a 1970s type inflationary period. This will bode well for owners of real estate rental units.
We have already duplicated a portion of the '70s, with record gold and oil prices while inflation is mounting. Most likely, the Fed will try to delay raising rates past the 5.0% range until after 2011.
By the end of 2011, most of the ARMs and Alt-As will have reset. Thereafter, I am expecting rates to take off. They'll have to. By that time, inflation is likely to be so high that even Washington's number games won't be able to hide the truth any longer. Then again, we should never count out Washington's ability to deceive those who they have been elected to serve.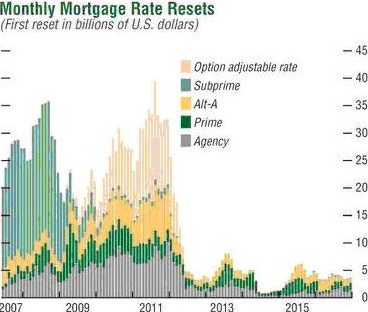 My forecasts are contingent on many variables. The largest and most uncertain of these variables is Bernanke.
As we know from the past, he has not always acted in a manner that one would expect. But one thing you can be assured of - when I make forecasts, I'm very meticulous in testing all scenarios.
And unlike other analysts and economists, I do not modify my forecasts every month or quarter based on newly reported economic data. Why don't I do this? Because most of this data is usually noise.
Understanding the macro trends is what really matters. The big picture doesn't change based upon daily, weekly, monthly or even quarterly data. So when you see knee-jerk reactions from analysts and economists based on transient changes in data, you should question whether they really know what's going on or whether they're just shifting the picture for their own agendas.
If forecasts change every month, how can they be taken seriously? I'm talking about forecasting, not broadcasting (hello Robert Shiller. I'm speaking to you!).
Foreclosure Avalanche
In 2007, government figures show 1.5 million foreclosures were initiated. No one knows yet how many actually closed because of pre-foreclosures other potential transactions. For 2008, consensus estimates expect 2.5 million foreclosures.
Since August 2007, the Federal Housing Administration (FHA) has restructured loans for 250,000 homeowners enabling them to remain in their homes. As of July 2007, HOPE NOW Alliance has done the same for 1.7 million homeowners. And now it is helping 200,000 homeowners stay in their homes every month.
Without this assistance, there could be up to 6 million foreclosures in less than two years since the commencement of the real estate meltdown. When I published my forecasts in 2006, I estimated between 8 to 10 million foreclosures would occur by 2014.
A few months later I raised this estimate to 15 million by 2016 prior to releasing the real estate book. I usually use the conservative side of my forecasts. And it appears as if this will turn out to be somewhat conservative. Back when I released these books, many thought I was a nut to make what were viewed as ridiculously high estimates. It's funny how sentiment can change in such a short time.
The Small Banks Will Fail
In the coming months, I expect to see several bank failures. Not Citigroup or Bank of America. The "Big 5" won't fail because the Fed would never permit it. You know the Fed – the entity that's owned and operated by the "Big 5."
It will be the small local and medium regional banks that fail (however, while not one of the "Big 5" it appears likely that Washington Mutual will be bought by TPG over the next two years).
By the time the washout is finished we could see several hundred take a fall. If we include those destined for the auction block, I can almost guarantee you there will be hundreds of failures. Apparently, the FDIC understands these possibilities. As of March 26, 2008 the agency increased its staff by an additional 60% in anticipation of many more bank failures. "We want to make sure that we're prepared," said Jon Bovenzi, the FDIC's chief operating officer.
After so much denial and deceit by Washington and the media, at some point you need wonder why this isn't the kind of news that dominates the airwaves.
You know, news you can actually use to your benefit. Let me solve this mystery. The job of the media establishment is not to warn consumers of anything that has not yet happened, especially during a crisis. They feel that it will only create a self-fulfilling prophecy. And you better believe Washington communicates with the heads of each television network to ensure they don't let the cat out of the bag. Instead, their theme is denial. That is why it's rare for investors to be warned in advance from anyone in the media.
When the smaller banks fail, the "Big 5" will snatch them up at pennies on the dollar compliments of Bernanke's printing presses. Maybe now you can see why every nation wants to get as far away from the dollar as possible. They understand the worst is yet to come.
Bernanke's "Big 5" banking bailout is only ensuring the dollar crisis will continue. However, no nation will be able to completely escape the effects of the falling dollar since it remains the universal currency. It is deeply embedded within global commerce and has extensive reach throughout the global financial system.
And of course, you must have the dollar to buy oil. But this could change. In fact, Iran has already tried to convince OPEC members to follow its lead in demanding Euro payments for oil on its newly created oil exchange (I previously discussed this global dependence on the dollar in the article "The Big Secret about Peak Oil and the U.S. Military"). In the meantime, most nations continue to hedge the weak dollar by increasing gold reserves. As for the Middle East, they have their hedge against a weak dollar – oil.
NOTE: Mike Stathis predicted the precise details of the financial crisis in his 2006 book, America's Financial Apocalypse.

The Jewish Mafia REFUSED to publish this landmark book because it exposed the widespread fraud committed by the Jewish Mafia.

Instead, the Jewish Mafia published useless marketing books written by their broken clock tribemens (like Peter Schiff's useless book which was wrong about most things and was written a year AFTER Stathis' book).

Stathis also released a book focusing on strategies to profit from the real estate collapse in early 2007.

The Jewish media crime bosses prefer to simply ignore those who speak the truth and threaten to expose them as the best way to hide the scams from the public.

In contrast, the Jewish media crime bosses continuously promote Jewish con men and clowns who have terrible track records as a way to enrich them all while steering the audience to their sponsors, most of which are Jewish Wall Street and related firms. Figure it out folks. It's not rocket science.




__________________________________________________________________________________________________________________

Mike Stathis holds the best investment forecasting track record in the world since 2006.




So why does the media continue to BAN Stathis?


Why does the media constantly air con men who have lousy track records?

These are critical questions to be answered.

You need to confront the media with these questions.

Watch the following videos and you will learn the answer to these questions:

You Will Lose Your Ass If You Listen To The Media

__________________________________________________________________________________________________________________
See Our Copyright Policy
Copyright © 2008-2015. AVA Investment Analytics, LLC. All Rights Reserved.

Restrictions Against Reproduction: No part of this publication may be reproduced, stored in a retrieval system, or transmitted in any form or by any means, electronic, mechanical, photocopying, recording, scanning, or otherwise, except as permitted under Section 107 or 108 of the 1976 United States Copyright Act, without the prior written permission of the copyright owner and the Publisher.

These articles and commentaries cannot be reposted or used in any publications for which there is any revenue generated directly or indirectly. These articles cannot be used to enhance the viewer appeal of any website, including any ad revenue on the website, other than those sites for which specific written permission has been granted. Any such violations are unlawful and violators will be prosecuted in accordance with these laws.

Article 19 of the United Nations' Universal Declaration of Human Rights: Everyone has the right to freedom of opinion and expression; this right includes freedom to hold opinions without interference and to seek, receive and impart information and ideas through any media and regardless of frontiers.
Printing Version More On Economics
Related Articles