In Part 5 of this series, I discussed how Don Luskin serves as one of the biggest Wall Street hacks on TV. This is specifically why Larry Kudlow has him on his pro-Wall Street, neo-conservatism show. I demonstrated just how dedicated Luskin is towards this mission by discussing his ever so timely op-ed in the Washington Post. So let me finish where I left off.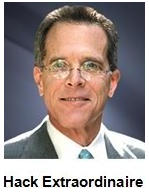 Mr. Luskin, congratulations. That op-ed will probably make history books someday as an example of why many U.S. newspapers went bankrupt. It certainly marks you as a fool. But don't think of that piece as the clincher. You've had many appearances on Kudlow (your fellow hack buddy) that labeled you a fool and hack prior to that.
A couple of days after the Post published Luskin's bull, Debra Sanders of the San Francisco Chronicle decided to highlight her ignorance with a follow-up to Luskin's op-ed on September 18, 2008 titled, "Just don't call the U.S. economy solid." Let's have a look.
"John McCain was right when he said Monday that despite the Lehman Brothers filing for bankruptcy and AIG trolling for help from Uncle Sam, 'the fundamentals of our economy are strong."
She then mirrors Luskin's ridiculous plastering of bogus government data, while accusing Obama of fear-mongering as a political strategy and undermining the severity of the economic devastation.
"The most serious financial crisis in generations?"
Next, she continues to act as if Luskin has a clue.
"Luskin has lived through five or six recessions, and 'this ain't one' says Luskin…. the fundamentals of the American economy are strong."
Next, she plugs her own sob story. "Let me add, life's no picnic when you work in the shrinking newspaper industry."
"In fact, the stock market had four bigger one-month drops since the Great Depression, but facts don't matter."
Okay Sanders, now that the Dow collapsed by more in any 12-month period in the nation's history, what do you have to say?
E-mail: dsaunders@sfchronicle.com

It's clear Sanders has no idea this data is all bogus. She's like most incompetent journalists, who assume the data must be right. It's an assumption of convenience many journalists use in order to promote their political agendas.
Do yourself a favor. Email her and let her know what you think. You better believe I did. This is my favorite line…
"Let me add, life's no picnic when you work in the shrinking newspaper industry."
Attention Sanders, you idiot. The industry is shrinking because Americans want valuable content. They're sick of irresponsible journalism slanted towards the interests of corporate sponsors and political candidates.
I find it ironic how Sanders was moaning about the "shrinking newspaper industry" while her trash is contributing to the problem. Even more ironic, just a few months later the Chronicle announced the likelihood of bankruptcy.
Apparently, the media's strategy of delivering trash while promoting agendas is failing miserably. The entire industry is facing huge financial problems, from newspapers and publishers to radio and TV. And I must admit…I love it.

A few decades ago, journalists actually researched the validity of commentaries and data delivered by uneducated pseudo-intellectuals like Luskin, in order to minimize the spread of propaganda. Of course, there was still a considerable amount of propaganda back then. It just didn't rival that found in Nazi Germany as it does today.

Ultimately, we can make the media responsible. If you stop subscribing, if you stop watching, if you stop listening, their ratings will collapse. Ad revenues will collapse. Eventually they will be forced to provide valuable content. If you don't stop watching and listening, you will get screwed over and over until you have nothing left.

Now let me get back to CNBC. In Part I, I barely made mention of the side show act called Fast Money. I'm willing to bet my house these guys are basically failed traders. If they didn't get blown out, they wouldn't be on TV.
But you have to understand the psychological tactics used by media producers. You see, these testosterone-loaded meatheads fulfill a certain market. The show takes "trading" to a new level for the wannabe traders with beer bellies, who handicap NFL games.

Like the other shows on CNBC, Fast Money is nothing more than a glorified infomercial. In fact, I have recently seen infomercials that have been designed as news shows to make you think they are credible. Apparently, they learned this trick from CNBC.

We Can't Forget About Oprah
I also wanted to show you another example how these networks all partner with each other. Notice on the Fast Money website how they throw in an endorsement from Oprah. She represents another danger to Americans.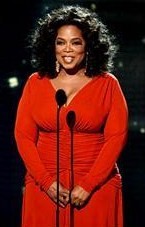 Oprah Winfrey tells us she loves watching Dylan on CNBC. But wait until you see the Commissioner on her show!"
What a joke. In my opinion, if Oprah validates your investment show or any other show, that's a clear sign it's trash TV intended for sheep. The same goes for her book endorsements. That said, I'm willing to bet Jim Cramer has appeared on Oprah. Any takers?
Oprah has launched the careers of several mass marketers and self-proclaimed "experts" who are no more than marketing machines without a conscious, looking to sell you an empty bag dreams.
Ever since receiving Oprah's "golden touch," they've been welcomed with open arms by other networks and touted as investment experts and gurus. Why? Because millions of naïve Americans are looking for easy money.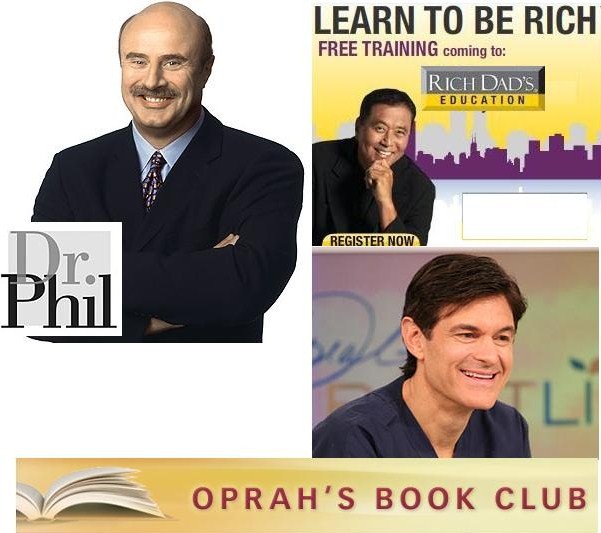 These marketing gurus spend most of their time on various television networks trying to convince you they understand investments and real estate. In reality, they haven't made any real money from investing prior to collecting money from media appearances and fluff books.
Only after making money from their marketing business do they invest. But their investments are passive because they're too busy pitching snake-oil to sheep. Any way you look at it, they are clueless about investing. But they sure know how to take your money. Some might say they are no different than Wall Street.
These guys pimp themselves out shamelessly on TV in order to sell you investment kits, programs, books, etc. Only sheep buy this trash while failing to realize they're buying their appearance, not a valuable book, or they're buying empty promises, not some secret system to make you into a millionaire.
Sorry folks, but there are no secret systems that can transform you into a millionaire overnight. And no one on earth is capable of writing quality books while spending their time marketing on TV. I know what it takes to write a quality book. It's more than a full-time job. Anyone who isn't spending at least a year full-time writing a book either has a ghost writer or is pumping out fluff.
Has anyone ever bothered to check the track record of these marketing clowns? Do they really know what they're talking about? When it comes to sales pitches, they do. But put them up against any real investment expert and they'll run in fear of being exposed for who they really are.
People, it's time to wake up. You need to stop empowering media hosts who do nothing but steer you down a blind alley. Oprah has proven over and over again that she is no different than the hacks on CNBC and elsewhere. After all, Oprah IS mainstream media. The only difference between Oprah and the hacks on CNBC and FBN is that her misguided content is more due to incompetence rather than orchestrated deceit.

Simply turn off the tube and let the ratings dictate their fate. If you don't, you will remain an idiot. By watching, you're guaranteed to get burned, while boosting their ratings. By watching, you will be indirectly handing them money because you will boost their ratings while becoming brainwashed into making bad investment decisions. Now you've been warned, so you have no excuse next time. And I can assure you that "next time" is right around the corner.

Hey Oprah, stop promoting cheese balls who sell desperate people empty dreams. Start doing proper due diligence before airing your guests so you can promote real experts who have adequate qualifications, and those who truly care about helping people. Alternatively, stop having any of these "gurus" on your show altogether.

In the end, it's the people who do and say as Oprah does and says who are to blame. In the end, you are the cause of your own destruction if you're gullible enough to buy into the trash on television, radio, publications and websites. The trash hits every venue. In order to find valuable, unbiased content, you have to search long and hard.
See Our Copyright Policy
Copyright © 2008-2015. AVA Investment Analytics, LLC. All Rights Reserved.

Restrictions Against Reproduction: No part of this publication may be reproduced, stored in a retrieval system, or transmitted in any form or by any means, electronic, mechanical, photocopying, recording, scanning, or otherwise, except as permitted under Section 107 or 108 of the 1976 United States Copyright Act, without the prior written permission of the copyright owner and the Publisher.

These articles and commentaries cannot be reposted or used in any publications for which there is any revenue generated directly or indirectly. These articles cannot be used to enhance the viewer appeal of any website, including any ad revenue on the website, other than those sites for which specific written permission has been granted. Any such violations are unlawful and violators will be prosecuted in accordance with these laws.

Article 19 of the United Nations' Universal Declaration of Human Rights: Everyone has the right to freedom of opinion and expression; this right includes freedom to hold opinions without interference and to seek, receive and impart information and ideas through any media and regardless of frontiers.