First he got involved with casinos. He just happened to pick the wrong spot (Atlantic City). Of course, everyone knows in real estate, the most important thing is "location, location, location." Yet, Trump claims to be a real estate expert.
Next, he got involved with the Miss Universe Organization, owned also by NBC. As a result, Trump makes certain to create drama with the Miss Universe, Miss USA, and Miss Teen USA events as much as he can.
Next, it was the Apprentice.
And now it's wrestling.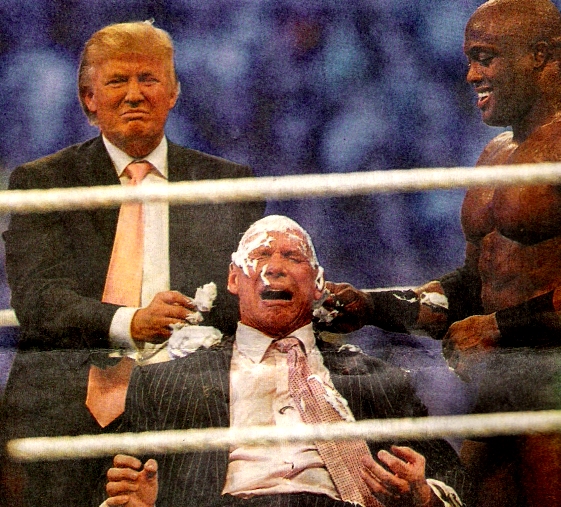 Under Trump's leadership, there have been so many casinos file for bankruptcy it's now assumed by many that if he's in charge, there's a good chance the project will need junk bonds to bail it out.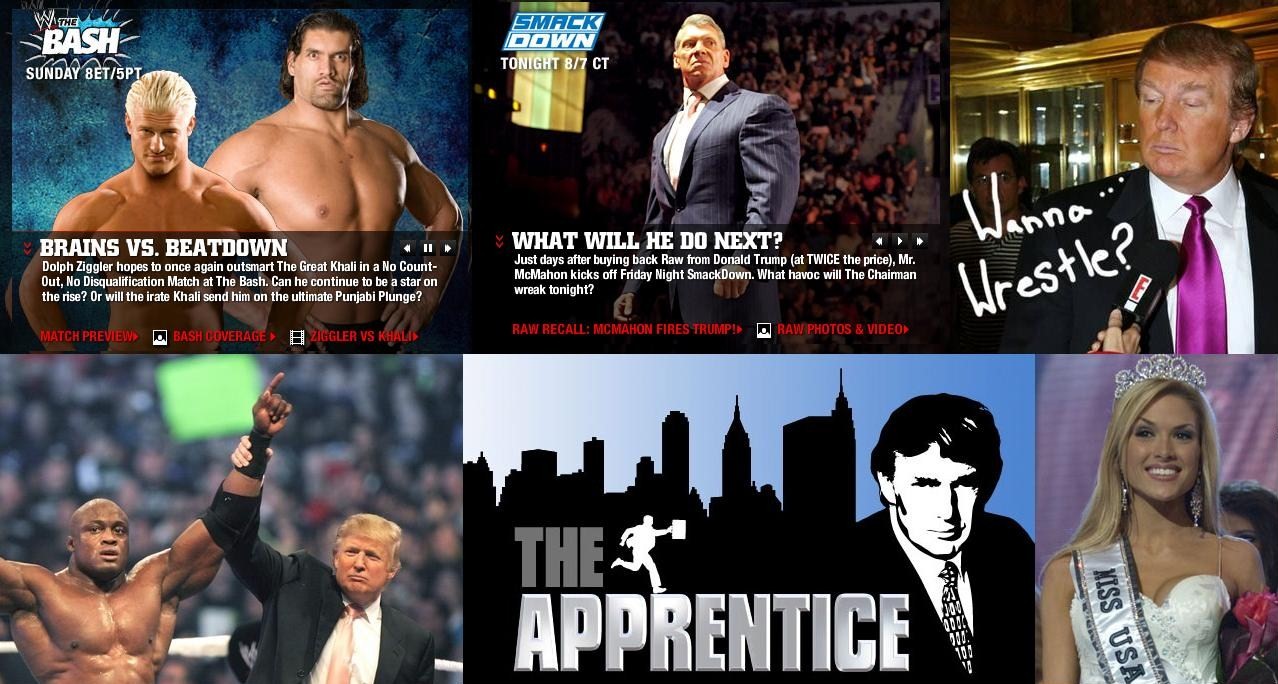 If anyone loves leverage it's the Donald. His problem is that leverage works against him too often. Investors should learn from Donald. Stay away from leverage.
Trump has used his bloated "celebrity" status to open every type of business under the moon to take advantage of the stupidity of most Americans.

He has been involved in developing golf courses worldwide, restaurants, catering, ice cream parlors, a travel agency, bar, menswear, jewelry, fragrance, publishing, board games, vodka, bottled water, his own "university" and much more. Of course, each of these businesses bears the Trump name.
In many cases, he just licenses out his name to others who own these businesses.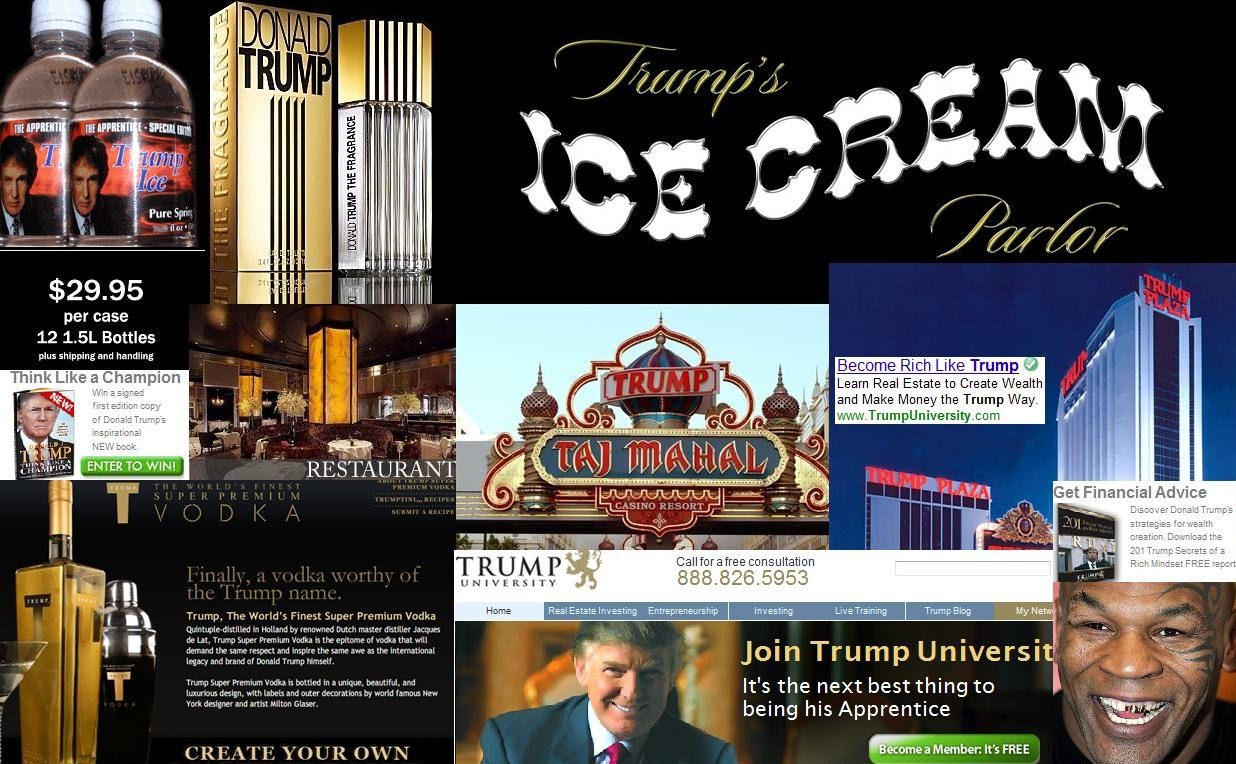 Today, Trump is the epitome of this modern trend of "personal branding." Make no mistake about it, when you have chumps from the street with websites claiming to be branding themselves, you know there's a problem.
Sure, building a brand has to do with PERCEIVED value. But in the end, it has to truly be real value. Otherwise, it's not branding.
Today, we see people flooding themselves on TV. This is sufficient for a clown to have a very lucrative income. Need I mention names? Kevin Trudeau, Robert Kiyosaki, etc.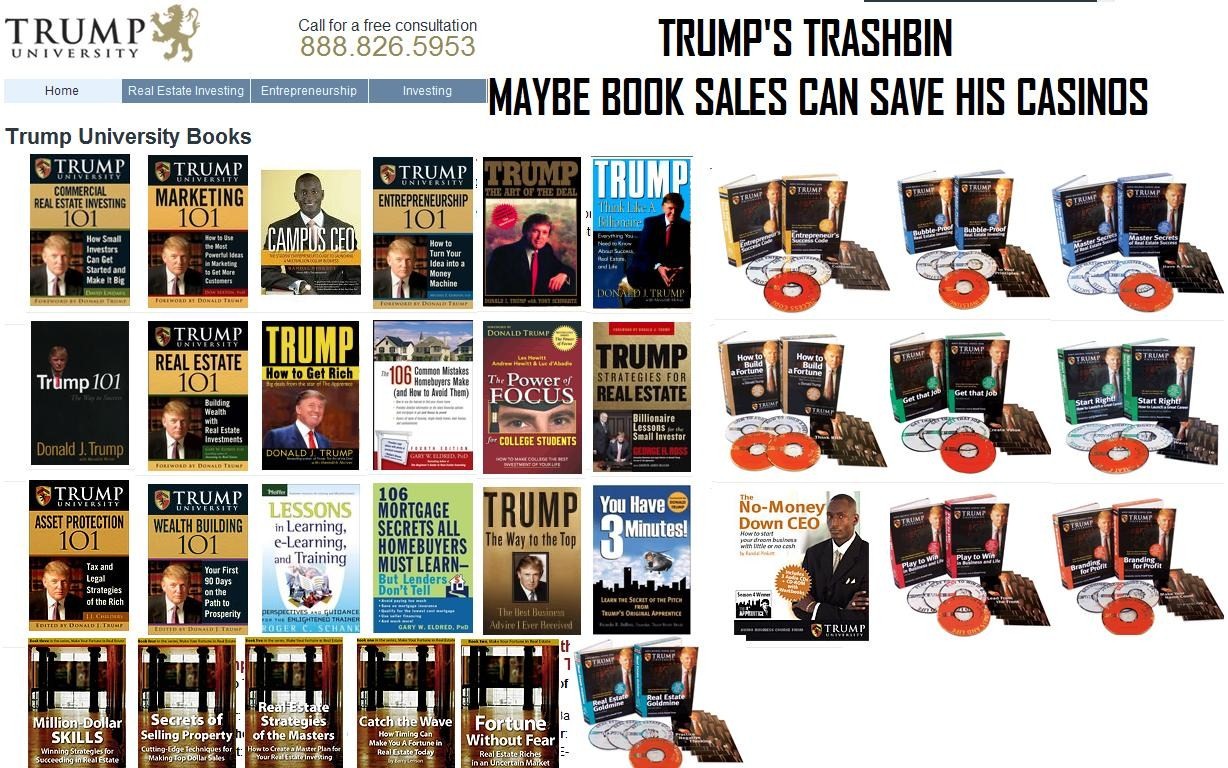 Have a look at the video at the end of the article. Would you ask this man for business or investment advice?
Trump now views his "brand" as his most valuable asset. And he's probably right. But only because there are so many ignorant people who buy into this bull, without realizing they've been duped by the "Paris Hilton effect."
On several occasions, Trump has filed lawsuits or threatened to sue when he can come up with some delusional reason why his "brand" name has been damaged.
He's even threatened to sue creditors of one of his developments in Chicago for trying to take legal action in order to get him to pay back a loan.
His defense?
He calls the current economic meltdown an "act of God," so as to escape the legal requirements to repay the loan on time.
In my opinion, Trump has done more to damage to the Trump brand name than anyone. This is a man who served as financial adviser to Mike Tyson!

(Those of you who have my latest book, The Wall Street Investment Bible, should review the material on branding in the chapter on valuation of intangible assets).
As a real businessmen, Trump has failed over and over.
And instead of putting his head to the table and doing some real work, (like he did when he was much younger and under the supervision of his father) he has chosen to chase models and cheese himself out.
The fact is that Trump is about as much of an entrepreneur as these rappers claim to be. In reality, Trump is a member of Hollywood.
Without the media, he would surely be bankrupt by now.
The media's "flooding" approach explains why Paris Hilton became so famous for doing nothing.
Even bad press can make someone "branded" and therefore provide a huge income if it's leveraged the right way. Joe the Plumber got a book deal, and I'm sure Octomom will get her payday.
Folks, today, the financial media bears a striking resemblance to this. I hope that by reading my media pieces, you now see that.

It's not about providing real value or being right. It's about being flooded by the same bozos over and over again. This is why Jim Cramer is on CNBC. He's not an investment expert, and his track record confirms this. He's a celebrity. And this is why he's still popular despite his terrible calls.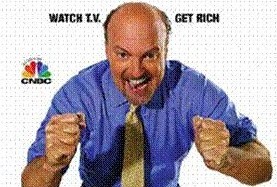 The financial media should stay away from the cheeseball branding approach and focus on real credibility because so many people have so much at stake. But it's too late now. Financial networks are virtually indistinguishable from the other networks. There's no more unbiased reporting, no value; only manipulation.
Perhaps one of the most important things to know is how to utilize your resources. Trump is not someone I would ever consider as a business resource. However, as a comedian, he is quite funny.
In the end, those who watch, read and listen get what they deserve for being so stupid.
See Our Copyright Policy
Copyright © 2008-2015. AVA Investment Analytics, LLC. All Rights Reserved.

Restrictions Against Reproduction: No part of this publication may be reproduced, stored in a retrieval system, or transmitted in any form or by any means, electronic, mechanical, photocopying, recording, scanning, or otherwise, except as permitted under Section 107 or 108 of the 1976 United States Copyright Act, without the prior written permission of the copyright owner and the Publisher.

These articles and commentaries cannot be reposted or used in any publications for which there is any revenue generated directly or indirectly. These articles cannot be used to enhance the viewer appeal of any website, including any ad revenue on the website, other than those sites for which specific written permission has been granted. Any such violations are unlawful and violators will be prosecuted in accordance with these laws.

Article 19 of the United Nations' Universal Declaration of Human Rights: Everyone has the right to freedom of opinion and expression; this right includes freedom to hold opinions without interference and to seek, receive and impart information and ideas through any media and regardless of frontiers.