I was doing some research on gold propaganda and came across some interesting information I wanted to share with readers.
It turns out that Euro Pacific Capital (the brokerage firm Peter Schiff heads) holds the exclusive rights to broker certain Perth Mint products in the United States. Therefore, he has a financial interest in promoting physical gold as an investment, as opposed to gold ETFs due to the points I mention in my previous series "Fool's Gold."
If you want to read an advertisement for the Perth Mint, you can try reading Crash Proof. But I would not waste your money on this "How to Invest in Doom for Dummies" book.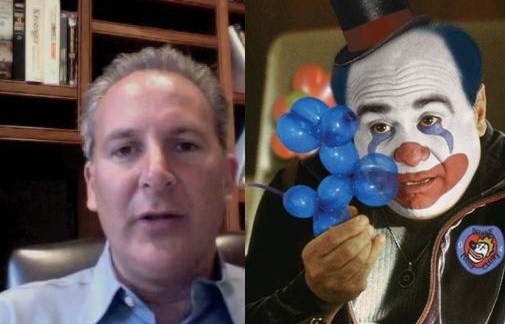 About 100 pages were submitted by the publisher to Google books.
See page 226 for the Perth Mint. But feel free to read the rest of the content so you can see just how useless the book really is.
This also explains why Kitco and other gold companies feature Schiff's articles. You should note that Kitco censors articles and does not provide a balanced view of gold. It's nothing more than an online trading show event for gold bugs and their brainwashed followers. FYI, Kitco refused to publish my articles on gold as you might imagine.
Upon searching "Perth Mint Schiff," I ran across this following comment on Kitco forums....

"My investment is 80% gold, silver, energy, agriculture and 20% commodity currency bonds. I am an American but I keep my USD reserve as close as possible to zero.


I don't think you need Schiff's service, you can very well assemble a similar portfolio yourself at Scottrade or Ameritrade with minimal fees. You can just buy the newsletter and do your own trading.


One thing I dislike about Schiff (not his comments) is about his Perth Mint Certificate Program. I deal with Perth Mint directly, and there is a much better program than PMCP, which is Perth Mint Depository Service. Unlike PMCP, you are charged NO, ZERO commission getting in and out of PMs at all. PMCP charges you a total of 3% transaction fee for a round trip transaction. I feel Schiff should have divulged such information to his clients and given them a better deal, maybe he is parking his clients' money with PMDS but eating up the 3% himself, I don't know. To qualify for PMDS, a non-Australian citizen or PR needs to invest at least $250K USD in gold and silver, Australians face a lower investment threshold."
First I wanted to point to the foolishness of this person's investment approach. He/she obviously believes in the gold/inflation myth which I have previously struck down quite conclusively.
To have 80% in precious metals and ag is very risky and irresponsible. It demonstrates why most individuals should not be dealing with their own investments.
I'd say having 20% of your liquid assets in precious metals is very aggressive, generally speaking.
The next point I'd like to make is the somewhat naive conclusions the author makes regarding Schiff's failure to disclose alternatives to the PMCP. "Maybe he is eating up the 3% commission himself, I don't know." Maybe?


It's a shame these brainwashed Kitco forum members have not been exposed to unbiased expertise from someone who has no financial interests whether gold or stocks go up or down. Of course, that extends to virtually everyone else who doesn't read AVA Investment Analytics.
For Schiff and others like him, it doesn't matter where gold goes. He makes money regardless - from those who handed over their cash for him to invest. If he wasn't out marketing every day, he might actually have better ideas how to make money for his clients.
See Our Copyright Policy
Copyright © 2008-2015. AVA Investment Analytics, LLC. All Rights Reserved.

Restrictions Against Reproduction: No part of this publication may be reproduced, stored in a retrieval system, or transmitted in any form or by any means, electronic, mechanical, photocopying, recording, scanning, or otherwise, except as permitted under Section 107 or 108 of the 1976 United States Copyright Act, without the prior written permission of the copyright owner and the Publisher.

These articles and commentaries cannot be reposted or used in any publications for which there is any revenue generated directly or indirectly. These articles cannot be used to enhance the viewer appeal of any website, including any ad revenue on the website, other than those sites for which specific written permission has been granted. Any such violations are unlawful and violators will be prosecuted in accordance with these laws.

Article 19 of the United Nations' Universal Declaration of Human Rights: Everyone has the right to freedom of opinion and expression; this right includes freedom to hold opinions without interference and to seek, receive and impart information and ideas through any media and regardless of frontiers.
Printing Version More On Precious Metals
Related Articles