I wanted to mention a stock that has a good chance of a large move over the next few weeks, if not sooner.
LDK is a China-based solar panel company that took part in the solar energy bubble a few years ago. Since its ~$76 all-time high reached shortly after its public debut, shares collapsed to a low of $3.75 during the market lows in early March 2009.

As the stock market rallied, LDK soared by some 350% over the next three months, topping nearly $14 by June 2009.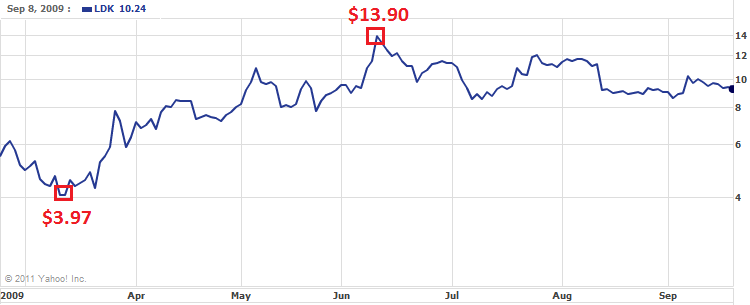 From there, the stock entered a declining (although volatile trend). By November 2009, LDK bottomed at $5.23, but nearly doubled over the next five weeks at $9.25.


By June 2010 shares fell had fallen to around $4.97.

From there, LDK mounted a tremendous surge along with the Nasdaq over the next eight months, up more than 300% from the lows reached in the summer months.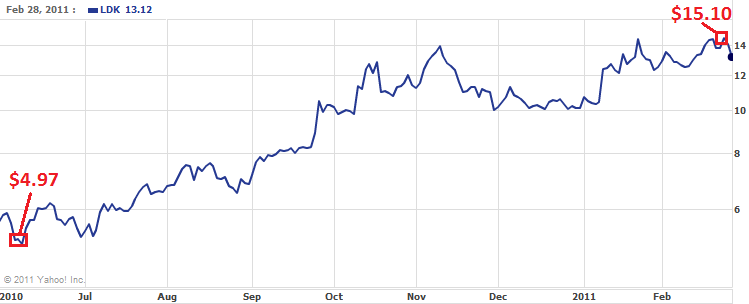 Having peaked at $15.10 in February 2011, shares have since been faced an intermediate-term downtrend. More important, the short interest has continued to increase over this time period. Today, the short interest stands at over 50%.

But this does not provide the full picture. Even more important, LDK is currently testing a very important (although fairly strong) technical support at around $10. In addition, the stock is down by nearly 4% today. Although the recent trading volume has been low and on the declining side, the volume has been huge since the stock corrected from its February 2011 highs of $15.10.
If LDK falls below this support (and the breakdown is confirmed) shares are likely to collapse another 20% before taking a breather.
On the other hand, if the stock holds the support, we are likely to see a nice rally as the shorts become squeezed. Either way, the chances of high and increasing volatility for the stock over the next couple of weeks are high.
How do you play this?
There are several ways traders can play this. But first, they must determine whether they want to enage in gambling because unless you're a professional trader or a hedge fund, this is precisely what it amounts to in my opinion.
Some may want to wait for a definitive breakdown below the $10 level and piggyback on the downward pressure. But there is also the possibility of a short squeeze which would enable more convervative traders to ride the stock up for nice short-term gains. Others may decide to use straddles. However, based on what we see, this is not an efficient strategy.
Keep in mind that your strategy should depend on your price range forecast over specific time periods because there are likely to be both bearish and bullish trading opportunities depending on the time frame of your trade.
We have designed a trade setup and exit strategy to take advantage of the trading opportunities present in LDK. Those interested in receiving a one-on-one analysis should contact us to schedule a live call.
See Our Copyright Policy
Copyright © 2008-2015. AVA Investment Analytics, LLC. All Rights Reserved.

Restrictions Against Reproduction: No part of this publication may be reproduced, stored in a retrieval system, or transmitted in any form or by any means, electronic, mechanical, photocopying, recording, scanning, or otherwise, except as permitted under Section 107 or 108 of the 1976 United States Copyright Act, without the prior written permission of the copyright owner and the Publisher.

These articles and commentaries cannot be reposted or used in any publications for which there is any revenue generated directly or indirectly. These articles cannot be used to enhance the viewer appeal of any website, including any ad revenue on the website, other than those sites for which specific written permission has been granted. Any such violations are unlawful and violators will be prosecuted in accordance with these laws.

Article 19 of the United Nations' Universal Declaration of Human Rights: Everyone has the right to freedom of opinion and expression; this right includes freedom to hold opinions without interference and to seek, receive and impart information and ideas through any media and regardless of frontiers.