On October 5th, before premarket trading, we released the most recent AVA Investment Analytics newsletter. Among the other topics covered was an in-depth analysis of previously profiled securities.
Mention was made of one security that looked like it could be ripe for a swing trade. Already, this security is up by about 60% since we profiled it in the June, newsletter (May 28), while the Dow is up by close to 17%.
Below is a passage from the most recent analysis in the newsletter:
"Others who do not have a position in *** might want to consider it. It would be best to wait and see whether it breaks below the support if you agree with my market forecast analysis, as the focus should be on cash. Short-term traders might have an opportunity for a swing trade on Monday, if the market and/or *** rises."
As you can see, it did in fact deliver a very nice swing trade for those who were looking for this. From Monday Oct 5th, to Thursday Oct 8th, swing traders could have made up to 17% on *** depending on when you bought and sold it.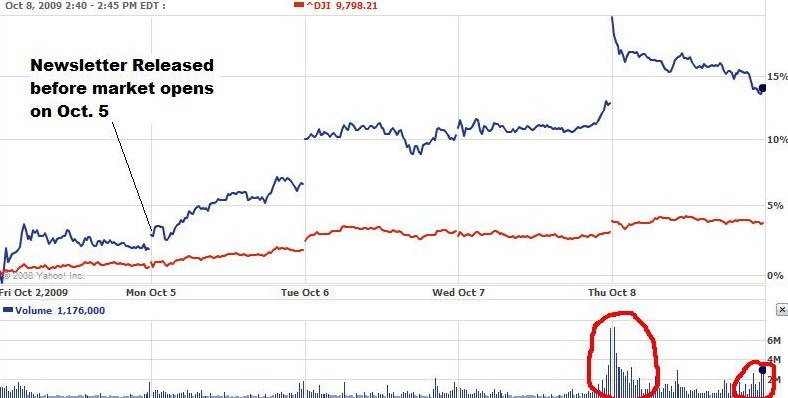 This is a security that Stathis has pushed for some time now. But the great news is that if the market holds current levels or close to it through 2009, this security could rise by an additional 60% to 70% based on his analysis.
Subscribers of the newsletter will be receiving an updated analysis of this security shortly.
If you have not already subscribed, you are missing out on the world's best and most comrehensive investment newsletter.
It is also the only newsletter I know of that actually teaches you to become a great investor.
We cover market forecasting, economics, emerging markets, currencies, precious metals, securities analysis, asset management and trading. We also profile securities we like and Mr. Stathis tells you what he is buying and selling in his own personal account (some stocks are not mentioned if he deems them to be too risky for the average investor).
See Our Copyright Policy
Copyright © 2008-2015. AVA Investment Analytics, LLC. All Rights Reserved.

Restrictions Against Reproduction: No part of this publication may be reproduced, stored in a retrieval system, or transmitted in any form or by any means, electronic, mechanical, photocopying, recording, scanning, or otherwise, except as permitted under Section 107 or 108 of the 1976 United States Copyright Act, without the prior written permission of the copyright owner and the Publisher.

These articles and commentaries cannot be reposted or used in any publications for which there is any revenue generated directly or indirectly. These articles cannot be used to enhance the viewer appeal of any website, including any ad revenue on the website, other than those sites for which specific written permission has been granted. Any such violations are unlawful and violators will be prosecuted in accordance with these laws.

Article 19 of the United Nations' Universal Declaration of Human Rights: Everyone has the right to freedom of opinion and expression; this right includes freedom to hold opinions without interference and to seek, receive and impart information and ideas through any media and regardless of frontiers.