This article was taken from a section of the July 2010 AVA Investment Analytics newsletter. While more than five months have passed since the release of this report, it has been published to demonstrate that real forecasts and accurate insight does not change from day-to-day, week-to-week, or month-to-month.
A few weeks ago the Federal Reserve stated they now feel the so-called "recovery" is occurring at a more rapid rate. As a result of this "progress," they raised their 2010 GDP estimates. Despite this accelerated "recovery," they plan to leave rates essentially unchanged most likely through most of 2010. Thus, their statement and their actions contradict each other.
Reality is much different than what you hear from Washington and the media. Unemployment is still terrible and the problems in Europe will surely affect the U.S. economy as well as multinational corporations. Investors are just beginning to realize risks that remain.
In response, the stock market has sold off by about 14% after topping 11,300 in March of this year. Investors who have followed my guidance have been insulated from these losses. In fact, subscribers to this newsletter rode the market up from the March 2009 lows all the way up to the top and were urged to exit a few months ago.
In past issues, I have tried to demonstrate that the global bubble has reflated. There is simply too much currency in circulation; not just the dollar, but all currencies. This further highlights evidence of a global bubble, which not only failed to correct adequately, but has now been reflated. What this means is that the risks have been elevated back to near pre-crisis levels. The main risks are credit, liquidity and sovereign debt.
Reflation of the global bubble combined with increasing risks are reasons to focus on risk management.
Unlike mutual funds, individual investors are not required to remain in the stock market at all times. Thus, they have a huge advantage. Make sure you utilize it!
Throughout this treacherous period, your biggest enemy is likely to be your own greed, impatience, and panic. If you succumb to these emotions, you stand to lose much of what you have.
As a result of this vulnerable predicament, at any time, the global markets could implode, although I would expect such an event to occur over several months, and would be catalyzed by a string of economic problems from around the globe.
This is why we must emphasize risk management, as I have emphasized for many months now.
You should be in a very defensive posture.
Do NOT let any market rallies fool you. You need to keep the big picture in mind.
After hitting a 40-year low recently, mortgage rates have now hit a new 50-year low. Yet the real estate market remains dry and is worsening.
Much of the recent drop-off in mortgage applications has been due to the expiration of taxpayer subsidies granted by Washington. However, we cannot forget that the real estate market is ultimately driven by jobs.
One of the primary methods used to determine real estate pricing is to examine median real estate prices versus median incomes. While this ratio has collapsed over the past 3 years, it remains high from a historical perspective. Much of the problem has been due to the drop in real median household incomes. As median real estate prices have plummeted, some of this decline in the ratio has been accentuated by declining wages.
Virtually everyone discusses the need for the real estate market to rebound as a requirement for an economic recovery.
This is 100% false.
It's just another example emphasizing why you need to stay away from the media. A strong real estate market is a consequence of a strong economy, as I have discussed many times in the past. A strong economy occurs due to low unemployment, which induces upward wage pressure. This entices consumers to purchase real estate.
Thus, while mortgage rates have been kept low due to the massive $1.5 trillion purchase of toxic mortgages from Fannie Mae and Freddie Mac by the Federal Reserve, this has done little to revive the real estate market. Why? Because there are not enough good, stable jobs.
As well, the various taxpayer subsidies (created as a manner by which to boost the real estate market) have been a waste of taxpayer dollars, much in the same manner as Washington's other responses. It's shocking to me how so many in charge of the fate of the U.S. economy remain so clueless. It's truly mind-boggling.
We are now seeing the effects of expired tax credits on the real estate market. Later, we will see the effects of rising mortgage rates.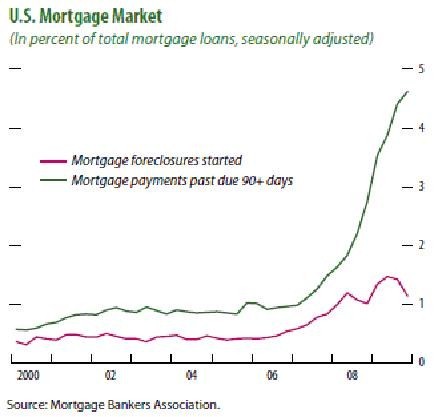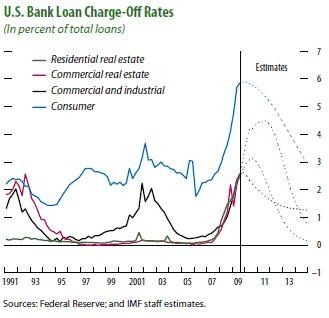 By the time rates begin a rising trend, real estate is likely to have made some modest gains. The other variables I mention (rising rates, stagnant employment, etc.) will wipe out these gains.
Now that the various subsidies for homebuyers have expired, you should expect a big downturn in the residential real estate market over the next several months, without addition stimulus plans.
In short, the real estate market will generally remain flat over the next several years due to coming pressures that will serve to reduce any price appreciation: increasing mortgage rates, millions of additional foreclosures, a declining stock market, etc. There will be a small number of areas that do not follow this trend.
I expect the Federal Reserve to step in again and purchase more toxic assets from the defunct quasi-government mortgage agencies in desperation.
But this is only expected to delay the pain while placing the banking system and U.S. economy at further risk.
In September, I followed up with an article discussing the big picture in the housing market.
GDP was recently revised downward to 2.7% for the first quarter of 2010. This is the third (and final) revision, down from an initial 3.2%.
So what's so bad about this number? Well, first of all it completely shatters any idea of a recovery taking place.
Why? In order to mount a recovery from the freefall in GDP encountered last year, the economy needs several quarters of very high GDP growth in the range of 7-9%.
Over the next decade, in order to mount a real recovery, the U.S. economy would require at least a 5.5% annual GDP growth. This isn't going to happen regardless how many additional stimulus plans are put in place.
I'm confident you already knew that talk of a recovery was just another lie by Washington, as I have been discussing this for months.
Even the NBER recently stated that they could not conclude that the recession was over.
Let's have a look.
CAMBRIDGE, April 12 -- The Business Cycle Dating Committee of the National Bureau of Economic Research met at the organization's headquarters in Cambridge, Massachusetts, on April 8, 2010. The committee reviewed the most recent data for all indicators relevant to the determination of a possible date of the trough in economic activity marking the end of the recession that began in December 2007. The trough date would identify the end of contraction and the beginning of expansion. Although most indicators have turned up, the committee decided that the determination of the trough date on the basis of current data would be premature.
Now ask yourself why you haven't heard this as a headline in the media. The NBER is perhaps the best of Washington-affiliated economic groups. And even they continue to insist that the recession is alive and well.
One of the reasons for their assessment is because they take a much better approach by looking at a variety of economic indicators, as opposed to looking only at the (highly inaccurate) GDP data.
Without real demand, the GDP is likely to fall below 2% before the year is over. Without the various stimulus plans and without military spending (which does nothing to raise living standards-something GDP assumes) GDP growth would be close to 0.
As I have stated in the past, when people look back in a few years, they are likely to view 2010 as the best year of this depression.
Recall that the economy shrank for 4 consecutive quarters; the longest stretch of economic decline since the Great Depression. In addition, GDP fell into the negative territory during this collapse; the first time that has happened since the Great Depression.
While GDP certainly did not collapse to the –30% GDP or so as recorded during the Great Depression, one cannot make one-for-one comparisons because there are too many differences.
Washington has handed out trillions of dollars in a variety of forms as a manner by which to fool the America people, from home and auto subsidies, to emergency relief for states.
As a result of this printing frenzy by the Fed and wasteful tax dollars, the economy has registered 3 consecutive quarters of GDP growth according to the agencies responsible for manipulating the data. When adjusted for debt spending and adjusted for expenditures that do not contribute to improved living standards, there has been not one quarter of real economic growth since 2007.
In fact, if we go back to 2002, there have only been maybe 4 or 5 quarters of GDP growth (out of 30) after adjusting for debt spending and other tricks used by Washington and the Fed to create the illusion of a recovery.
From February, you will recall I stated the following...
"In order to get the unemployment rate down by just 1%, GDP would have to grow by at least 5% by 2010, which is virtually impossible, even with the massive spending by Washington. Based on this, you can make your own estimates about how long the U.S. will have a high unemployment rate.
I'll give you some assistance here. In the BEST of scenarios, based on current spending projections, I would estimate that over the next ten years, GDP will grow by an average of 3.5%.
But the U.S. would need at least 5 years of GDP growth at around 5% in order to bring unemployment down to around the "fully employed" level of around 5.0%. That also assumes the other five years will average about 3-3.5% GDP growth.
I can tell you now this scenario is EXTREMELY unlikely, UNLESS we see many additional stimulus packages. But of course additional stimulus packages will be like trading apples for apples because more debt spending will hamper the long-term growth of the economy.
As you can imagine by now, what this means is a lost decade at best.
You should also note that about 65% of the 5.7% GDP growth was from industrial production; not to meet consumer demand, but to rebuild inventories.
So the next leg is for consumers to deplete inventories so that production will continue. This isn't going to happen. You should expect to see Q1 2010 GDP data much lower and I expect even worse data for Q2 2010.
We must also question whether funds are being spent to ensure a long-term recovery by boosting demand.
I have concluded that both objectives have fallen well short of what is required.
The effects of this collapse will be felt for at least a decade, probably two."
Source: February 2010 AVA Investment Analytics newsletter.
I want to remind you of some sobering data I presented several months ago. As the first chart shows, the effects of the collapse have permanently lowered GDP through at least 2020. This is based primarily on projections for employment and GDP.
Financial Crisis Permanently Lowers GDP
GDP % Change, Before and After Crisis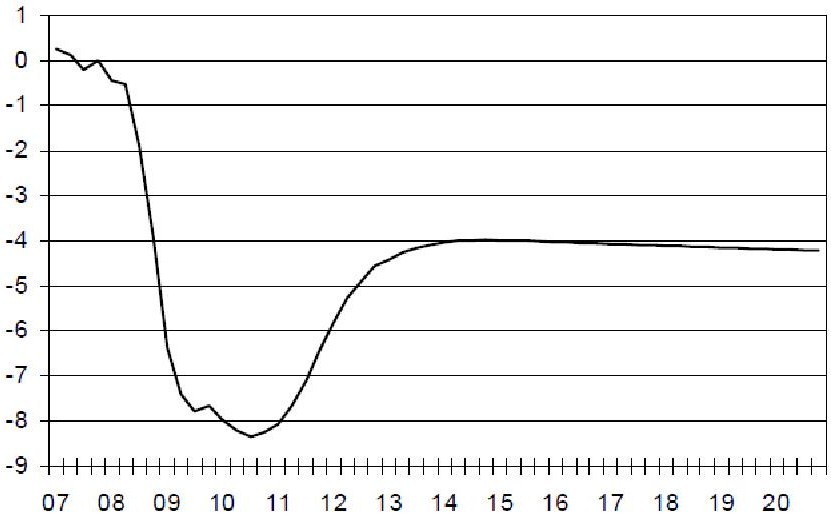 Effect of the Crisis on the Fiscal Outlook of the U.S.
Federal Debt-to-GDP Ratio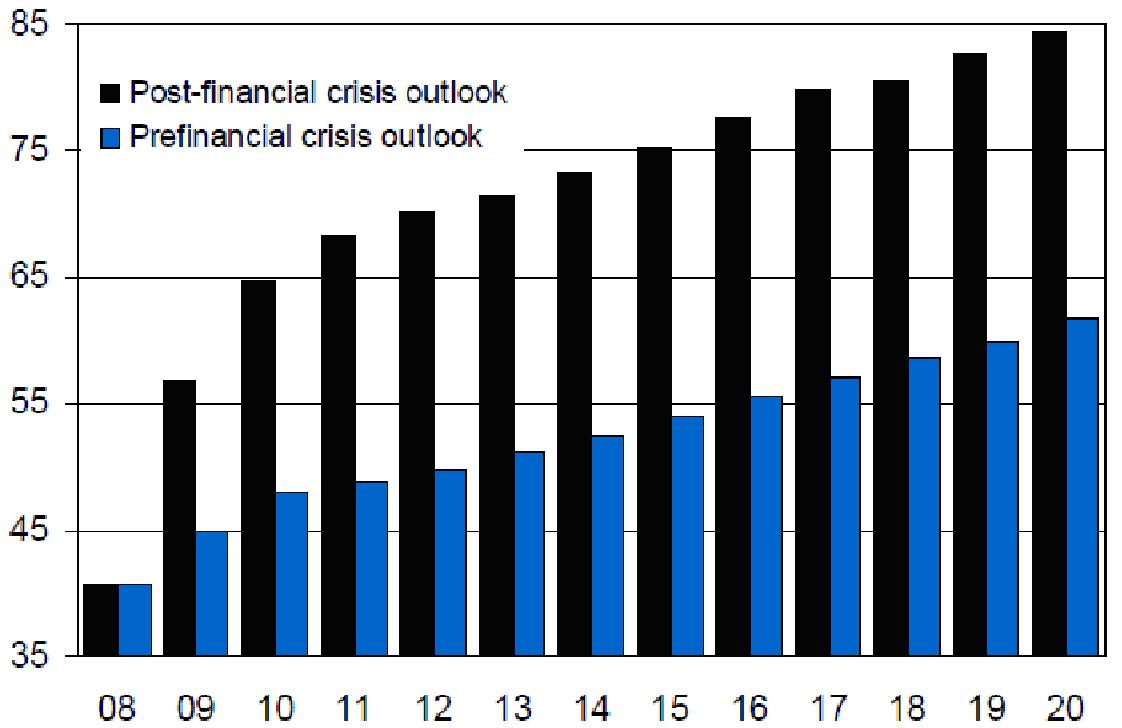 By some estimates, GDP would have to average 6-7% annually over the next decade in order to recoup pre-crisis levels. That's not going to happen.
The June 2010 employment report released on July 1st by the Bureau of Labor Statistics illustrates the lack of any improvements made over the past 30 months of the current recession which officially began in December 2007.
Washington's most optimistic unemployment rate, U-3, dropped from the previous month's 9.7% to 9.5%. Was that an improvement? Sure, as long as discourage workers no longer count as people.
The unemployment rate declined 0.2 percentage points in June, versus May's 9.9% U-3 data. However, this drop-off was primarily due to a decline in the labor force of 652,000 workers, otherwise known as discouraged workers. If these workers had been counted, the unemployment rate in June would have been 9.9%
Nearly half (45.5%) of all unemployed workers have been unemployed for over six months. According to official data, there are 25.8 million workers who are either unemployed or underemployed. However, my own estimates place this number at around 33 million.
Understand that in order to keep pace with population growth, at least 160,000 new jobs (or a generously conservative estimate of 125,000) must be created every month.
Currently, there are about 2 million jobs LESS than in 1999. Over this period, there has been a net loss of jobs (adjusted for population growth; see p.11) of about 11 million. Thus, in order to reach this previous level of employment, we would need to see around 700,000 to 800,000 new jobs every month for about 2 years.
Furthermore, job growth is directly correlated to GDP as you can imagine.
Even Washington's most loyal cheerleaders (economists) don't expect it to drop below 9% for some time. Folks, you cannot have a jobless recovery as the so-experts claim we are witnessing. Jobs are the driving force behind economic growth. Anyone who states otherwise is either a liar or a damn fool.
Most of these lost jobs simply aren't coming back. I'll guarantee it. I discussed this early last year in an article called "It's Time to Face the Facts," see here.
The only jobs that will return are those that no one wants;
the low-paying, no benefit, dead-end jobs. It's the same situation that played out after the dotcom collapse. This is part of the reason why there's been no real recovery since 2001.
As discussed in America's Financial Apocalypse, it was all an illusion fueled by the real estate bubble; another one of Greenspan's bubbles created as a way to mitigate the effects of the dotcom implosion. Now Bernanke is creating his first bubble along with Washington.
Even if unemployment trails off in a few years, many Americans will have switched careers once again, most of them working for less than before, similar to what occurred after the dotcom collapse.
Here is what you should expect:
Median wage growth adjusted for inflation to remain stagnant at best.

Job quality will continue to decline (as it has for over two decades).

Asia and Latin America will continue to benefit from this transfer of jobs, incomes and wealth.

America's living standards will continue to erode while those of Asia and Latin America continue to rise.
The socialization of wealth and incomes is consistent with the global government that appears to be on the verge of complete control. This global government has as its partner huge multinational corporations, who enslave the people.
I'm not so concerned with how high the unemployment rate rises as I am with how long it remains high and what kind of job opportunities will be created.
Will workers be making as much as in their previous job?
Will their job come with full employee benefits?
These are the issues that must be examined. Otherwise, some might be getting a token job with no job security, low wages and no employee benefits.
Corporate welfare will only increase; jobs that are largely unneeded, but serve a political purpose.
Your best attribute as an employee of corporate America will not be how much value you can deliver, but how well you abide by the corporate rules of behavior.
Corporations extract much of their value from developing nations. The real value many employees bring to corporations in the U.S. come in the form of tax breaks offered by cities. All that means is these jobs aren't needed.
According to the Conference Board survey, the biggest compliant of U.S. workers is that they are bored. What does that tell you?
The number of payroll jobs increased by 100,000 in June (excluding changes in Census jobs). The private sector added 83,000 jobs, while state and local governments shed 10,000 jobs. The federal government (excluding changes in temporary Census jobs) added 27,000 jobs.
Even worse, the length of the average workweek in the private sector (107.7 million of the total 135 million jobs) decreased in June, from 34.2 to 34.1 hours, but up from their low of 33.7 last fall, versus the 34.7 hour workweek at the start of the recession in December 2007, the length of the average workweek.
The share of unemployed workers who have been unemployed for over six months dropped slightly from 46.0% to 45.5%, though it remains the third-highest share on record, and there are still 6.8 million workers who have been unemployed for longer than six months.
What's surprising about this long duration of unemployment is that there are five unemployed workers for every job opening. This should tell you that employers simply aren't hiring.
The median or typical unemployment duration increased from 23.2 to 25.5 weeks.
Meanwhile, the average (mean) unemployment spell duration also increased from 34.4 to 35.2 weeks.
Both the median and average unemployment durations are record highs.
The "underemployment rate," (or the U-6 measure of labor underutilization) is a more comprehensive measure of labor market slack than the unemployment rate because underemployment includes not just the officially unemployed, but also jobless workers who have given up looking for work (discouraged workers) and people who want full-time jobs but have had to settle for part-time work (note that despite popular belief, the U-6 does NOT include people who are underemployed in the sense that they have had to take a job that is below their skills, training, or experience level).
U-6 declined by 0.1 percentage point in June, despite an increase of 321,000 in the number of "marginally attached" workers (jobless workers who have given up looking for work), and remains at an extremely high 16.5%.
Accordingly to government data, the number of unemployed Americans stands at around 16 million, with the U-6 population of unemployed and underemployed at nearly 26 million. My own estimates for U-3 and U-6 are 18 million and 33 million respectively.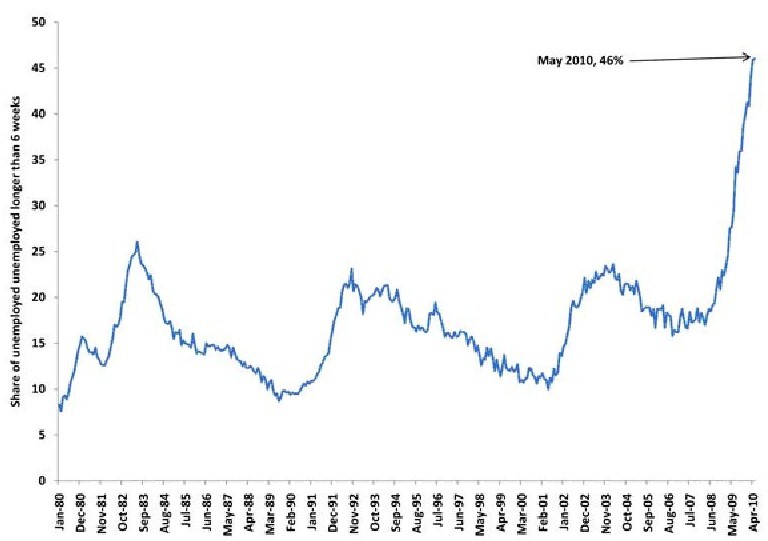 Some groups have been disproportionately affected by the job collapse. Specifically, racial and ethnic minorities, young workers, men, and workers with lower levels of schooling have been hurt more than others.
Race:
Black workers currently have an unemployment rate of 15.4% and have seen the least improvement since last fall.
Age:
Older workers (age 55+) have seen the lowest unemployment rates throughout the downturn. However, almost all new jobs created since last fall have gone to younger workers.
Gender:
Men saw much more dramatic increases in unemployment than women throughout the recession. However, men have received a larger share of job gains since last fall.
Education:
Workers with at least a college degree have had by far the lowest unemployment rates throughout the recession. However, since last fall most of the new jobs went to workers without a college degree.
[Note that neither the U-3 or U-6 factors in the number of work hours per week].
Population Growth-Adjusted Labor Gap:
The labor market remains 7.5 million payroll jobs below where it was at the start of the recession in December 2007.
Furthermore, this shortfall in the labor market fails to account for working-age population growth. Once this adjustment has been made, the labor market should have added about 3.1 million jobs since December 2007.
Thus, the labor market is approximately 10.6 million jobs below the level needed to restore the pre-recession unemployment rate (5.0% in December 2007).
In order to reach the pre-recession unemployment rate within four years, the labor market would have to add roughly 325,000 jobs every month for that entire period.
In June, excluding changes in temporary Census hiring, the labor market added 100,000.
Unemployed persons by duration of unemployment
June
2009

Feb.
2010

Mar.
2010

Apr.
2010

May
2010

June
2010

Average (mean) duration, in weeks

Median duration, in weeks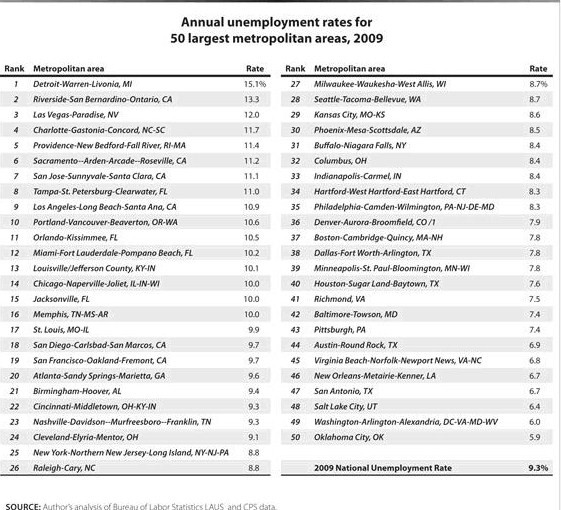 Despite the fact that virtually every macroeconomic indicator in the U.S. has reached levels not seen since the Great Depression, mysteriously one of the variables that remains as the largest force preventing a real economic recovery, unemployment, has not reached levels worse than seen during the recession of 1982-83.
However, David Rosnick from the CEPR presents a strong argument that current unemployment, once adjusted for age, has surpassed the early 80s. From September 1982 to June 1983, the unemployment rate held above 10%, peaking at 10.8% in November and December of 1982. In contrast, only during October 2009 did unemployment break the 10% mark, peaking (thus far at 10.1%).
However, once you adjust the data for the change in work force demographics that has occurred since the early 80s, it appears that the current unemployment rate is somewhat higher than reported.
Contrary to what one might assume, the U.S. labor force has grown older over the past few decades. Normally, one might assume that a smaller percentage of teenagers were in the labor force 30 years ago. While this may be true, the more dominant factor contributing to an older workforce today is the aging baby boomer population. Okay, so what is the significance of the fact that America's work force has gotten older over the years? Younger workers are much more likely to lose their job during a recession.
The first chart shows the percentage of the labor force between 24 and 16 years of age since 1981. As you can see, the percentage has declined dramatically over the past 30 years. The second chart shows that younger workers are more likely to be unemployed than older workers.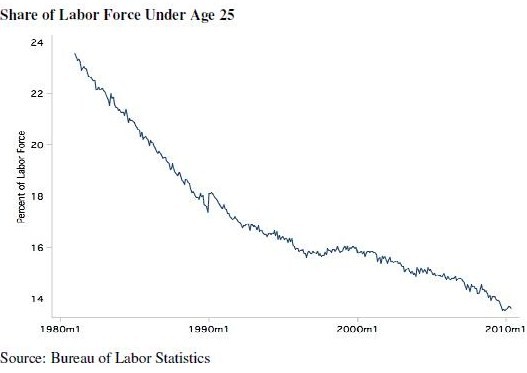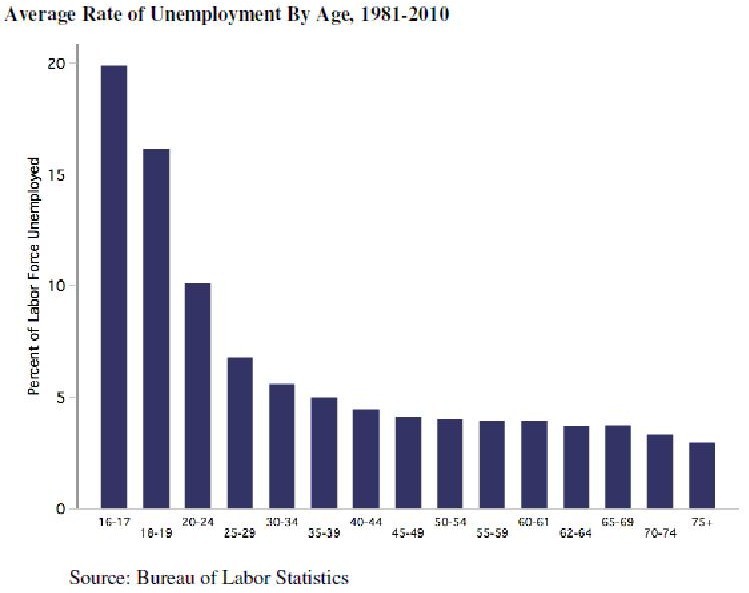 The third chart shows that for every age group (except ages 25-29), the unemployment rate is higher during the current recession than it was during the 1982-83 recession. Therefore, since a much higher number of workers were younger 30 years ago, and since younger workers tend to have higher rates of unemployment over time, if the current unemployment rate is adjusted for age, you can see that the current unemployment rate exceeds the peak seen in the early 1980s (last chart).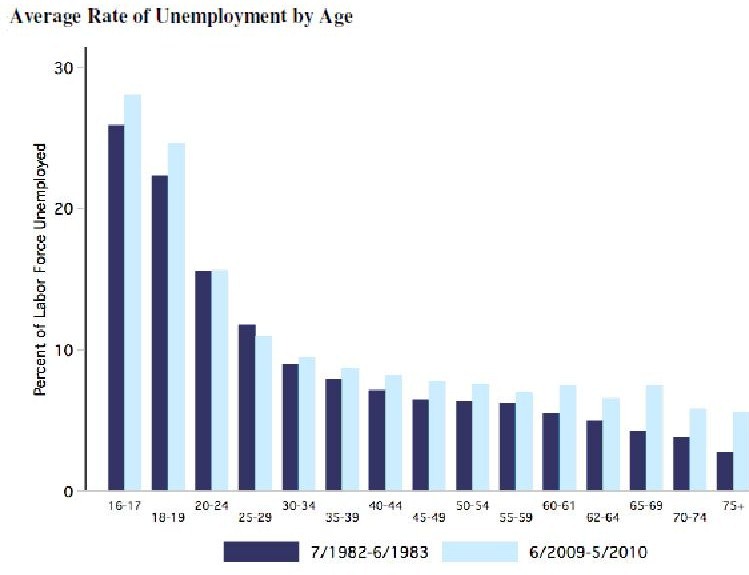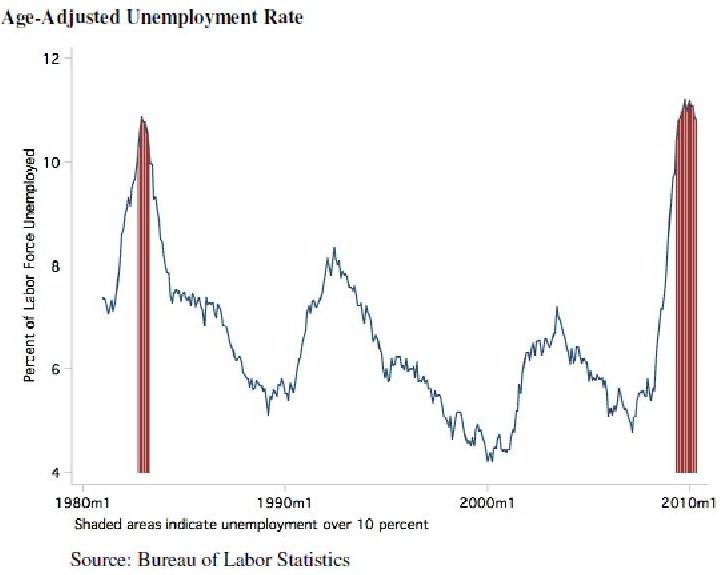 I have presented a table of historical business cycle peak to trough data, showing the length of previous recessions, as determined by the NBER. As you can see, the longest recession in U.S. history occurred in the late 1880s, lasting an eye-popping 65 months, or nearly 5.5 years. Shortly thereafter it was followed by another whopping 38-month recession.
Let me be clear. This period did not fall within any economic cycle. The two recessions during that period are likely to have been combined, lasting for close to 10 years.
Next, we examine the recessions during the Great Depression. As you can see, this period was struck with three recessions, the largest of which occurred early on and lasted 43 months. This period also did not fall within any economic cycle.
Now, I want you to examine the table, noting the frequency of recessions over time. Note that over the past 20 years, we have only had four recessions, two of which were relatively mild.
Finally, note that the NBER has not conceded that the recession, which began officially in December 2007, has ended. That means, already this recession has lasted 32 months.
BUSINESS CYCLE
REFERENCE DATES

Quarterly dates
are in parentheses

Peak
to
Trough

Previous trough
to
this peak

Trough from
Previous
Trough

Peak from
Previous
Peak


June 1857(II)
October 1860(III)
April 1865(I)
June 1869(II)
October 1873(III)

March 1882(I)
March 1887(II)
July 1890(III)
January 1893(I)
December 1895(IV)

June 1899(III)
September 1902(IV)
May 1907(II)
January 1910(I)
January 1913(I)

August 1918(III)
January 1920(I)
May 1923(II)
October 1926(III)
August 1929(III)

May 1937(II)
February 1945(I)
November 1948(IV)
July 1953(II)
August 1957(III)

April 1960(II)
December 1969(IV)
November 1973(IV)
January 1980(I)
July 1981(III)

July 1990(III)


March 2001(I)




December 2007

(IV)

December 1854 (IV)
December 1858 (IV)
June 1861 (III)
December 1867 (I)
December 1870 (IV)
March 1879 (I)

May 1885 (II)
April 1888 (I)
May 1891 (II)
June 1894 (II)
June 1897 (II)

December 1900 (IV)
August 1904 (III)
June 1908 (II)
January 1912 (IV)
December 1914 (IV)

March 1919 (I)
July 1921 (III)
July 1924 (III)
November 1927 (IV)
March 1933 (I)

June 1938 (II)
October 1945 (IV)
October 1949 (IV)
May 1954 (II)
April 1958 (II)

February 1961 (I)
November 1970 (IV)
March 1975 (I)
July 1980 (III)
November 1982 (IV)



March 1991(I)




November 2001

(IV)

--
18
8
32
18
65

38
13
10
17
18

18
23
13
24
23

7
18
14
13
43

13
8
11
10
8

10
11
16
6
16

8
8

--
30
22
46
18
34

36
22
27
20
18

24
21
33
19
12

44
10
22
27
21

50
80
37
45
39

24
106
36
58
12

92
120
73

--
48
30
78
36
99

74
35
37
37
36

42
44
46
43
35

51
28
36
40
64

63
88
48
55
47

34
117
52
64
28

100
128

--
--
40
54
50
52

101
60
40
30
35

42
39
56
32
36

67
17
40
41
34

93
93
45
56
49

32
116
47
74
18

108
128
81

Average, all cycles:
1854-2001 (32 cycles)
1854-1919 (16 cycles)
1919-1945 (6 cycles)
1945-2001 (10 cycles)


17
22
18
10


38
27
35
57


55
48
53
67


56*
49**
53
67

* 31 cycles
** 15 cycles
Do NOT listen to any of the clowns debating questions of a "double-dip" recession.
They have no idea what they are talking about. And if you ever use that term I want you know that I will call you a damn fool.
There is no such thing as a double-dip recession.
Even the NBER does not have a clear definition of this term. It's basically a media buzz word.
Regardless, what we are experiencing does not lie within the economic cycle.
It is thus futile to speak of it as if it did. In my opinion, there are two situations to use the term double-dip. The first is when you'd like two scoops of ice cream. The second is when you have no idea what you're talking about when referring to the economy. That explains why you hear so many speak of the bogus term, "double-dip recession."
Humans are by nature followers. Those who fail to question the basis behind a term or theory are forever destined to remain as sheep. If however, you want to speak in terms of dips, you need to at least use the correct multiplicity—quadruple dip recession, because that is what America faces, at minimum over the next several years, if in fact you want to insist that what we are seeing even fits within an economic cycle.
Unlike others, I stand by my track record. I am by no means perfect, but I will stack my track record up against anyone in the world. The securities markets are dynamic. That is why ongoing analysis is required. This ongoing analysis is presented in the AVA Investment Analytics newsletter.
If you are going to pay any attention to anyone, you had better do two things; research their track record and check their agendas. And if they are in the media, you should run for the hills because they are in the media for a VERY good reason, and it certainly isn't to help you. It's to help the financial sponsors (advertisers) of the media, or the ones who pay the media's bills.
Each issue averages about 60 pages and covers U.S. and global economics, the real estate market, oil and gas, gold and silver forecasts, emerging markets forecasts, the U.S. stock market forecast, securities analysis including technicals and charting, and several other topics, all designed to raise your investment IQ, help you spot risk and opportunities, and severe your dependence on the media hacks and Wall Street.
I want to encourage you to join many others from around the globe who have subscribed to our investment newsletter. We are confident it is the best and most comprehensive in the United States.
See Our Copyright Policy
Copyright © 2008-2015. AVA Investment Analytics, LLC. All Rights Reserved.

Restrictions Against Reproduction: No part of this publication may be reproduced, stored in a retrieval system, or transmitted in any form or by any means, electronic, mechanical, photocopying, recording, scanning, or otherwise, except as permitted under Section 107 or 108 of the 1976 United States Copyright Act, without the prior written permission of the copyright owner and the Publisher.

These articles and commentaries cannot be reposted or used in any publications for which there is any revenue generated directly or indirectly. These articles cannot be used to enhance the viewer appeal of any website, including any ad revenue on the website, other than those sites for which specific written permission has been granted. Any such violations are unlawful and violators will be prosecuted in accordance with these laws.

Article 19 of the United Nations' Universal Declaration of Human Rights: Everyone has the right to freedom of opinion and expression; this right includes freedom to hold opinions without interference and to seek, receive and impart information and ideas through any media and regardless of frontiers.