I have discussed the fact that the recession which officially began in December 2007, has not yet ended. Anyone who claims otherwise is either a hack or else has no idea what is going on.
As the economic data begins to weaken (as predicted several months ago in the Intelligent Investor), the "double-dip" debate is likely to take center stage. Do not allow yourself to be fooled by this ridiculous drama. Do not waste your time reading or listening to these fools.
Those who have been following our research know well that the recession has not yet ended. As the chart below shows, the current recession is now just one month shy of the most severe and longest recession from the Great Depression. It should be obvious that this previous recession will be surplassed.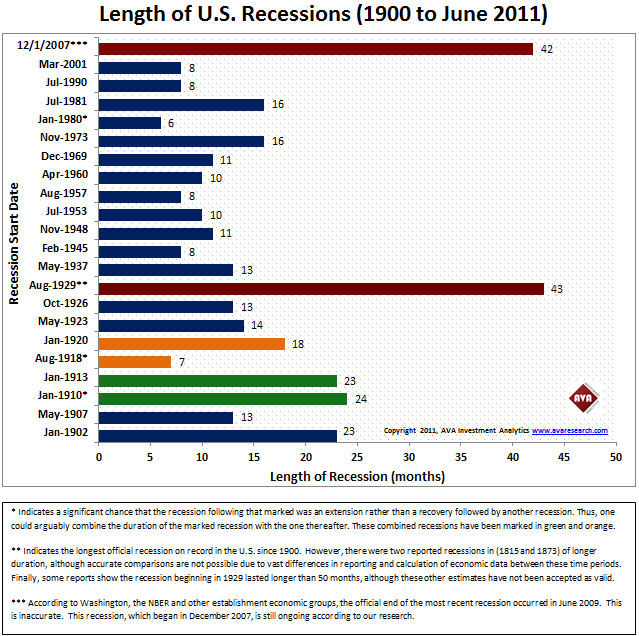 See Our Copyright Policy
Copyright © 2008-2015. AVA Investment Analytics, LLC. All Rights Reserved.

Restrictions Against Reproduction: No part of this publication may be reproduced, stored in a retrieval system, or transmitted in any form or by any means, electronic, mechanical, photocopying, recording, scanning, or otherwise, except as permitted under Section 107 or 108 of the 1976 United States Copyright Act, without the prior written permission of the copyright owner and the Publisher.

These articles and commentaries cannot be reposted or used in any publications for which there is any revenue generated directly or indirectly. These articles cannot be used to enhance the viewer appeal of any website, including any ad revenue on the website, other than those sites for which specific written permission has been granted. Any such violations are unlawful and violators will be prosecuted in accordance with these laws.

Article 19 of the United Nations' Universal Declaration of Human Rights: Everyone has the right to freedom of opinion and expression; this right includes freedom to hold opinions without interference and to seek, receive and impart information and ideas through any media and regardless of frontiers.