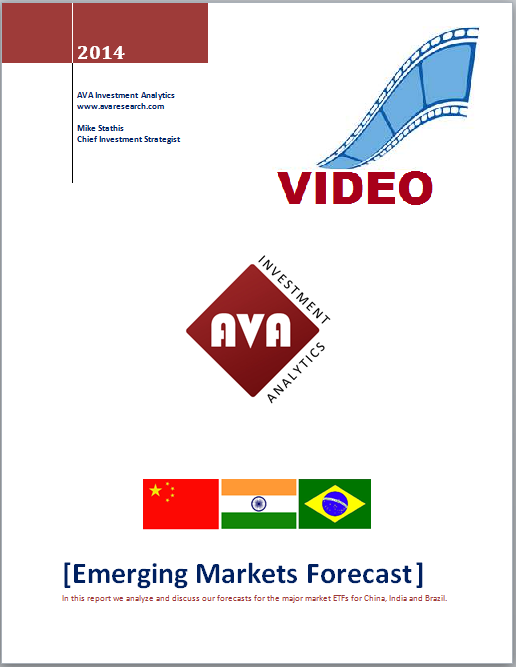 January 2014 Emerging Markets Forecast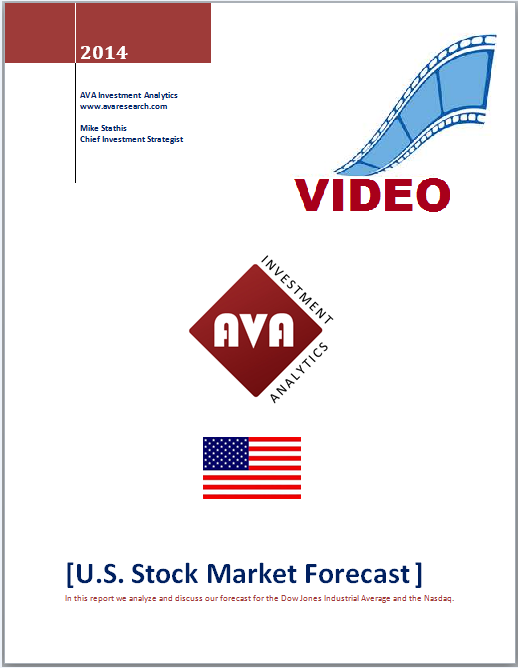 January 2014 US Stock Market Forecast (Dow Jones & Nasdaq)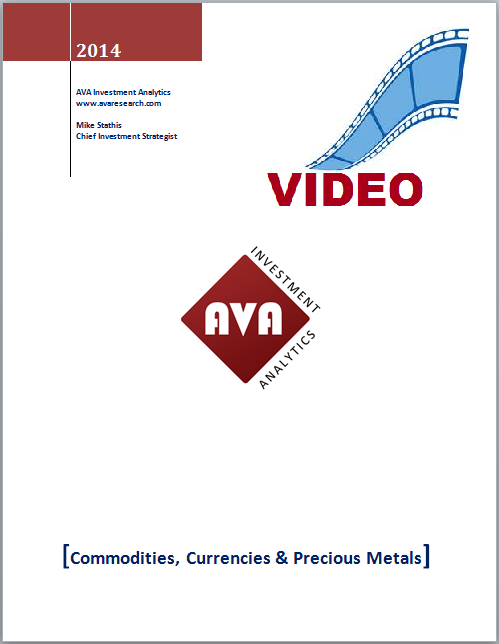 January 2014 Commodities, Currencies & Precious Metals Forecast
Brazil Economic Analysis 2013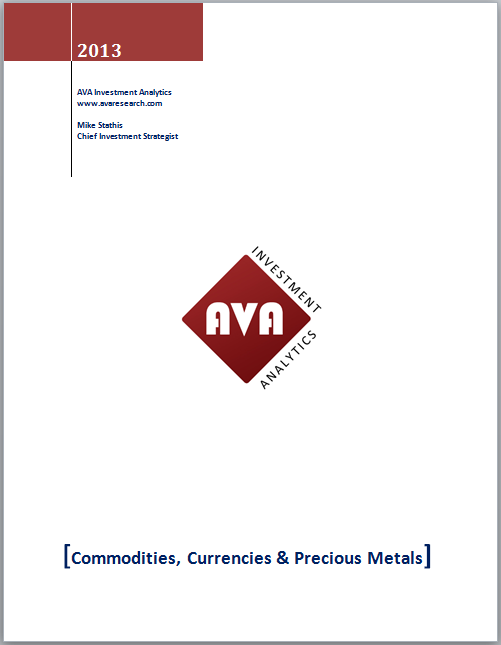 November 2013 Commodities, Currencies & Precious Metals Forecast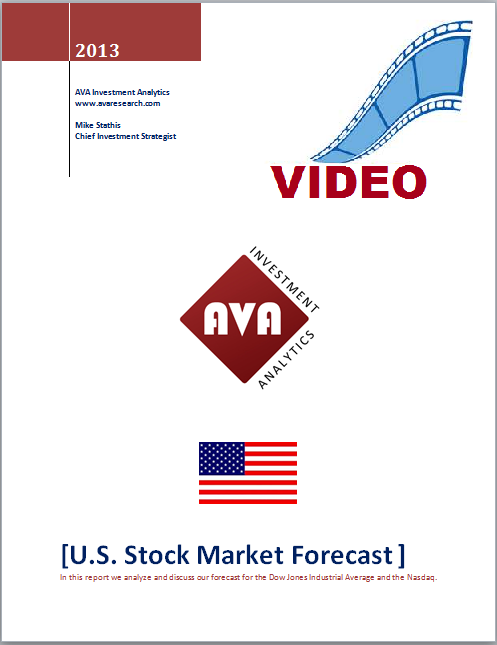 November 2013 Dow Jones & Nasdaq Forecast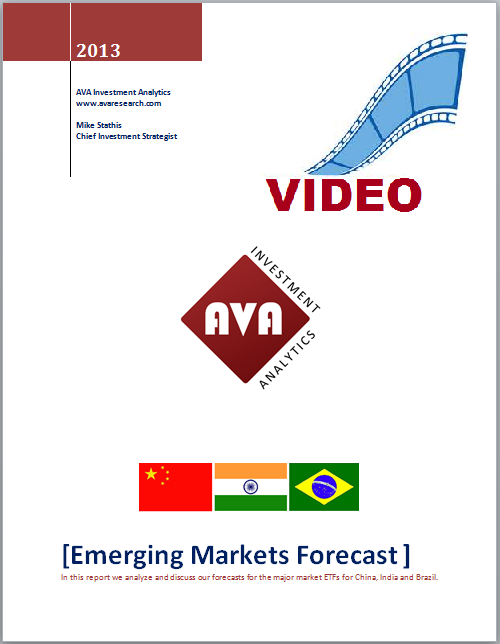 November 2013 Emerging Markets Forecast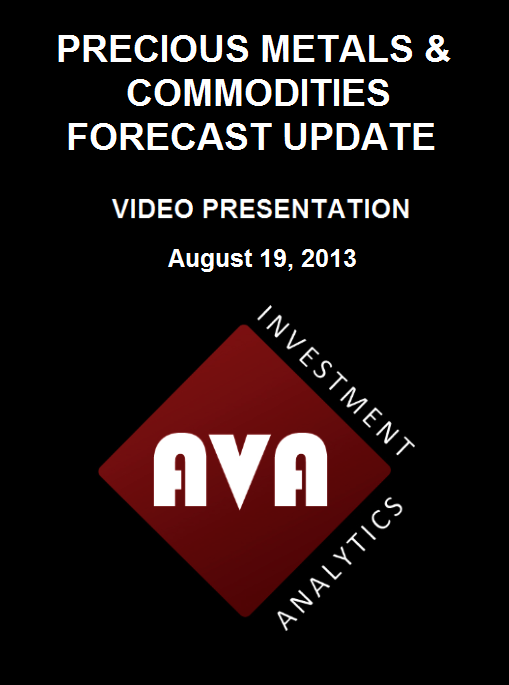 August Precious Metals and Commodities Forecast Video Update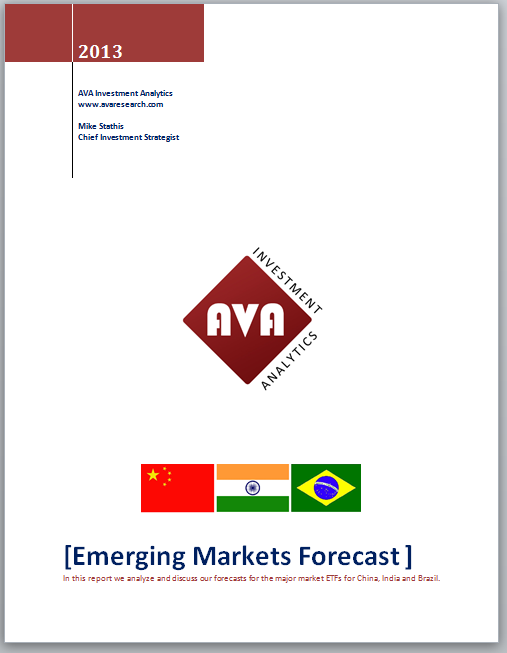 August 2013 Emerging Markets Forecast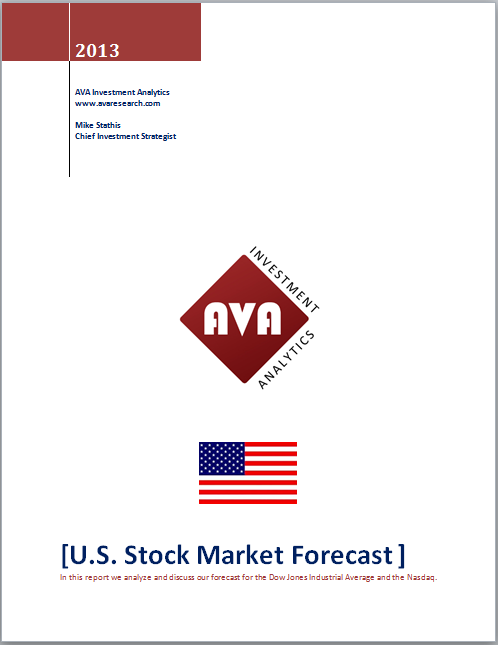 August 2013 Dow Jones & Nasdaq Forecast
Update On America's Second Great Depression (Part 1)
Overview
Washington, Wall Street and their partners in crime, the media, have continued to spread the myths of an economic recovery since late summer 2009.
In response to the propaganda, the stock market has continued to rally. But most individual investors have been left out of this tremendous rally.
But that was NOT the case for subscribers of the AVAIA newsletter, as can be seen here (examine the market forecasting section; ever since my public recommendation to buy into the Dow at 6500, I have kept subscribers in the market since then for about 90-95% of the gains since then).
Yet, the economic data paints a different picture than the media presents. Make no mistake, we are seeing the early stages of what will written in history books as America's Second Great Depression, just as I predicted in America's Financial Apocalypse (2006).
Who are you going to trust? The media and their government hacks who have been wrong over and over, or someone who has been right about virtually everything over the past five years?
Who are you going to trust, people with clear political and financial agendas, or someone with neither?
Ever since the implosion of the largest real estate and credit bubble in history, I have published numerous unfortunate realities. See (1) and (2)
With the national debt approaching $13 trillion, no real improvements to the worst and longest recession since the Great Depression, blue chips slashing dividends for the first time in history (eg. DOW), century-old financial institutions now in bankruptcy (Lehman Brothers, Bear Stearns, Washington Mutual), trillions of dollars in bailouts, the largest year-over-year decline in GDP, state tax revenues and housing starts since the Great Depression, over 7 million foreclosures, an additional 7 million more foreclosures over the next 2 to 4 years, more than 8 million lost jobs with about 32 million Americans out of work, more than 40 million Americans on food stamps, a healthcare crisis that has not been addressed, a continuing trend of excessive inflation for food, energy and healthcare, and consumer spending coming to a halt…you can be assured of many things over the next several years:
Several more stimulus packages (which won't offer any permanent assistance)

Soaring consumer loan defaults

Soaring commercial real estate defaults

Several million additional foreclosures

Rapidly rising and high interest rates

Muted real wage growth

Declining job quality

Lingering high unemployment for several years

Significant downside in the U.S. stock market

Continuation of employee benefit cuts

Continuation of healthcare inflation with millions more medical bankruptcies

A deepening of the entitlement crisis

Excessive inflation over an extended period OR massive inflation that will be countered by double-digit interest rates

A long period of muted consumer spending

Much higher taxes (not just income, but all taxes)

A worsening of America's Second Great Depression, with up to two lost decades.

World War III
At best, the U.S. will continue to experience economic malaise for well over a decade. As the nation progresses through this treacherous period, any of the small improvements will be offset by longer-term issues that are virtually impossible to overcome.
Most of the 80 million baby boomers will never be able to fully retire. They did not have adequate retirement savings even before the economic collapse. Now they are in much worse shape. As a result, they will not only pull out of the stock market much faster as a means to survive, but they will be dead consumers.
Most states will continue to struggle with budget gaps for many years. This will lead to even more cuts to vital programs.
The entitlement tsunami will engulf Washington's budget, causing a sustained period of massive deficits. This will be addressed by further cuts to benefits and premium hikes to Medicare and Medicaid.
The massive national debt will continue to threat the solvency of the U.S. This will lead to a long period of high interest rates even after the approaching interest rate surge, expected to mount within a couple of years.
A Broad Look at the Economy
Now let's examine some facts about the economy.
The current recession is not only the most severe since the post-war period, but is or was (according to official statements that it has ended) the longest in duration, as illustrated by the first chart.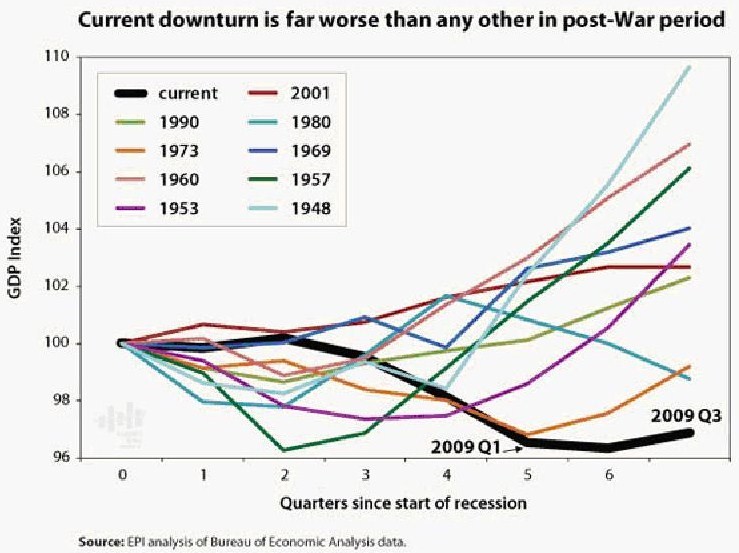 Furthermore, the "previous" recession (which is still in progress although Washington claims it is over) registered the worst year-over-year decline in GDP in decades.
At the close of January 2010, Washington reported GDP growth of 5.7% (revised down from 5.9%) for Q4 2009. This represents the biggest increase since 2003, which coincided with the market bottom of the previous recession.
This data is unreliable and has been inflated by debt spending. I have discussed the problems with GDP previously.
But where is the economic growth?
Surely by now, real estate has started to pick up, right? Have a look at housing starts.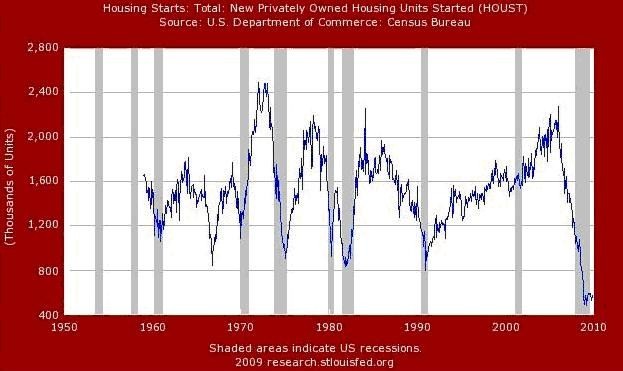 Now have a look at the mortgage resets. As you can see, the mortgage reset avalanche is gaining steam and will peak in early fall of 2011. This is going to flood the market with millions of additional homes as I have discussed on numerous occasions. See (6), (7), (8) and (9)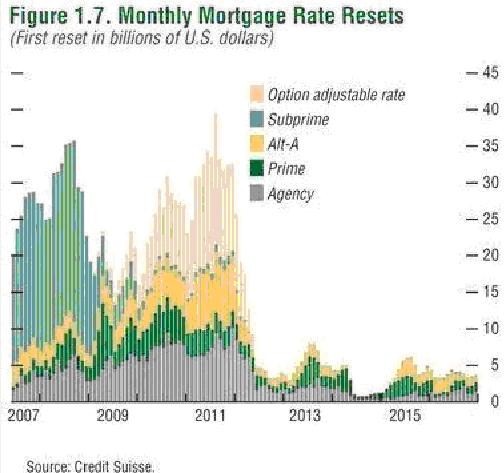 While I had forecast a bottom in median residential real estate prices in 2009 (the price decline which was consistent with my original estimate of a 30% to 35% decline first made in America's Financial Apocalypse), this by no means a recovery in the real estate market.
For a variety of reasons, the climb back up to the previous highs reached in 2006 will take at least another ten years, as stated previously. See here.
Keep in mind that as interest rates rise, this will mute a good portion of any gains in real estate price appreciation.
Furthermore, as more foreclosures hit the market, prices will plunge, erasing any gains made.
In fact, the only places where the real estate market is doing well are the same places that didn't get stuck holding Wall Street's toxic assets; namely China, (although it did suffer some losses, especially from Citigroup) Hong Kong, Brazil, Australia and Canada.
As a reflection of the skepticism of the GDP data, the market sold off hard. Over a short period, the Dow approached a critical support at 9900 in early February.
Even Wall Street cheerleaders and economic hacks are admitting these latest numbers are not sustainable. They realize that they can no longer continue to spread the myth of a recovery while unemployment remains high, with no signs of trailing off for many years.
Since then, the Dow has staged an impressive rally as the propagandists worked overtime to keep the sinking ship afloat.
With the Dow now over 11,000, the "establishment" is still in control of the game. While there is likely to be a bit more upside in the market for 2010, investors should be looking for position exits rather than entries.
I do not have a crystal ball, but I do know a few things for certain. Even if the market holds current levels or even rises further (which appears to be likely), once interest rates begin to rise, the market will get hit hard. As you can imagine, this has adverse implications for the bond market exclusive of any further issues.
Because rates must rise by a large amount over the next few years, if not before.
Of course there are many other things that could send the market plummeting. Rising interest rates is just one example that we know will surface for sure. How much the market declines will depend on when and by how much rates are raised.
Another thing you should bank on is that the Federal Reserve will do all that it can to mitigate the downward market momentum as a result of interest rate hikes.
Why? Because, unlike the case with the European Central Bank which is focused on preventing inflation, the Federal Reserve's priority remains with Wall Street. But as we have seen, what's good for Wall Street is usually bad for Main Street.
The latest unemployment numbers came in at 9.7% (U-3). However, as I have discussed previously, this number really does not tell the full story. There are many assumptions that serve to boost U-3 data, such as the birth/death adjustment.
It is likely that if current unemployment data was properly adjusted for this highly inaccurate assumption alone, the real U-3 would stand at over 10.3%. But of course there are many other erroneous assumptions and deletions that make this data unreliable.
Layoffs peaked during Q1 of 2009, averaging 2.5 million in each of the three months, or 119,000 each business day! Think about that number for a minute.
Does that sound to you like a recovery is in place?
What makes the employment data even worse is the fact that new hires have continued to decline since reaching a peak in late 2006. What that means is that the total number of unemployed has continued to increase, as the following charts illustrate.
In December 2007, there were 5.1 million new hires. In October 2009, there were only 4.0 million new hires, representing a decrease of 22%.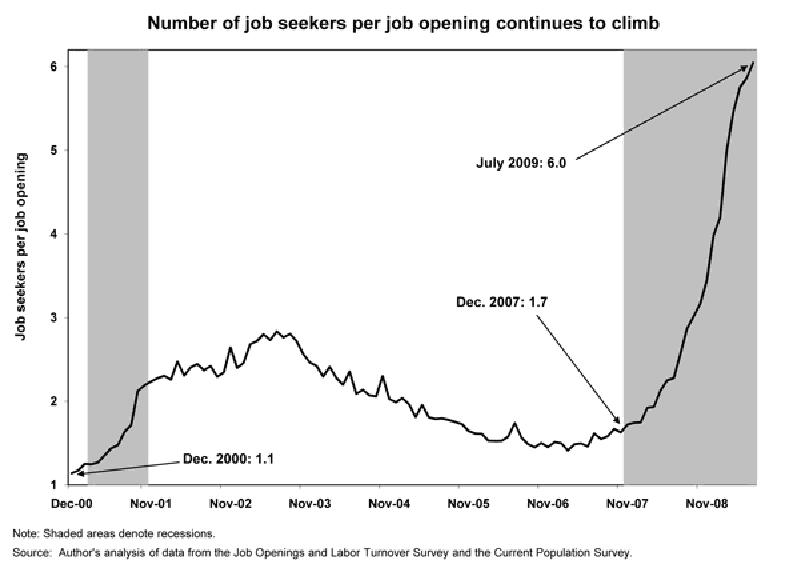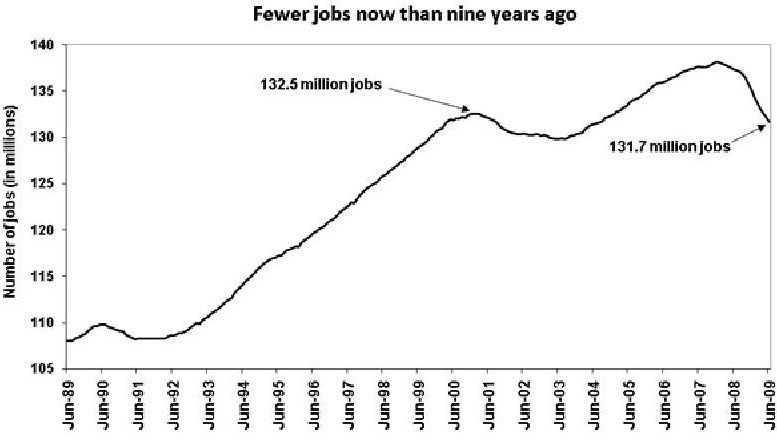 What this data does not reveal is the duration of unemployed workers. As the next chart shows, this number has skyrocketed well beyond previous highs since the inception of recorded data in the late 1960s.
Layoffs slowing but No Hiring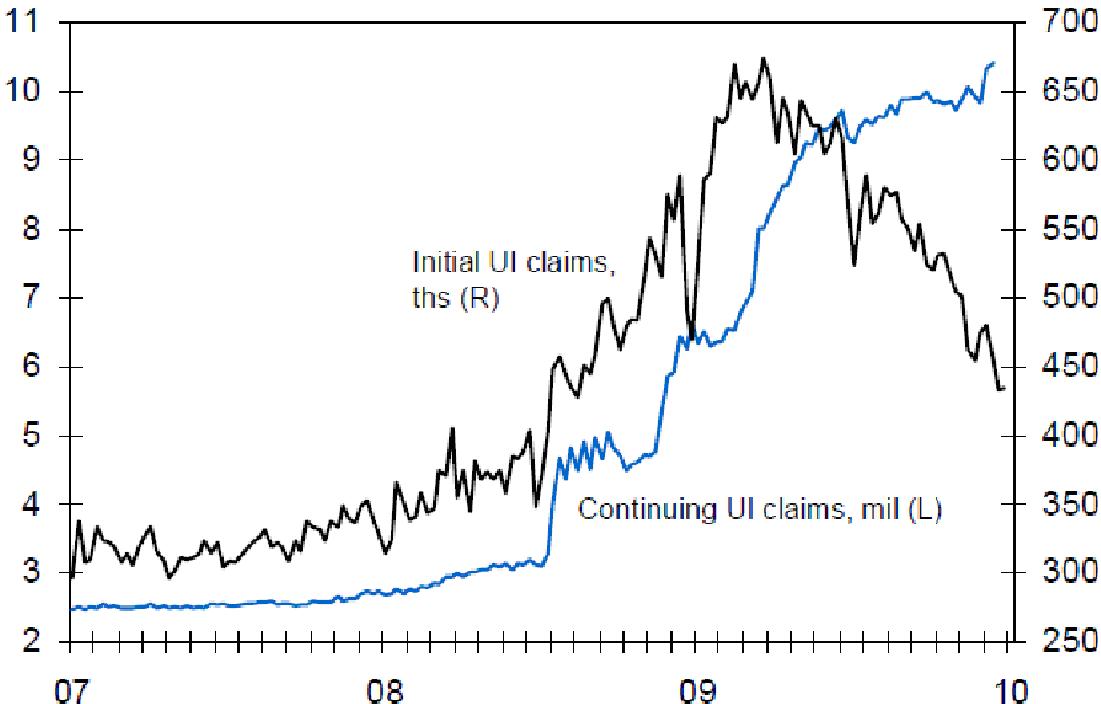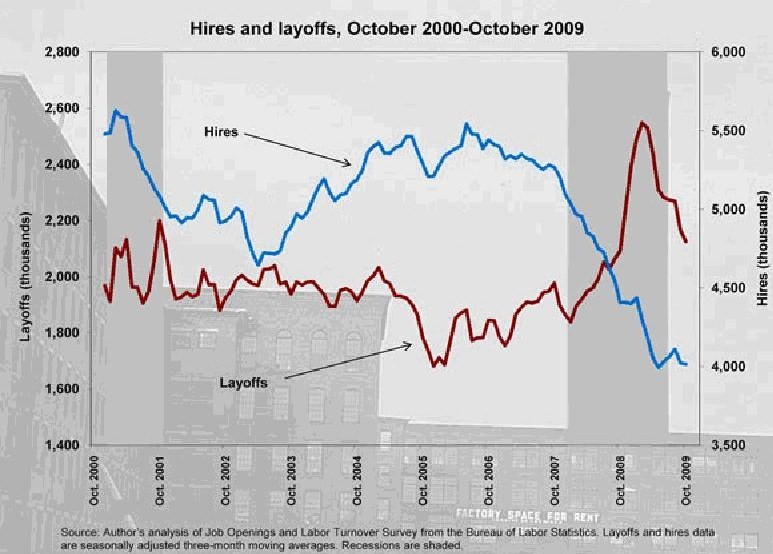 Furthermore, it is much more important to consider the U-6 data. This number accounts for marginally employed (workers who are working part-time but want full-time work) and discouraged workers. While official U-6 data is also understated due to erroneous assumptions, it still provides a better indicator of the employment situation.
Accordingly to government data, the number of unemployed Americans stands at around 16 million, with the U-6 population of unemployed and underemployed at nearly 26 million. My own estimates for U-3 and U-6 are 18 million and 32 million respectively.
Now let's have a closer look at the most recent employment data. The following tables show the percentage unemployed for each duration. The first table shows the percentage of unemployed for 15 weeks or more.
As the first table shows, 60.5% of unemployed Americans have been out of work for 4 months or longer.

Seasonally Adjusted
Series title: (Seas) Of Total Unemployed, Percent Unemployed 15 Weeks & over
Labor force status: Unemployed
Age: 16 years and over
Duration : unemployed/laid off: 15 weeks and over
Percent/rates: Percent of unemployed within group
The next table shows the percentage of unemployed who have been jobless for 4 to 6 months. As you can see, it's 16.4%. So now, after looking at the first table and the second table, it's easy to see what's going on. More people are remaining unemployed for longer periods.
Seasonally Adjusted
Series title: (Seas) Of Total Unemployed, Percent Unemployed 15 Weeks & over
Labor force status: Unemployed
Age: 16 years and over
Duration : unemployed/laid off: 15-26 weeks
Percent/rates: Percent of unemployed within group
The final table reveals that 44.1% of unemployed have been jobless for 6 months for longer. Notably, there was a huge jump from February to March.
Seasonally Adjusted
Series title: (Seas) Of Total Unemployed, Percent Unemployed 15 Weeks & over
Labor force status: Unemployed
Age: 16 years and over
Duration : unemployed/laid off: 27 weeks and over
Percent/rates: Percent of unemployed within group
The next chart illustrates this worrisome trend of duration of unemployment.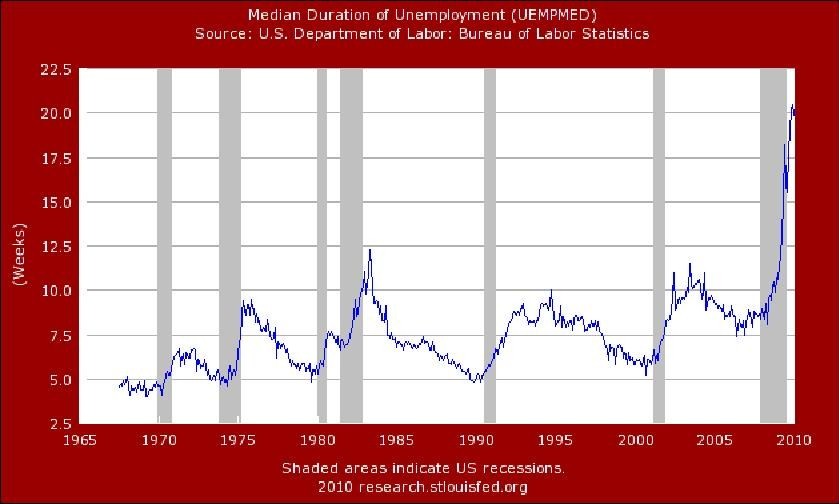 The problem with being out of work for an extended period (besides the immediate financial problems it creates), is that the longer one remains out of work, the higher chance that they will have to change careers.
And it's not likely that a career-change will lead to the same wages as the person earned in their previous career since they are starting fresh. That's the big problem with the unemployment picture that no one seems to get. What does this mean? It simply adds more fuel to America's long period of declining living standards.
In addition, because much of the stimulus will not be dispersed for a few years, and due to the continued trade deficit, as well as the mounting liabilities for entitlements and interest on the national debt, massive annual deficits will persist throughout the next decade. My own estimates are considerably larger.
Next, let's have a look at the connection between employment and GDP.
In order to get the unemployment rate down by just 1%, GDP would have to grow by at least 5% by 2010. This goal is going to be virtually impossible short of a miracle, even with the massive spending by Washington.
I'll give you some assistance here. In the BEST of scenarios, based on current spending projections, I would estimate that over the next ten years, GDP will grow by an average of 3.5%. A more realistic number might be closer to 3.0%.
Even assuming the more optimistic GDP estimate for a 5-year period, the U.S. economy would need to grow by about 5% annually for the remaining 5 years in order to bring unemployment down to around the "fully employed" level of around 5.0%.
I can tell you now this scenario is EXTREMELY unlikely, UNLESS we see many additional stimulus packages.
Using debt for additional stimulus packages will be like trading hand grenades for ballistic missiles because more debt spending will hamper the long-term growth of the economy for an extended duration.
GDP growth really doesn't matter unless you adjust for debt-spending. The U.S. could grow by 5% for five years if Washington borrowed tens of trillions of dollars to pump into the economy. What is needed is real growth, not debt-fueled growth. Without real growth, you have an illusion, just like the growth after the dotcom bubble burst.
Even without further spending, the nation's entitlements threaten to send America into bankruptcy within the next 20 years. This is another issue I addressed in America's Financial Apocalypse at great length, unlike other books that only focused on the small picture.
As you can imagine by now, what this means is a lost decade at best. Fifteen years more likely, while two decades is very possible.
You should also note that about 65% of the 5.7% GDP growth was from industrial production; not to meet consumer demand, but to rebuild inventories.
So the next leg is for consumers to deplete inventories so that production will continue. This isn't going to happen. You should expect to see Q1 2010 GDP data much lower and I expect even worse data for Q2 2010.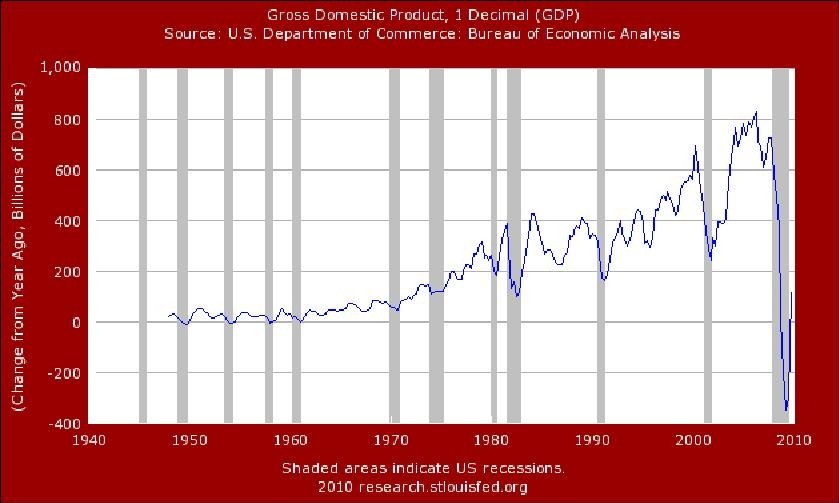 The various bailout and stimulus packages have already helped swell the 2009 federal deficit to an estimated $1.6 trillion. And forecasts show that the deficit is going to soar for many years to come.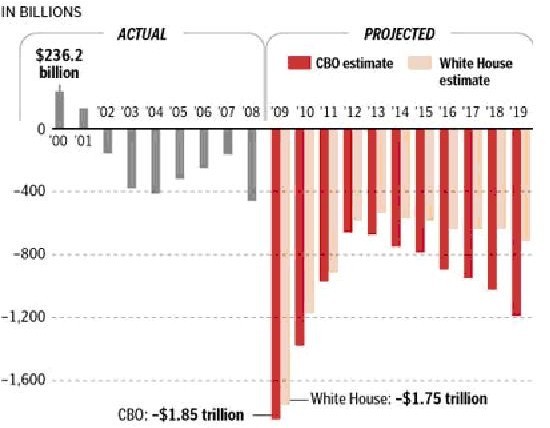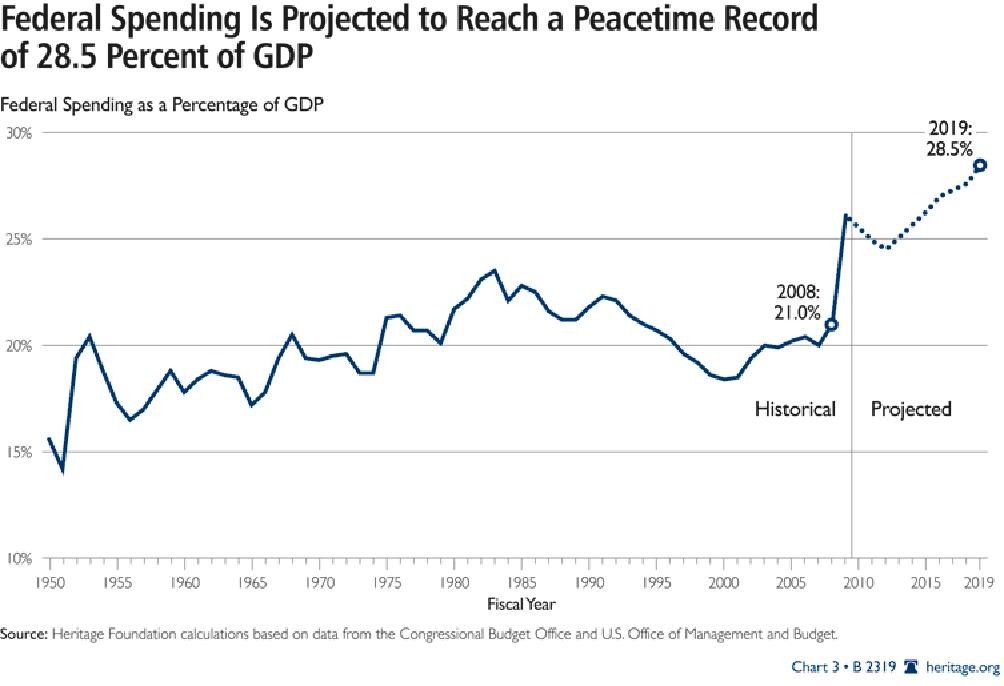 As the next chart shows, the effects of the collapse have permanently lowered GDP through at least 2020. This is based primarily on projections for employment and GDP.
GDP would have to average 6-7% annually over the next decade in order to recoup pre-crisis levels. That's not going to happen unless America uses GDP data from China or India.
Financial Crisis Permanently Lowers GDP
GDP % Change, Before and After Crisis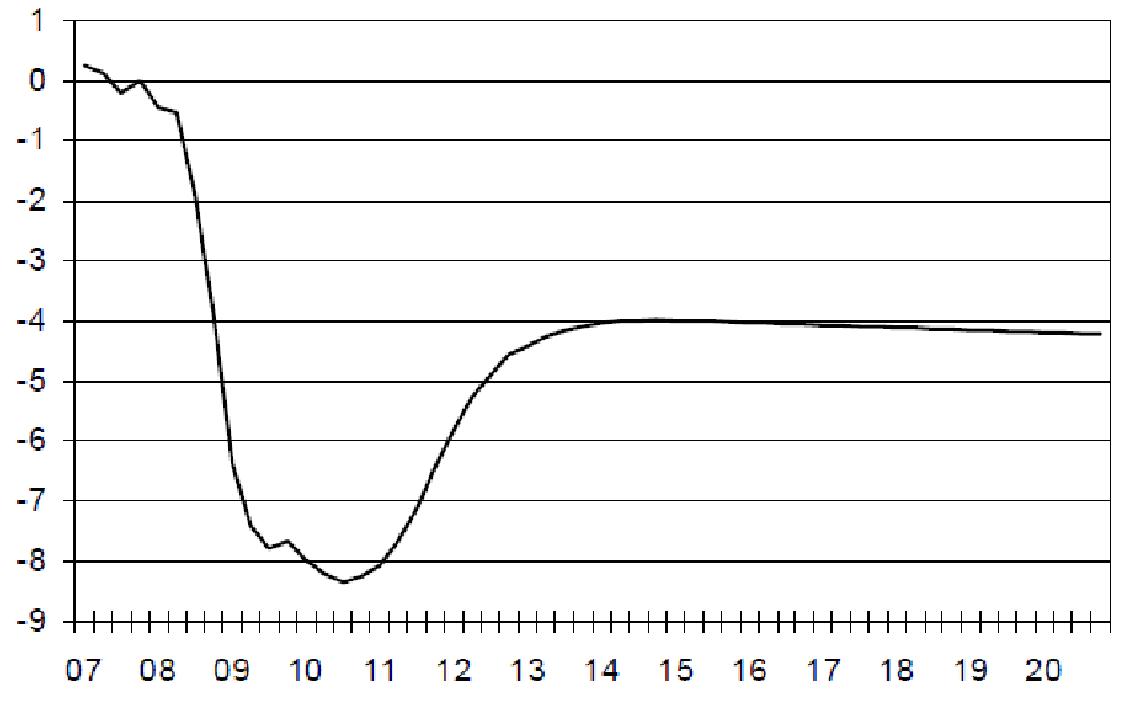 Effect of the Crisis on the Fiscal Outlook of the U.S.
Federal Debt-to-GDP Ratio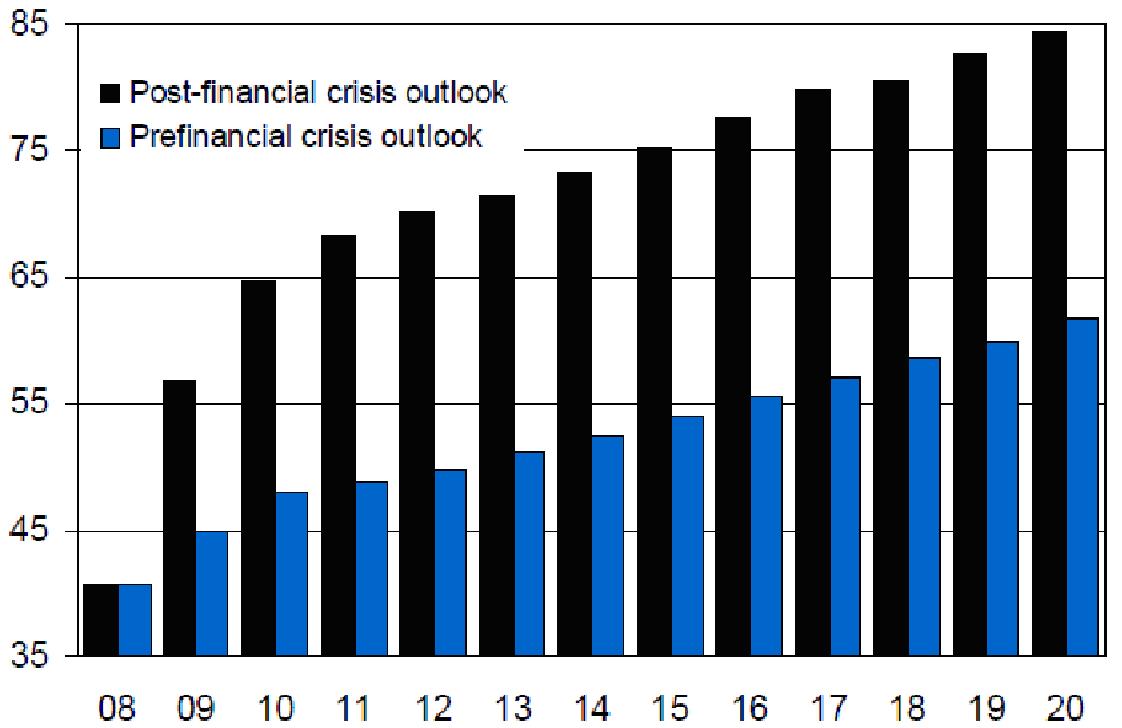 The next chart shows forecasts for real GDP (GDP adjusted for inflation). Even with the government's understatement of inflation, things do not look good. In fact, I view this data to be highly inaccurate. Other than 3-4 quarters, we have not seen real GDP growth in many years.
After adjusting for debt spending and the illusion created by the real estate bubble, it is likely that we have only seen 1-2 quarters of GDP growth since 2001.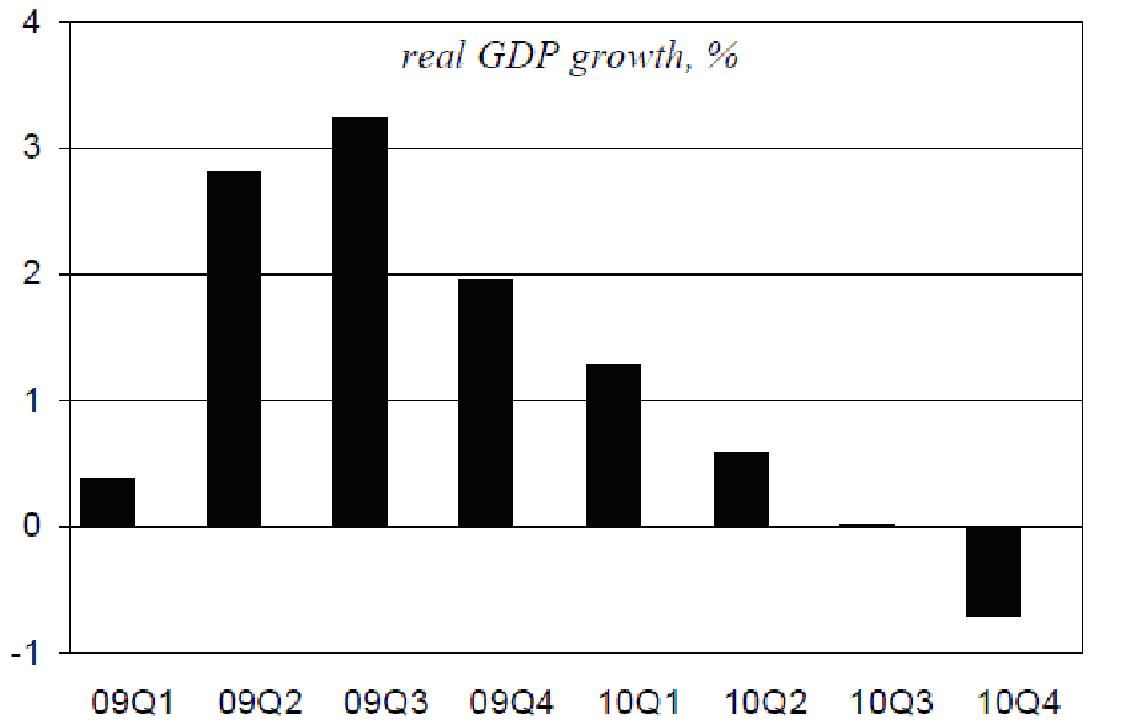 The final chart in the series shows a rebound in household net worth, mainly due to the strong rebound in the U.S. stock market since March 2009.
With real estate prices expected to remain well below pre-collapse levels for many years, in addition to the bleak employment situation, I do not see an appreciable or sustainable rebound in household net worth for many years. This has obvious implications for consumer spending and thus economic growth.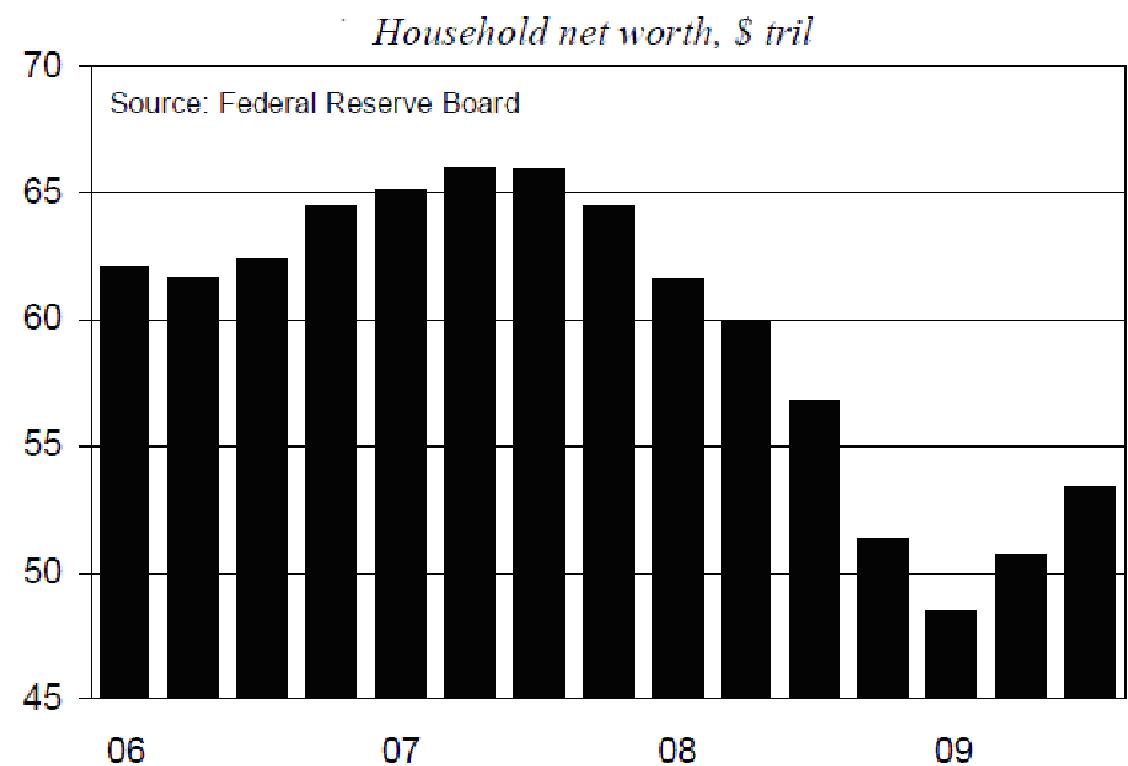 Of course, republican hacks have made this a political issue, without bothering to remind you that it was President Bush who set a precedent for bailouts and wasteful stimulus plans. Meanwhile, Obama has made things worse without addressing the real problems.
The fact is, the results will be the same regardless who is in office because America no longer has a real democratic process. The key decisions are made by a group of individuals you rarely hear about. The president merely serves as the puppet. This has been going on for many years.
As I have discussed many times in the past, the Republican Party has seized control over the Tea Party movement, thwarting the original intended purpose of building support for complete political transformation from all of Washington. In fact, I view the ridiculous nature of these events as a reflection of the hidden controlled opposition movement in America.
The fact is that it matters not who is in the White House. The best interests of working-class Americans have been neglected for many years.
This dynamic isn't going to change without a drastic movement from the masses. But this is unlikely to occur since most Americans have been brainwashed by a media industry controlled by corporations and political interests.
As you can imagine, the decline in sales, income, property and other tax revenues has also hit cities and states very hard. This has resulted in budget deficits for most cities and all but two states.
Has running the currency printing presses in overdrive and accumulating record levels of federal debt been worth the results?
Beyond this clearly disastrous situation, I am further troubled knowing with a high degree of certainty that there will be several more stimulus plans by Washington over the next few years, regardless who is in office.
I warned about the massive debt in America's Financial Apocalypse, as well as several times since then.
For instance, here.
Over 40 million Americans are on food stamps, or more than 13% of Americans. This is the highest rate on record, going back 50 years.
Finally, have a look at these two charts of unemployment for GDP for key economies. Can you spot anything wrong with these charts?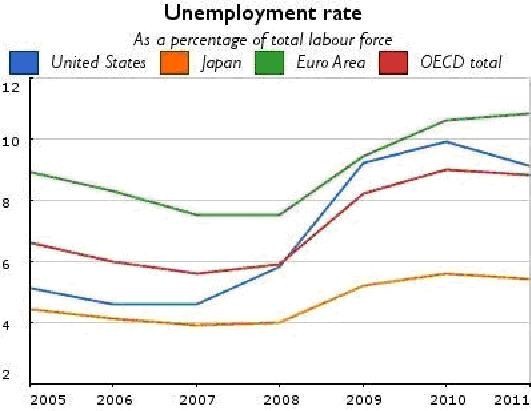 Let me give you a hint. When you have a high unemployment rate along with a high GDP, it means you are achieving by spending more money than you generate. That's not such a disastrous situation if you are a nation with large cash reserves like China. However, even China is tied to the global bubble and will soon feel the effects of the needle.
If you want access to institutional-level research, analysis and investment guidance, subscribe to the AVA Investment Analytics newsletter today.
www.avaresearch.com
If you want a chance to make $100,000, check
this offer
.
I am quite confident there is absolutely no one who can come close to my track record on the collapse, in the accuracy, depth and detail of forecasts.
In fact, I'm so confident of this that I'm putting my money where my mouth is. I'm offering a $100,000 reward for the first person who can prove that another expert can simply match my track record.
Why don't you start with the guys in the media club who have positioned as experts, like Faber, Schiff, Shiller, Prechter and so on. They don't come close.

Once you have convinced yourself of my track record, you need to ask why the media continues to banned me.
Allow me to cut to the chase. The financial media works for Wall Street. Wall Street buys the ads and commercial, so the last thing the media wants is to provide you with credible experts with good track records. Instead, they interview extremists with terrible track record, offering no specific guidance. This is the way it works. If you don't see this by now, you are forever doomed.
Do your part to spread the word about me. It's the only way we can stop the lies from being flooded to the public.